Heart patients find new hope in transmyocardial revascularization
Patients suffering from severe coronary-artery disease (CAD) and angina were given a new lease on life earlier this year when PLC Systems (Franklin, MA) became the first company to receive US Food and Drug Administration (FDA) clearance for transmyocardial revascularization (TMR). Transmyocardial revascularization is a laser-based surgical procedure in which tiny holes are drilled in the heart to increase the flow of blood to oxygen-starved tissue, thereby relieving angina and other debilitating
Nov 1st, 1998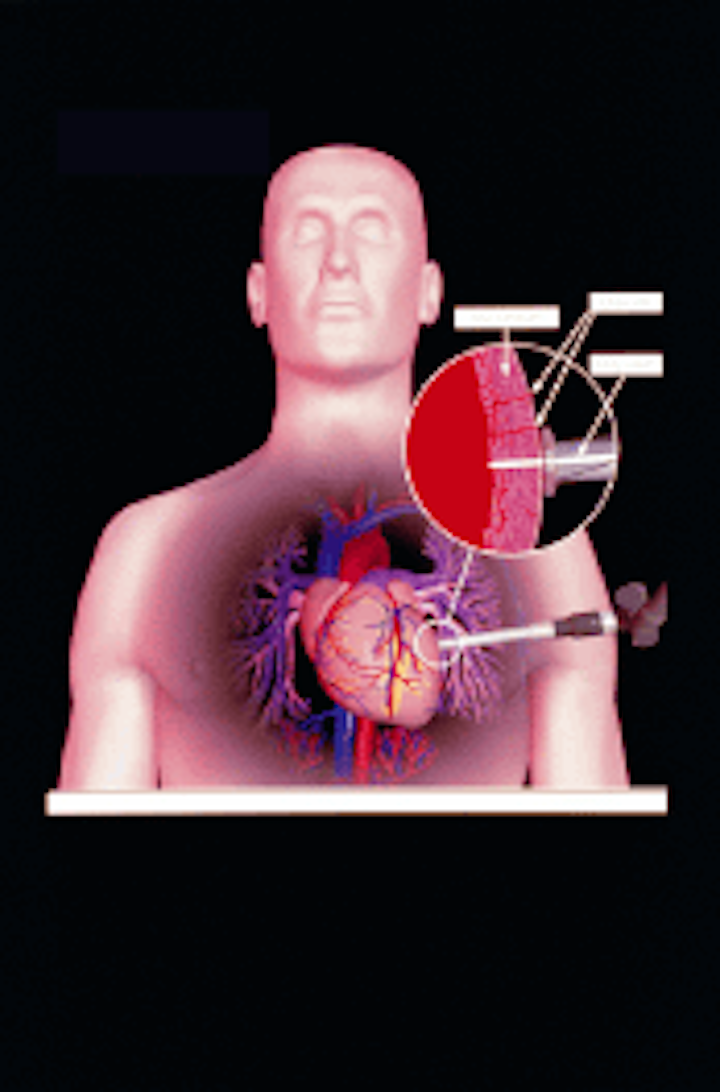 Heart patients find new hope in transmyocardial revascularization
Kathy Kincade, Contributing Editor
Patients suffering from severe coronary-artery disease (CAD) and angina were given a new lease on life earlier this year when PLC Systems (Franklin, MA) became the first company to receive US Food and Drug Administration (FDA) clearance for transmyocardial revascularization (TMR). Transmyocardial revascularization is a laser-based surgical procedure in which tiny holes are drilled in the heart to increase the flow of blood to oxygen-starved tissue, thereby relieving angina and other debilitating symptons of CAD.
During a typical TMR procedure, the surgeon accesses the heart through a 4- to 6-in. incision in the patient`s left side (see Fig. 1). Once the surface of the heart is exposed, the surgeon begins firing short pulses of laser energy into the myocardium of the left ventricle. A computer synchronizes the laser pulses with the patient`s heartbeat so that the laser is fired between the moments when the ventricle is filled with blood, thus protecting other tissue in the heart and minimizing the chance of arrhythmia. Depending on the extent of the heart disease, the surgeon creates 20 to 40 1-mm holes, or channels, in the myocardium. These holes, which usually seal with clotted blood on the heart`s surface during the procedure, act like new vessels, delivering oxygen-rich blood to the heart muscle.
"Although this is not a life-saving procedure, it can provide significant relief of severe angina and improve the quality of life for a select group of patients for whom there is currently no effective treatment," said Michael Friedman, MD, acting commissioner of the FDA. A single TMR procedure costs $20,000-$40,000 (about the same as a bypass), but related costs are generally reduced. Because no blood transfusion or heart-lung machine is required, TMR is less traumatic to the patient, and recovery is faster and more cost-effective than with open-heart procedures. In addition, CAD patients treated with TMR typically reduce their trips to the hospital from four days to one day per year.
Despite extensive clinical investigation, however, no one is sure exactly how TMR works. Researchers have considered several theories, including reduction in the perception of pain, increased blood flow to the heart muscle, and the formation of new blood vessels (angiogenesis). Of these, angiogenesis is now generally considered the primary reason for the success of TMR. And laser surgery appears to be critical to this vascular growth; studies have also shown that if mechanical devices such as needles or ultrasound are used to create holes in the myocardium, these holes tend to collapse before blood flow can improve and angiogenesis can begin.
Clinical evidence strong
Regardless of how or why, clinical research has consistently shown that TMR works and works well. For example, over the last eight years, more than 4000 patients have been treated with the PLC Heart Laser; in clinical trials comparing the Heart Laser to medical and drug therapies, more than 70% of patients treated with the laser experienced a significant reduction in angina that lasted for at least a year (the length of the follow-up study), compared to 13% of patients treated only with medication.
Clinical trials of competing TMR systems and techniques have yielded similar results. In a premarket-approval application submitted to the FDA last year, Eclipse Surgical (Sunnyvale, CA) presented six-month, Phase II data from a randomized study that compared the company`s holmium-laser system with drug therapy for Class IV, "no-option" angina patients. The data showed improvement in angina symptoms for 92% of the TMR-treated patients after six months, while only 18% of the patients on drug therapy experienced similar relief. There was also a statistically significant reduction in rehospitalizations.
The Eclipse system is also undergoing clinical study for TMR in conjunction with coronary-artery bypass graft surgery; results so far show eight times fewer early deaths in the TMR-plus-bypass-surgery group when compared to conventional bypass surgery alone. And more than 400 patients worldwide have taken part in Phase II trials of the Eclipse laser for percutaneous transluminal myocardial revascularization (PTMR) in conjunction with other coronary interventions such as balloon angioplasty and stents.
Eclipse is not alone in its study of additional TMR applications and technologies. PLC is already pursuing additional FDA clearance for TMR to be used in combination with coronary bypass surgery, as are CardioGenesis, US Surgical, Acculase, and several other companies developing holmium and excimer lasers for TMR and related applications (see table). In fact, although PLC is the first company with a commercial TMR laser, its current FDA clearance is limited to a small segment of the actual patient pool.
The worldwide market for TMR is estimated to be worth $1 billion annually, with 500,000-600,000 potential patients. Those numbers can only be achieved if TMR is used not just as a treatment for end-stage CAD and angina but as an adjunctive or replacement therapy to bypass surgery and angioplasty. In fact, TMR could become the third major treatment modality for CAD--if the FDA agrees.
Even with additional FDA clearances, however, PLC faces a significant technological barrier when it comes to the less-invasive forms of TMR being developed by Eclipse, CardioGenesis, and others: high-power CO2 laser energy cannot be delivered via a fiber. This is important given the growing enthusiasm for percutaneous TMR procedures, which rely on fiberoptic catheters to deliver the laser energy to the heart in a more minimally invasive fashion.
In fact, as clinical evidence of the safety and efficacy of the percutaneous approaches mounts, there is a growing consensus that the medical community will choose percutaneous myocardial revascularization (PMR) over TMR and even PTMR in the long run. Percutaneous myocardial revascularization is based upon the same principles as TMR but utilizes a fiberoptic-catheter delivery system that is threaded through a small incision in the leg or groin, up the femoral artery, across the aortic valve, and into the left ventricle (see Fig. 2). The surgeon then places the laser probe against the ventricle wall and begins drilling holes in the myocardium, but from the inside out. This approach requires fewer holes (15-30) than TMR, takes only one to two hours to complete, and can be done under local anesthesia in a cardiac-catheterization laboratory rather than a surgical suite. The patient typically goes home the same day, as opposed to four days following TMR.
Despite these clear advantages, FDA clearance of PMR is not likely to come before the year 2000. But clinical results so far are positive. In Phase I feasibility studies of the Eclipse laser at the Cleveland Clinic (Cleveland, OH), all 20 patients reported significant improvement in chest discomfort following PMR. Cleveland Clinic researchers are now conducting a Phase II trial comparing PMR to medical therapy in 200 patients with Class III or IV angina, and similar trials are under way at Rush Heart Institute (Chicago, IL) and at least ten other US sites.
In the meantime, PLC is investigating new technologies that it says should allow CO2 laser energy to be transmitted through a catheter, making the Heart Laser appropriate for percutaneous procedures. The company is also working to get the Healthcare Financing Administration to make TMR a reimbursable procedure.
However, PLC still faces more than 20 shareholder lawsuits stemming from the company`s failure to gain FDA clearance on its first try (see Medical Laser Report, May 1998). That failure also drastically reduced the regulatory lead PLC once held in this market; Eclipse and CardioGenesis are both expected to go before an FDA advisory panel this fall, and both will likely have their TMR products on the market next year. Numerous other companies are in various stages of product development and clinical investigation, and most have already entered into marketing and distribution relationships with corporate partners that should enable them to move into this market, once FDA clearance is obtained. o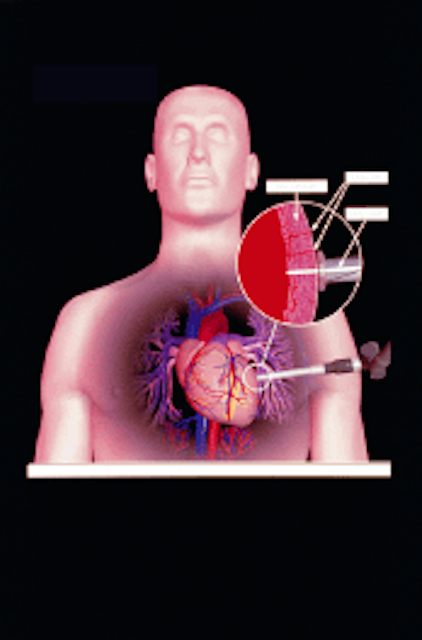 Click here to enlarge image
FIGURE 1. In transmyocardial revascularization, laser energy is used to create channels through the myocardium into the left ventricle, allowing oxygen-rich blood to flow into previously deprived heart muscle, thereby relieving angina and other symptoms of severe coronary artery disease.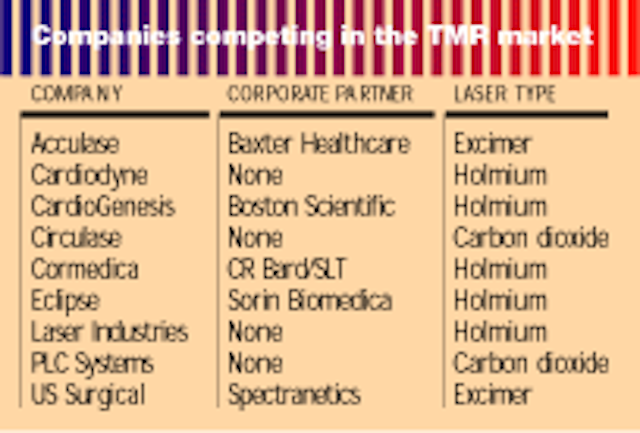 Click here to enlarge image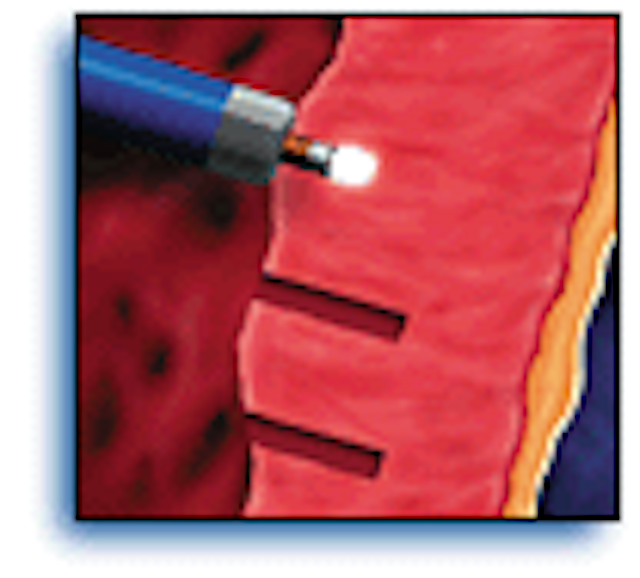 Click here to enlarge image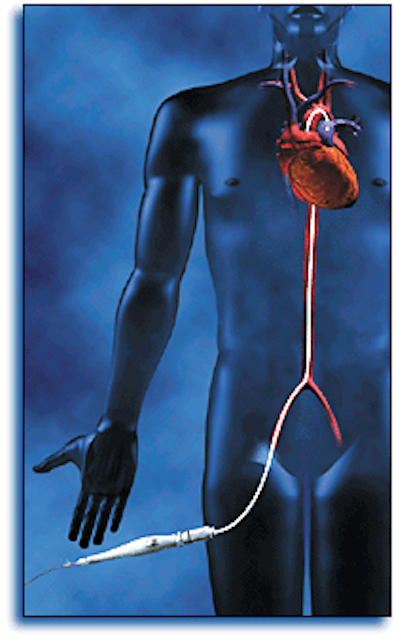 Click here to enlarge image
FIGURE 2. Percutaneous myocardial revascularization is similar to transmyocardial revascularization except that laser energy is delivered through a fiberoptic catheter that is inserted into the left ventricle via the femoral artery, and the channels are drilled from the inside out.