Future Optics: Biophotonics makes health monitoring more accessible - Interview with Patience Mthunzi-Kufa
CSIR is trying to develop biophotonic instruments that can be used in rural areas where there is no electricity or clean water.

Nov 2nd, 2016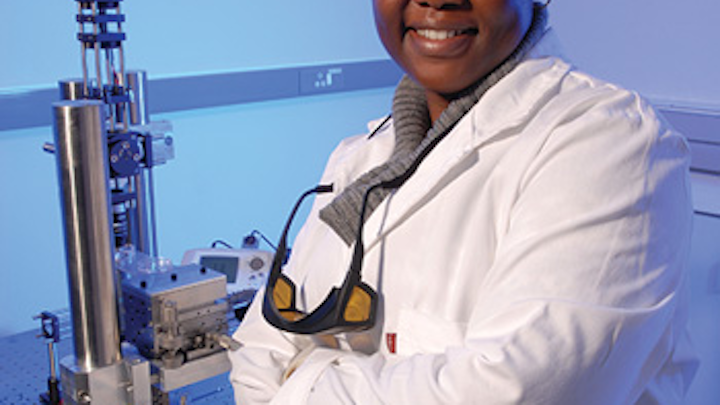 OSA: How did you get interested in lasers and optics?
Patience Mthunzi-Kufa: I am quite inquisitive, and I like to learn about new things. I came to the National Laser Centre (NLC) at the Council for Scientific and Industrial Research (CSIR) after I finished my master's degree in medical biochemistry. I had learned many things about biology, but my physics was very poor, and I wanted a new challenge and was trying to decide in what field to pursue a PhD. All I knew about lasers was what the acronym meant, but I started learning about them. Then I discovered biophotonics, where you use lasers in medical applications, and decided that was the perfect match for me.
OSA: What led you to work on laser tweezers?
PMK: A year after I started working here in 2004, I got an opportunity to go to conferences abroad. At an optics meeting in San Diego, CA, I saw videos of laser tweezers manipulating biological entities like organelles in living cells. Laser tweezers were quite new in 2005 and it was such an exciting field that I wanted to have my hands in it, so I applied to the University of St. Andrews. I did my PhD there, learning how to make optical tweezers and to use them in biophotonic research.
One thing I am working on is using laser tweezers to improve delivery of anti-HIV medicines into the body. Right now it is at the research stage, working on mammalian cells growing in Petri dishes. Eventually, we want to design a tool that looks and feels like an endoscope, but uses laser tweezers to deliver drugs to infected sites in the body—first in animals and later in humans. The instrument would include optical fibers to deliver the laser light, perhaps a separate tube to deliver the drug, and a camera for diagnostics. Now, patients have to swallow drugs, which get into the blood stream and go through the entire body, where they can cause serious side effects. Laser tweezers and fiber optics could deliver drugs just to the infected organs.
This technique could also treat cancerous tumors, and may have more uses in cancer therapy because tumors are easily viewed. Fluorescent dyes could color the tumors so they stand out more clearly. You could identify what cells to treat by using specific wavelengths or dyes.
OSA: How else could this technology be used?
PMK: We are trying to develop biophotonic instruments that can be used in rural areas where there is no electricity or clean water. This will bring the service closer to the people—therefore, patients won't have to travel long distances to reach clinics. We would like to develop point-of-care diagnostics and treatments for HIV and other diseases such as malaria or tuberculosis for use in patients' homes or communities. That way, their disease could be diagnosed early enough to save their lives, and doctors could monitor their conditions remotely.
The World Health Organization is pushing such tools in a program called ASSURED, which is short for affordable, sensitive, specific, user-friendly, rapid and robust, equipment-free, and deliverable to end user. We are trying to combine our photonics research with our biological experience to develop portable laser tools that can diagnose disease by probing cells. That could have a lot of impact in places with limited resources.
OSA: What else does NLC at the CSIR do?
PMK: They have two main research groups besides the biophotonics lab. One is laser materials processing—using high-power lasers to work on metals and other materials used in industries including aerospace, motor cars, and electric power generation. The other develops novel lasers for holography, research, and other fields. NLC itself is one of 11 units of the Council for Scientific and Industrial Research. CSIR employs about 2000 researchers and has projects including medical research, materials sciences, and computer sciences. It is mostly government-funded, but also works with industry.
OSA: How can we interest more young people in optics and biophotonics?
PMK: We need to expose them to new and interesting things. If we do, chances are they will take a liking to them. I go to schools and science festivals and talk about my work. From time to time, I have a student or two shadowing me or people in my lab to learn what we do.
OSA: What should students and young professionals do to enter the field?
PMK: You must show interest, expose yourself to the field, and get someone to mentor you. You must have the love for physics and biology.
OSA: What future developments do you expect in biophotonics, and how will they change our lives?
PMK: One change in the next 20–40 years is that we will be making many biophotonic devices more portable so people can wear them. If you wear a smart device, it could take control of your medication and pump a dose into your body when you need it. Medical devices could be made so user-friendly that people could use them in their own homes without having to go to hospitals. Outside of biophotonics, another change will be optorobotics—using optical sensors and devices so robots can replace people to do dangerous work in places like mines.
These innovations will make life easier for people, and save lives by doing dangerous jobs. They also will make things like medical treatment more accessible for people far from big cities and big hospitals. And they will change Africa for the better.
Africa has a lot of potential. Whenever I travel to other laboratories, I bring home what I have learned and work to make those skills accessible to people at home. We need to do that to bring Africa to the same level of innovation as the rest of the world. We also need to innovate to deal with local challenges. For example, strains of HIV differ around the world, so it is best to have people working in Africa on the types prevalent here, where they can refine their diagnostics and treatments with local patients. Cutting-edge research is not cheap, so we need to invest heavily—but I am very optimistic about the future of innovation in Africa.
---
PATIENCE MTHUNZI-KUFA is the research group leader and principal investigator of the biophotonics research group at the National Laser Centre (NLC) of the Council for Scientific and Industrial Research (CSIR; Pretoria, South Africa). She earned her PhD in physics from the University of St. Andrews in Scotland in 2010 for work on optical tweezers. She is a TED Fellow in the class of 2015, was co-chair of the South African Young Academy of Science in 2014, and is a member of The Optical Society. She was also awarded the national Order of Mapungubwe in Bronze by the President of South Africa, Jacob Zuma. Mthunzi-Kufa was also named as one of the '20 Youngest Power Women in Africa 2012' by Forbes Magazine.