MATERIALS PROCESSING: ICALEO celebrates its silver anniversary
Twenty-five years ago, the first International Laser Processing Conference (ILPC)-which would be named the International Congress on Applications of Lasers & Electro-Optics (ICALEO) a year later in 1982-was held in Anaheim, CA.
Oct 1st, 2006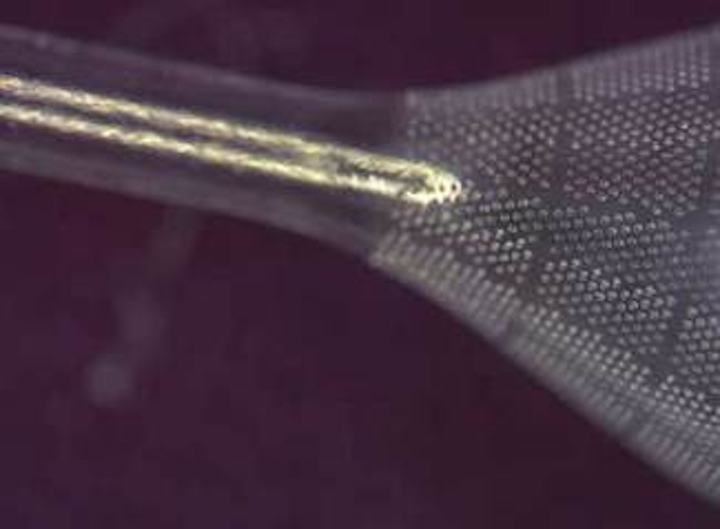 Twenty-five years ago, the first International Laser Processing Conference (ILPC)-which would be named the International Congress on Applications of Lasers & Electro-Optics (ICALEO) a year later in 1982-was held in Anaheim, CA. The ILPC conference, held jointly by the Laser Institute of America (LIA; Orlando, FL; www.laserinstitute.org) and several affiliated Japanese societies, brought together around 100 attendees and about three-dozen speakers and session chairs (half from Japan) to review the latest developments in laser materials processing and other laser-related applications.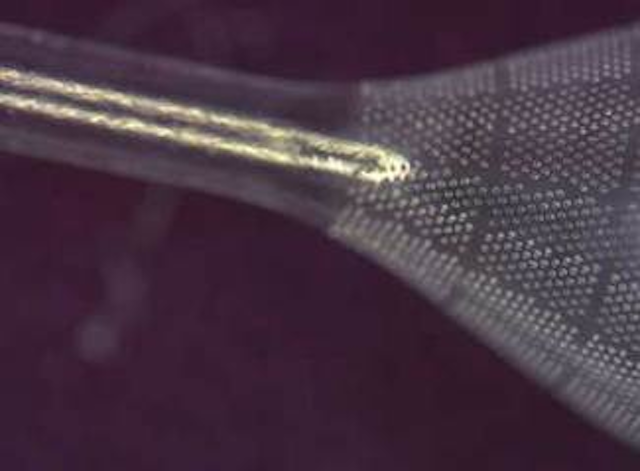 The 25th anniversary of ICALEO will explore the latest developments in laser materials processing and microprocessing, such as the ability of excimer lasers to drill holes in embolic filters that are large enough to allow blood flow but small enough to catch any potentially dangerous debris.
Click here to enlarge image
Then-conference organizer for the LIA (and 1978 LIA president) David Belforte, now chief editor of Industrial Laser Solutions (Nashua, NH), recalls that first conference. "The ILPC was significant because it was the first time that an international conference on laser materials processing had been held and I was able to unite three disparate Japanese laser societies to band together to cosponsor the conference with the LIA," says Belforte. "It took three years of negotiation to accomplish this."
"This was a dynamic period in the growth of the LIA, including the successful completion of the ILPC in 1981 and the transformation of the LIA from a volunteer organization to professional management," said David R. Whitehouse of Whitehouse Associates (Weston, MA). Whitehouse served as LIA president in 1981 and took the responsibility as general chairman in developing the first ICALEO in 1982. "In 1982 we introduced a much broader concept of serving other active fields of laser applications by holding five simultaneous mini-conferences or symposia. Hence the name: International 'Congress' on Applications of Lasers and Electro-Optics. ICALEO has become one of the major platforms, along with laser-safety activities, to enhance the stature and relevance of the LIA."
Executive director for the LIA, Peter Baker, compiled some telling statistics that contrast ICALEO 1982 with the laser-materials-processing conference of ICALEO 2005: in 1982, about two-dozen papers were submitted in five topical areas versus 220 paper submissions in 20 topical areas for 2005. Baker notes that even though CO2 laser power levels reached 20 kW in 1982, most of the lasers sold had power levels below 2 kW. The primary difference, however, is that today's laser systems have significantly improved beam quality, stability, and reliability, and are much smaller in size. Today's YAG lasers are also more efficient because of the switch from flashlamp pumping to diode pumping. The appearance of direct-diode laser systems with kilowatt power levels-high enough for some cutting and welding applications-as well as fiber lasers of up to 40 kW, are relatively new products that were not even under discussion back in 1982.
Now, 25 years later, ICALEO 2006 (Oct. 30-Nov. 2 in Scottsdale, AZ) is to have an estimated 500 attendees gathering together to review just how far laser-processing technology has advanced since the early 1980s.
Anniversary events
ICALEO's silver anniversary kicks off with a Meet & Greet Fiesta on Sunday afternoon, giving attendees an opportunity to network with LIA staff and other ICALEO attendees and vendors.
To commemorate ICALEO's 25th anniversary, the Monday morning plenary session by David Whitehouse entitled "25 Years of Laser Processing-Looking Back to See the Future" takes a look at the laser frontier 25 years ago and reviews how the LIA built on the success of the first ILPC and created the broad-based laser applications conference called ICALEO that we know today. The plenary will focus on how the conference was designed to attract laser researchers, manufacturers, system integrators, and most importantly, end users from many different fields, and concludes with a discussion on future laser applications and LIA goals.
On Monday evening, a president's reception allows conference attendees to meet LIA president Joe O'Brien and other LIA staff, as well as ICALEO General Chair Andreas Ostendorf from Laser Zentrum Hannover (Hannover, Germany) and Conference Chairs Paul Hilton from The Welding Institute (Cambridge, England) and Yongfeng Lu from the University of Nebraska Lincoln (Lincoln, NE).
2006 ICALEO preview
Among the 20 individual sessions in ICALEO's Laser Materials Processing conference, topics include fundamentals of laser welding, laser processing in the aerospace, defense, and space industries, laser cutting, two sessions on fiber-laser processing, two sessions on laser processing in the automotive sector, and a session on lasers in biomedicine. The Laser Microprocessing conference features three sessions on laser microprocessing, two sessions on ultrafast-laser processing, and three sessions on laser micropackaging, among others, for a total of 12 sessions.
In addition to the Wednesday and Thursday poster presentation gallery and the laser-solutions short courses, the conference will include-for the second year-a business-development session on Wednesday. The session includes two 40-minute presentations, one by William Lawson of New Tech Development (Somerset, WI) entitled "Growing Your Business Past the Start-up," and another by Mohan Warrior of Alfalight (Madison, WI) entitled "From Technology to Commercial Success."
Attendees are encouraged to visit the laser-industry-vendor program reception and tabletop display on Tuesday late afternoon, featuring more than 70 laser-industry and educational associations and key providers of laser-processing equipment.
Gail Overton