Business Forum: Laser markets evolve, price battles continue—an interview with John Ambroseo
An interview with the president and CEO of Coherent reveals a laser industry still changing, driven by commodization and continual advances in technologies and applications.
Aug 13th, 2019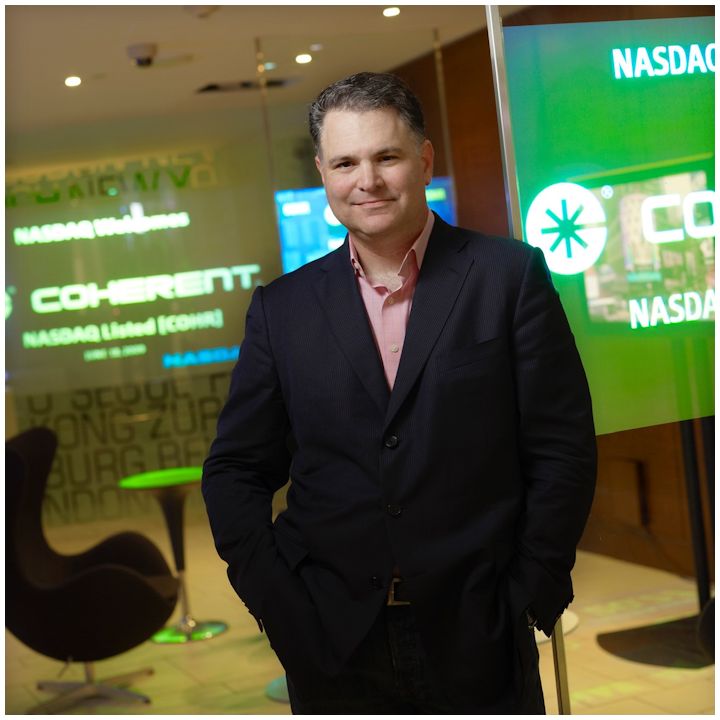 In April 2019, Coherent announced that President and CEO John Ambroseo will transition to retirement over the next two years. He joined the company in 1988 and made his way up from a sales engineer position to the top management. We took the opportunity to ask him about his experiences and thoughts on the future of the industry.
Laser Focus World: It's been three years since Coherent took over Rofin-Sinar, a major endeavor in the laser community. What differences have you experienced between the German and the American mentality?
John Ambroseo: We had a substantial footprint in Germany prior to the Rofin transaction and were well acquainted with local practices. The differences were between the two companies, mostly on how they were organized and managed. For many years, Coherent has operated around technology centers of excellence—technology-focused business units—with a market-oriented distribution organization. The Rofin model was akin to a holding company with a large number of highly independent subsidiaries.
We knew the migration to the center of excellence model would be bumpy with some of our new colleagues embracing the change and others wanting to maintain the status quo. The latter group either chose to move on or were encouraged to seek new opportunities outside of Coherent.
LFW: Looking back to your business expectations in that deal, which have been fulfilled and which turned out to be unrealistic?
JA: We were well acquainted with Rofin and had a number of employees who had worked for both companies, so we had a very good understanding of what to expect and, as a result, there have been few surprises related to the integration. From a business perspective, the biggest challenge is in the fiber laser market. It has been long established that cost was pivotal to success in that market. The market leader did an excellent job of maintaining pressure on competitors while optimizing their own profitability.
In addition, the rise of Chinese fiber laser manufacturers upended the market and the ensuing price erosion has been astonishing. There's a debate about the cost of goods inside and outside of China, but the real issue is the ultimate business objective. In general terms, Western players are managing a P&L [profit and loss] business while our Chinese colleagues are fixated on growth. It's unlikely this focus will change anytime soon. It's equally unrealistic to expect the battle to be relegated to laser powers below 4 kW. It is a matter of when, not if, one or more of the Chinese fiber laser companies breaks through the barrier to higher powers, which will only serve to intensify the price battle.
LFW: Do you think that the consolidation phase is over, or do you expect more large-scale M&A activity in the photonics business?
JA: Scale is a critical parameter for long-term success. It allows you to achieve greater efficiency and to generate more cash that can be re-invested in the business or returned to shareholders. A number of companies in our industry have done a respectable job of growing their scale and breaking through to over $1 billion in annual sales. While this is a noteworthy milestone, we're still considered small companies on a global scale.
I would hope that large-scale M&A continues to enable new markets and create new jobs. Some people might point to regulatory concerns, but it is likely that two or three combinations could still occur before regulatory headwinds become outcome-determinative.
LFW: What are the top three technology trends that are driving Coherent's business this year?
JA: Consumer electronics manufacturing accounts for approximately half of our business and spans multiple technologies and applications. Excimer laser annealing is the biggest application within consumer electronics.
Materials processing is our second largest market and encompasses a number of applications. We have been pleased with the progress that we've been making in the automotive space. This might be surprising given the global outlook for automotive unit sales, but we're engaged with multiple parties who are working to solve specific manufacturing issues. We have products deployed in production environments for closures [doors], body-in-white, and electromobility applications that are aimed at lightweighting to enhance energy efficiency, improved quality to reduce costs, or higher impact resistance for better passenger safety.
Our OEM components and instrumentation business has shown very strong growth so far this year. Bioinstrumentation has been on the rise as a key part of preventive and diagnostic care. We've also seen an increase in medical OEM sales due to increased global penetration on the part of our customers.
LFW: If you compare Asia, Europe, and America, where do you see the best business opportunities?
JA: Asia accounts for roughly half our business, which is not surprising given the concentration of consumer electronics manufacturing. There is a very high level of customer interest in new materials, new processes, and yield improvement, so future opportunities are very good and will keep Asia in the top spot for our business.
Historically, Europe has been a leader in application development, but economic challenges and continued erosion of the manufacturing base are starting to take a toll. We hope that policy decisions can reverse this trend because it would be a shame to lose talented and creative scientists and engineers from the photonics industry to other industries.
The U.S. market has been surprisingly robust despite trade issues, political infighting, and an aging tech workforce. We attribute this to historical leadership in biotech, semiconductor development, and clean energy.
LFW: Ten years ago, we asked your opinion about a Coherent manufacturing site in Asia. What is your opinion today?
JA: We have multiple direct and contract manufacturing operations in Asia that help us serve our global customer base. We will likely add in-region R&D to help accelerate time to market for several applications in consumer electronics and materials processing.
LFW: For other big laser manufacturers, commoditization is a serious problem. How do you deal with that?
JA: The pressure from commoditization varies dramatically, depending upon the market and technology. Customers place a high value on performance and reliability in all markets. Some markets are more dependent upon the rate of innovation than others. Microelectronics and instrumentation customers expect regular performance gains on a 12- to 18-month timescale. Being able to keep pace with these demands allows us to maintain our differentiation and value proposition, which in turn avoids commodity status.  
In markets like materials processing, where product life cycles tend to be longer and cost sensitivity is higher, commoditization is a much bigger challenge. Here, managing cost is critical, but as I mentioned earlier, some competitors do not operate with the same P&L objectives.
LFW: Factory automation or Industry 4.0 is a big trend in industry, with promises of at least 20% productivity improvements. What do you think about that and what is Coherent doing in this field?
JA: All of us are involved in looking at Industry 4.0 and implementing it in different ways. Giving the customer greater visibility and control of processes is absolutely critical. We're implementing different approaches to this goal, from the ability to monitor and control lasers and laser parameters through either wired or wireless interfaces. And for our tools business, a business worth several hundred million dollars, we're now bringing it onto a common software platform that allows remote control or remote monitoring from literally anywhere.
The intention, of course, is to be able to allow these tools to not only talk to one another, but to talk to other parts of the factory as well. So, we are implementing it. I would say we're not promoting it as much as others are. We recognize that it's an important piece of the long-term equation and yes, it is absolutely part of the roadmap, but we're starting with our own portfolio first.