SYLOS ultrashort-pulse laser could solve nuclear waste problem
The peak power of SYLOS exceeds the power of a nuclear plant by thousands of times; pulses of this kind can nullify the impact of nuclear waste.
Jul 30th, 2019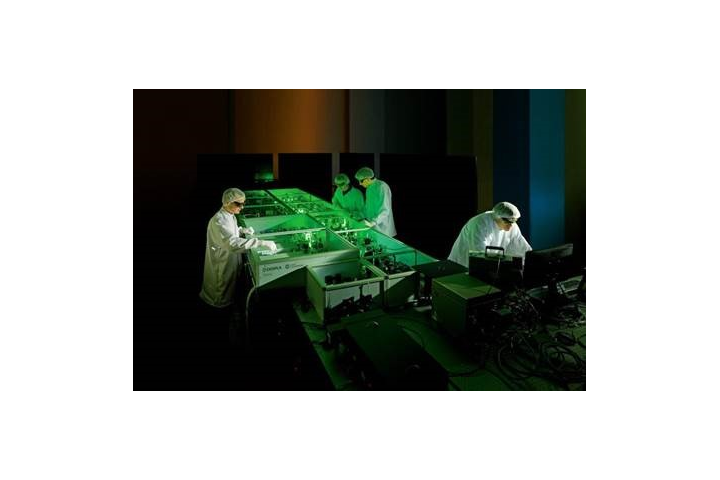 Ekspla and Light Conversion
The process of producing power via nuclear energy creates radioactive nuclear waste as a by-product, which is then stored in sealed containers for hundreds and thousands of years. As no technology can nullify the harmful effect yet, possible spillages are raising concerns globally. Two Vilnius, Lithuania-based laser technology companies--Light Conversion and Ekspla--developed a laser that could solve the nuclear waste management problem.
The jointly produced SYLOS is a high-intensity ultrashort-pulse (USP) laser. The initial idea that lasers of this kind could potentially solve the nuclear waste disposal problem was raised by Gerard Mourou, the recipient of the Nobel Prize in Physics in 2018.
 The peak power of SYLOS exceeds the power of a nuclear plant by thousands of times, and impulses of this kind can be applied both to research and to nullify the impact of nuclear waste. "Currently, the disposal of nuclear waste is comprised of either storing the waste in containers on above-surface level or burying them underground, depending on the decay period of the radioactive material. This method is raising safety concerns, as some of the waste is disposed not too far from densely populated areas, and highly radioactive waste has to be safely stored for up to tens of thousands of years," said Arturas Plukis, Head of Experimental Nuclear Physics Laboratory at the Center for Physical Sciences and Technology in Vilnius.
The SYLOS high-density USP laser system might become a much-needed solution. If the process of nuclear waste decomposition is accelerated by a laser of this kind, the decay period can be cut short to seconds, hours, or months, depending on the material.
However, several challenges are yet to be met before laser systems like SYLOS could be applied on an industrial scale, according to Darius Gadonas, Head of the Scientific Laser Systems Division at Light Conversion, co-developer of the laser.
 "We do believe that lasers like SYLOS can be adapted to solve the nuclear waste issue globally without leaving it for future generations to deal with. How soon this could be achieved will depend on the political will of governments, since lasers and infrastructure of this kind could cost up to billions of euros per unit," said Gadonas.
Vilnius is home to numerous laser developers and has an educational system geared towards providing the companies with a highly qualified workforce. Currently, more than 100 students enter studies of physics every year, and about a half of them continue studying light technologies. Most of these students start working for one of the laser companies during their studies. In general, Lithuania holds the third place in the European Union for STEM bachelor graduates per capita.
"There are now 44 laser industry-related companies in Lithuania, and most of them are located in Vilnius. The companies say that Lithuanian-made lasers take up more than 50% of the global market for the ultrashort-pulse lasers. The lasers are used at NASA, CERN, and countless technologies companies, such as IBM, Hitachi, Toyota, and Mitsubishi. Finally, 90 of the world's top 100 universities are using lasers made by scientists in Lithuania," added Gadonas.
SOURCE: Go Vilnius via Ekspla and Light Conversion; https://ekspla.com/ and http://lightcon.com/