LASER World of PHOTONICS 2019 exhibition to showcase latest in photonics
Here at Laser Focus World, we reached out to companies to learn ahead of time what photonics products and technologies they will be demonstrating on the exhibit floor.
Jun 5th, 2019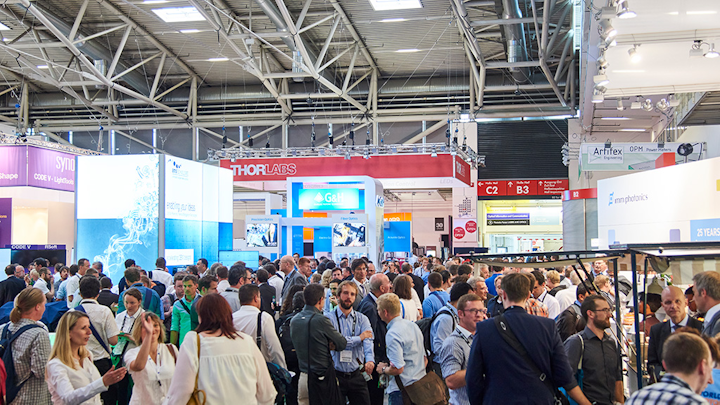 Photo: Messe München
Held every other year during odd-numbered years, the LASER World of PHOTONICS trade fair and exhibition has a typical draw of 30,000-plus attendees—and 2019 is keeping pace with that trend. This year's show is expected to bring together close to 32,000 photonics researchers and professionals, all of whom will have access to over 1300 exhibitors showcasing their photonics products and technologies.
Here at Laser Focus World, we reached out to companies to learn ahead of time what products and technologies they will be demonstrating on the exhibit floor—here's what they told us: 
DPSS laser
The TETRA diode-pumped solid-state (DPSS) laser from AMS Technologies (Martinsried, Germany) emits very short laser pulses (<5 ns) of high energy (up to 20 µJ) with four wavelengths in the visible range. The laser can switch from pulse to pulse between these four wavelengths with a very high pulse repetition frequency of 2 kHz. With the ability to emit laser pulses in four biologically useful wavelengths in very fast sequence, the laser has utility in multispectral photoacoustic imaging in biomedicine.
AMS Technologies, Hall B2, Booth 203 | Get more information
Test characterization systems
The LIV test characterization systems from Artifex Engineering (Emden, Germany) include high-power, short-pulse testing systems for chips and bars (including one with up to 600 A drive current) as well as low- to high-power continuous-wave/quasi-continuous-wave devices. Systems include contact cards, integrating spheres, and temperature-controlled chucks.
Artifex Engineering, Hall B2, Booth 300 | Get more information
Multiline lasers
The Cobolt Skyra multiline laser from Cobolt (Solna, Sweden) offers 457, 488, and 515 nm wavelengths for use in fluorescence microscopy. The laser can serve as a drop-in replacement for older-generation argon ion gas lasers, potentially extending the life of older fluorescence-based systems in life science research.
Cobolt, a HÜBNER Group company, Hall B2, Booth 214 | Get more information
10 mW DUV laser
The FQCW266-10-C deep-ultraviolet (DUV) laser from CryLaS (Berlin, Germany) emits 10 mW output power at 266 nm. Based on the company's diode-pumped, frequency-quadrupled Nd:YVO4 resonator design, the laser's size and production cost were optimized to allow simple integration in OEM systems. Specifications include power consumption of 70 W, DUV radiation emitted at 266 nm with coherence length >1000 m, and a narrow linewidth <300 kHz. Applications include photoluminescence, UV Raman spectroscopy, laser-induced fluorescence, and metrology and optics testing.
CryLaS, Hall B2, Booth 104 | Get more information
Precision optical blanks
Dynasil Fused Silica (West Berlin, NJ) fabricates optical materials, including synthetic fused silica and fused quartz products, vital to the manufacturing of lasers, semiconductors, electronics, and an assortment of energy and aerospace applications. In addition to producing blanks with low thermal expansion, chemical resistance, and excellent optical quality, the company provides in-house finishing capabilities to drill, grind, and edge glass to customer specifications.
Dynasil Fused Silica, Hall B2, Booth 116 | Get more information
High-voltage power supply
The HVS100 series high-voltage power supply from EKSMA Optics (Vilnius, Lithuania) is designed for powering of Pockels cells drivers, but it can also be used for other electronic devices and laboratory applications in the laboratory. The power supply features two voltage output channels—an adjustable high-voltage output channel and 24 V DC output channel. Required high-voltage value can be set and adjusted in the limits from -40% of maximal specified voltage to maximal specified voltage (-40% Umax to Umax).
EKSMA Optics, Hall B3, Booth 407 | Get more information
Femtosecond fiber laser
The FemtoLux green femtosecond fiber laser from Ekspla (Vilnius, Lithuania) has utilities in multiphoton polymerization, writing of fiber Bragg gratings, volume modification of transparent materials, nonlinear microscopy, silicon and sapphire scribing, and laser marking. The laser delivers 1.5 W at 515 nm or 3 W at 1030 nm average power and up to 3 µJ femtosecond pulse energy. The laser provides linearly polarized light with polarization extinction ratio >1000:1, allowing generation of second harmonic with >50% efficiency.
Ekspla, Hall B3, Booth 403 | Get more information
Novel linear VIS-SWIR array
The VIS-SWIR nanomaterial-based linear array sensor from Emberion (Espoo, Finland) is designed for use in the visible to shortwave-infrared (SWIR) spectral range. The linear array provides consistent responsivity with very low noise over the 400–1800 nm spectral range in room-temperature operation for SWIR detection. The sensor is designed primarily for spectrometry applications, as the pixel geometry (25 × 500 µm2) and array design (512 × 1) follow the conventions of the application domain. Other potential applications include line scan imaging and machine vision.
Emberion, Hall A2, Booth 113/3 | Get more information
Optical coatings
EMF (Ithaca, NY) provides optical thin-film coatings for use in the aerospace, medical devices, illumination, energy, and automotive industries. From ultraviolet to infrared, prototype development to high-volume manufacturing, and coatings on glass, polymers, metal or ceramics, the company can coat substrates up to 2.5 m in diameter.
EMF, Hall B2, Booth 116 | Get more information
Lidar demonstrator
The Ferdinand-Braun-Institut (FBH; Berlin, Germany) will present a live lidar demonstrator for pulsed laser sources, which allows flexible adjustment of pulse duration and intensity. Attendees can use a tablet to change the desired parameters and monitor the results in real time on screen. With its PLS flex, FBH offers laser sources that deliver pulses in the 200 ps to 20 ns range. The systems can be equipped with diode lasers of various wavelengths (630–1180 nm) and power ranges.
Ferdinand-Braun-Institut (FBH), Hall B2, Booth 119 | Get more information
Motheye fiber
The RARe Motheye fiber from Fiberguide Industries (Stirling, NJ) is based on a randomized process that creates nanostructures on the fiber surface, resulting in fiber-optic cables with antireflective properties. Through this rigorous process, fiber-optic cables are produced that have superior wavelength range, durability, and damage thresholds when compared with commonly used coated thin-film surfaces.
Fiberguide Industries, Hall A2, Booth 417 | Get more information
Integrating sphere
The ISD-1.6 integrating sphere from Gigahertz-Optik (Tuerkenfeld, Germany) offers the possibility to measure and analyze pulsed lasers in the visible and near-infrared spectral range with pulse lengths down to the nanosecond range. The 16-mm-diameter integrating sphere is equipped with two photodiodes: one with traceable calibration of power for the measurement of pulse energy, attenuated for use up to 100 W continuous-wave power, and the other for measuring the relative pulse waveform shape of nanosecond pulses.
Gigahertz-Optik, Hall A2, Booth 500 | Get more information
Synthetic crystal materials
Hilger Crystals (Margate, England) provides synthetic crystals for the security, defense, and medical industries. The company manufactures and supplies an extensive range of materials for applications including Infrared spectroscopy (KBr, KCL, KI, NaCl, and CsI), laser photonic applications (YAG and YAP), scintillation crystals (LYSO(Ce), LSO, CsI(Tl), CsNa(Tl), NaI(Tl), and BGO), and many others.
Hilger Crystals, Hall B2, Booth 116 | Get more information
2D imaging colorimeter
The LumiTop 4000 2D imaging colorimeter from Instrument Systems (Munich, Germany), when combined with a CAS spectroradiometer, provides a measurement solution for rapid EOL testing of main OEM display quality requirements. It features the company's LumiSuite software module for automotive OEM specifications, enabling fast and accurate end-of-line testing.
Instrument Systems, Hall A2, Booth 215 | Get more information
Double-clad erbium ytterbium co-doped fiber
A 10 µm fiber from iXblue (Saint-Germain en Laye, France) has use as a gain medium for telecom/CATV amplifiers, delivering hundreds of milliwatts to a few watts with high efficiency and low noise. The standard fiber size simplifies integration with off-the-shelf available passive components, reducing time to market.
iXblue, Hall B3, Booth 423/4 | Get more information
Customized diffractive optical elements
A line of application-specific diffractive optical elements, such as focus shapers, from Jenoptik (Jena, Germany) allow fast and efficient laser cutting in different layers of the substrate simultaneously, while also maintaining a homogeneous and precise laser spot. The optical design of the focus shapers allows for a wide range of applications through to 3D material processing. The company also offers efficiency-enhanced e2 transmission gratings, which are not only used for pulse compression as in the laser source, but also as beam combiners for laser diodes from ultraviolet to infrared.
Jenoptik, Hall A3, Booth 320 | Get more information
Erbium-doped fiber amplifier
The EDFA series erbium- and erbium/ytterbium-doped fiber-based amplifiers from Lumibird (Lannion, France) are designed for single- or multiwavelength amplification in the C-Band for intersatellite communications. Preamplifiers offer very high gain and a low noise figure, allowing the amplification of a weak signal in front of the satellite receiver. Booster amplifiers are also available for amplifying the transmitter signal up 37 dBm output power with high optical signal-to-noise ratio.
Lumibird, Hall B3, Booth 331 | Get more information
Industrial supercontinuum white-light lasers
The SuperK EVO high-power supercontinuum white-light lasers from NKT Photonics (Birkerød, Denmark) are based on the company's industrial fiber technology for simplified integration. Applications include device characterization, quality control, sorting, or any other industrial application that demands high brightness and broad spectral range.
NKT Photonics, Hall A3, Booth 137 | Get more information
Fiber laser
The Corona CFX-8000 from nLIGHT (Vancouver, WA) gives users the ability to tune the beam profiles based on their application. With one laser, users can rapidly select everything from high-intensity, small-spot-size beams to large, donut-shaped beams, enabling optimal thick and thin metal cutting, higher cutting speed and quality, improved piercing, and small-feature processing.
nLIGHT, Hall A2, Booth 447 | Get more information
High-power blue laser
The AO-500 450 nm blue laser from Nuburu (Centennial, CO) offers 500 W output power to expand to a new range of metals processing, with the ability to efficiently process copper, aluminum, stainless steel, and other industrially important metals. Its high beam parameter product enables high power density at the target material, producing defect- and spatter-free copper welds at high speed and penetration. It can also weld dissimilar metals with minimal formation of undesirable intermetallics.
Nuburu, Hall B3, Booth 103 | Get more information
Cuvette holder
The Square One cuvette holder from Ocean Optics (Largo, FL) has three collimating lenses with fiber-optic connectors and an integrated cover to reduce ambient light, enabling highly accurate, repeatable absorbance and fluorescence measurements. The holder accommodates 1 cm pathlength plastic or quartz cuvettes. Its built-in mirror optimizes signal reflection for fluorescence, while two filter slots accept both 12.5- and 25-mm-diameter optical filters. With filters, users can manage fluorescence excitation and emission wavelengths or remove unneeded wavelengths to reduce stray light.
Ocean Optics, Hall A2, Booth 417 | Get more information
High-power laser beam monitoring 
The Ophir BeamWatch Integrated fully automated, noncontact laser measurement system from Ophir (North Logan, UT) measures critical beam parameters in industrial production environments.The system measures parameters of the focused beam in real time, including focus spot size, beam caustic, and absolute power readings. It can accommodate different types of welding heads and includes a variety of interfaces, such as PROFINET and Ethernet/IP, for integration into production networks and automated manufacturing lines to facilitate direct transfer of measurement data.
Ophir (MKS Instruments), Hall A2, Booth 209 | Get more information

Diffraction gratings
Optometrics, a Dynasil company (Littleton, MA), offers in-house, custom-designed diffraction gratings for use in spectrometry to split light into different wavelengths. The company has the capacity to produce more than 1000 gratings per day under statistical process control (SPC).
Optometrics, Hall B2, Booth 116 | Get more information
Pulsed DFB laser diode module
The SCW 1731F-D40R 1650 nm distributed-feedback (DFB) laser diode module from OSI Laser Diode (Edison, NJ) has utility in optical test equipment applications where high-peak-pulsed optical power is required. The laser diode module's design offers a stabilized wavelength that is unaffected by operational pulse width for use in optical spectrum analyzer and optical time-domain reflectometer tasks. The module is optically coupled to a single-mode fiber pigtail and includes a thermoelectric cooler and an electrically isolated temperature-sensing thermistor.
OSI Laser Diode, Hall B2, Booth 139 | Get more information
1064 nm photodetectors
The YAG detector series from OSI Optoelectronics (Hawthorne, CA) has utility in defense applications such as position spot tracking, position measurement, and guidance systems. Their design targets sensing low-light intensities requiring wide dynamic range. The ultra-low-noise devices provide good signal-to-noise ratio with high responsivity at 1064 nm, and can be operated in photoconductive mode, where fast pulse response sensitivity is critical. Available as single- element or quadrant photodetectors, active area diameters range from 5 to 14 mm.
OSI Optoelectronics, Hall B2, Booth 139 | Get more information
Lasers for photoacoustic and biophotonic applications
Photonics Industries (Ronkonkoma, NY) has developed lasers with wavelengths from the mid-infrared (up to 3.4 um) to the vacuum UV (VUV; as short as ~193 nm) at high pulse energies and at kilohertz repetition rates for emerging photoacoustic and other biophotonic applications.
Photonics Industries, Hall A3, Booth 100 | Get more information
Picosecond pulsed laser driver
The Taiko PDL M1 picosecond pulsed laser driver from PicoQuant (Berlin, Germany) enables full operational control over its laser heads. It allows reading out and adjusting many parameters on the fly either through a local one-button interface or remotely via a PC. These include repetition rate, operation temperature, and fully calibrated and linearized optical output power for more precise power setting with higher output levels.
PicoQuant, Hall B2, Booth 216 | Get more information
Laser processing optics
The RLW-S laser processing optics from Scansonic (Berlin, Germany) have utility in laser welding the hairpins used in electric motors. The system's integrated optical sensor precisely detects contours and controls complex welding processes. It uses laser scanners to precisely guide the laser beam to within a tenth of a millimeter, which is made possible by an integrated camera that accurately detects the processing point and enables the welding to be completed according to a predetermined pattern.
Scansonic, Hall A3, Booth 307 | Get more information
UV blazed holographic concave gratings
Aberration-corrected, flat field imaging concave gratings from Spectrum Scientific (Irvine, CA) have grooves that are neither parallel nor equidistant and are designed to minimize astigmatism and coma, enabling their use with planar array detectors. The company's blazing technique results in very high UV peak efficiency coupled with significantly lower stray light compared to ion-etched gratings, allowing use in demanding UV applications in analytical and life science instrumentation.
Spectrum Scientific (SSI), Hall B2, Booth 125 | Get more information
Infrared detectors
The Hertzstück infrared detectors from TrinamiX (Ludwigshafen, Germany) for 1–5 µm wavelengths are protected by a thin-film encapsulation that ensures high stability and long lifetime. The detectors can directly be wire-bonded on PCBs and do not require cooling. The detectors can be customized and are available as bare chip, in TO encapsulation with and without cooling, in different geometries and pitches, and with or without filters.
TrinamiX, Hall A2, Booth 519 | Get more information
Goniometer
The PrismMaster Flex goniometer for optics manufacturing from TRIOPTICS (Wedel, Germany) performs production-related quality testing of prisms and plano-optical components. With an electronic autocollimator in a swivel arm, the goniometer has use in productive measurement of surface angles of manufactured prisms in comparison to a known reference prism. It delivers measurement times under 1 s/sample, and additional options with collimators or autocollimators and a narrowband light source expand the measurement functionality.
TRIOPTICS, Hall A2, Booth 405 | Get more information
Machine vision camera
The Phantom S640 machine vision camera from Vision Research (Wayne, NJ) provides up to 6 Gpixels/s of streaming images, offering up to 1485 frames per second (fps) at full 4 Mpixel resolution of 2560 × 1600 and up to 290,000 fps at reduced resolutions. Features include a 10 µm pixel, a 55.9 dB dynamic range, and 20.5 e- noise. Rows from an image are simultaneously read into up to four CXP6 frame grabbers, depending on the data rate required for the application. The data can then be deinterleaved and stitched with simple algorithms to recreate the image, or the data can be analyzed directly from the frame grabbers.
Vision Research, Hall B3, Booth 103 | Get more information
Motorized linear stages
The X-LDA-AE Series computer-controlled, motorized linear stages from Zaber Technologies (Vancouver, BC, Canada) feature a centrally mounted linear encoder, resulting in up to 1 µm position accuracy and consistent movement steps down to 20 nm. Their non-cogging ironless linear motors provide high speed and acceleration capabilities. Both the drive and encoder are noncontact and have no moving cables, resulting in an extremely robust system.
Zaber Technologies, Hall B3, Booth 236 | Get more information
For more information about the LASER World of PHOTONICS 2019 exhibition, please visit world-of-photonics.com.