Medicalwatch: AMD and wavefront analysis highlight ophthalmology meeting
Laser-based treatments for age-related macular degeneration (AMD) and new technologies for improving the ability to do custom corneal reshaping were among the leading topics at the annual meeting of the American Academy of Ophthalmology (AAO) in Orlando, FL, last November.
Jan 1st, 2000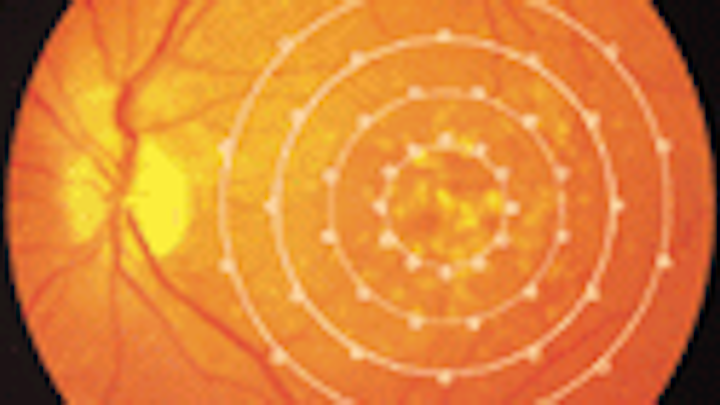 Kathy Kincade,Contributing Editor
Laser-based treatments for age-related macular degeneration (AMD) and new technologies for improving the ability to do custom corneal reshaping were among the leading topics at the annual meeting of the American Academy of Ophthalmology (AAO) in Orlando, FL, last November. Several companies reported on their clinical studies of photodynamic therapy (PDT) and other laser-based treatments of AMD; in addition, most of the ophthalmic-laser vendors exhibited wavefront-analysis devices that are under development or, in some cases, are already undergoing clinical study.
Click here to enlarge image
FIGURE 1. During treatment for age-related macular degeneration, 48 diode-laser lesions of 125 µm were applied in four concentric circles outside the foveal avascular zone of the eye in a scatter or grid pattern between 750 and 2250 µm from the center of the zone.

While refractive surgery, including PRK and LASIK, continues to be a significant application for both attendees and vendors at the AAO meeting, this year AMD was definitely the "hot" topic (see Laser Focus World, March 1999, p. 63). AMD, a degenerative disease that affects the macula (light-sensing tissue that lines the inside of the eye), basically has two forms: wet and dry. More than 90% of patients with AMD have the dry form, which is most likely caused by aging and thinning of the macula. Only 10% have the wet form, a more aggressive condition in which abnormal blood vessels (choroidal neovascularization, or CNV) grow under the retina, resulting in more severe scarring and distortion or loss of central vision. About 10% of patients with wet AMD are eligible for high-power laser surgery; however, this procedure runs the risk of thermal damage, which can cause scarring.
Several companies are exploring the use of PDT for treating wet AMD. QLT Phototherapeutics and Ciba Vision are collaborating on the use of Visudyne in conjunction with a 690-nm Zeiss or Coherent laser, and their premarket-approval application for this indication is expected to be acted upon by a panel of the US Food and Drug Administration (FDA) in February. Miravant's PhotoPoint treatment, which uses a 664-nm diode laser from Iris Medical (a division of Iridex; Mountain View, CA) to activate Purlytin, is currently in Phase III trials. And Pharmacyclics is in Phase I/II trials using Optrin (a version of its Lutex photoreactive agent developed specifically for ophthalmic applications) in conjunction with a 732-nm diode laser. The company is working with Diomed using Lutex and a Diomed diode laser for PDT treatment of cancer but has not announced whether this is the same laser it is using for AMD.
All of this R&D activity can only bode well for the 200,000 people afflicted with AMD each year. However, as noted, PDT can only be used to treat the wet form of AMD, which actually represents a very small percentage of the potential patient population. In addition, the PDT technique is said to be effective on only about 20% of those treated. Thus, many ophthalmologists reportedly question whether PDT will become a viable treatment option for this condition, in large part because the equipment is expensive and the treatments will likely remain costly as well—at least $1000/eye, with at least four treatments per eye per year required.
Click here to enlarge image
Iridex is directly addressing this issue with a laser-based treatment for dry AMD (see Figs. 1 and 2). In fact, Iridex has clearly established itself as the leader in the commercial development of laser-based treatments for both forms of AMD. The company has five separate AMD treatment protocols currently under development, two for the dry form and three for the wet form. As part of its comprehensive approach to identifying appropriate treatment modalities for the various forms of this disease, Iridex has developed and is investigating transpupillary thermo therapy (TTT), which uses its SLx diode-laser system to specifically target and treat occult (early stage) wet AMD (see "British study supports diode-laser AMD therapy," p. 86). Iridex is also working with Miravant on the PDT treatment of classic CNV, which occurs in more advanced stages of wet AMD, and is the only company pursuing a laser-based treatment for dry AMD, which affects nearly 2 million people annually.

FIGURE 2. Effects of age-related macular degeneration in a 63-year-old woman include soft drusen beneath the fovea and visual acuity decreased to 20/50-2 (top). Nine months following laser treatment, her drusen have almost completely disappeared, and her visual acuity improved to 20/20. Note the absence of visible signs of laser treatment.

"It appears that PDT will be indicated in the treatment of predominately classic CNV membranes, which accounts for about 30% of the patients with wet AMD," said Theodore Boutacouff, president and CEO of Iridex. "In contrast, it appears that TTT will be able to treat the patients with occult wet AMD, which accounts for the other 70% of wet AMD cases. Thus, PDT and TTT appear to be complementary treatment approaches for wet AMD."
Wavefront analysis
Wavefront analysis, being touted as a more advanced form of corneal topography to enable "custom" corneal ablations, also made quite a splash at this year's AAO meeting. At least five different devices utilizing this technology were displayed at the meeting, some in conjunction with specific laser systems. VISX, Summit/Autonomous, and Technomed all showed various wavefront-based mechanisms.
Foremost among these was the Summit/Autonomous system, which is furthest along in clinical testing. Marguerite McDonald, a well-known ophthalmologist in the refractive-laser world who has been working closely with Autonomous in its development of the LADARVision system, reported on the first human surgeries performed with the company's CustomCornea wavefront technology. Autonomous was granted an investigational device exemption by the FDA earlier this year to begin clinical trials of the CustomCornea system on nearsighted, farsighted, and astigmatic patients using both PRK and LASIK; Dr. McDonald's investigational procedures were performed as part of these clinical trials.
According to the company, current laser-vision-correction techniques reshape the cornea to a standard spherical shape based on the patient's manifest refraction, which is the trial lens measurement technique used in determining a contact lens or glasses prescription. However, this technique relies on the input of the patient rather than scientific data. Using the CustomCornea measurement device, physicians can measure the unique optical aberrations in each patient's eyes and treat the patient with a customized ablation pattern to reshape the cornea. Autonomous believes that this technology will provide surgeons with the ability to treat ocular aberrations that cannot be detected or compensated for by existing refractive systems.
"Our goal is to greatly improve the quality of vision for patients after refractive surgery and to potentially go beyond the current 20/20 visual-acuity standard," said Randy Frey, president of Autonomous and vice president of Summit.
British study supports diode-laser AMD therapy
Results from a study conducted at King's College Hospital (London, England) provide further support that using the OcuLight SLx 810-nm diode laser from Iridex (Mountain View, CA) to perform transpupillary thermotherapy (TTT) is effective in treating occult subfoveal choroidal neovascularization (CNV), a condition associated with wet age-related macular degeneration (AMD).
TTT is a method of delivering heat to the back of the patient's eye using an 810-nm infrared laser to create a localized hyperthermia that results in closure of choroidal vessels. Hyperthermia is a natural healing mechanism and closure of the choroidal vessels during high fever has been reported in the literature.
TTT uses lower power than conventional retinal laser photocoagulation and is delivered over a longer period of time. This results in a lower temperature elevation of the target tissue, typically about 5°C to 8°C to a temperature of 42°C to 45°C, which is well below the coagulative threshold, minimizing collateral damage to the neurosensory retina. According to Iridex, TTT is commonly used worldwide as an effective treatment for ocular tumors such as retinoblastoma and choroidal melanoma.
In the British study, 22 eyes were treated with occult CNV using TTT; after an average of 6.5 months follow-up, the CNV resolved in 71% of treated eyes and visual acuity stabilized in 86% of treated eyes. These results, combined with results from a recent study performed at The New England Eye Center (Boston, MA), indicate that TTT may be an effective treatment method for patients with occult wet AMD, which accounts for approximately 70% of patients with wet AMD. That study demonstrated that TTT treatment was effective in improving or stabilizing vision in 75% of eyes and in decreasing subretinal fluid in 94% of eyes (see Ophthalmology, October 1999).
Iridex believes that the TTT approach represents the promise for an effective treatment for the vast majority of patients with occult wet AMD," said Giorgio Dorin, director of clinical applications development at Iridex. "This new study suggests that the use of TTT may be expanded for the treatment of other CNV membranes in addition to occult CNV secondary to AMD."
The British study, "Transpupillary Thermotherapy for the Treatment of Choroidal Neovascular Membranes (CNVM)," was presented by Dr. Richard Newsom and coauthored by Drs. Dominic McHugh, James McAllister, Manzar Saeed, and Bina Parmar at the November 1999 meeting of the American Academy of Ophthalmology. Dr. Newsom reported clinical outcomes in treating 42 eyes of 39 consecutive patients with occult and classic CNV, secondary to a number of causes.
Both resolution of CNV and stabilization of visual acuity were particularly encouraging in the group of patients with occult subfoveal CNV, a condition that represents approximately 70% of wet AMD. In this group, which included 22 eyes, the CNV resolved in 16 eyes (71%), persisted in five eyes (23%), and recurred in one eye (5%). Visual acuity stabilized (about two lines) in 19 eyes (86%), and there was mild loss (greater than two and one-half lines) in three eyes (14%); no eyes had severe visual loss (greater than six lines). These results reflect the ability of the diode laser to treat deep retinal tissue, such as subfoveal lesions, without damaging the neurosensory retina.
"Initial results demonstrate maintenance of acuity following treatment in both classic and occult membranes," the researchers concluded. "Long-term results and randomized control trials are awaited."