Cosmetic lasers enter a new era
Amid growing consensus and concern that the market for wrinkle removal and other cosmetic-laser applications has reached the point of saturation, some laser companies are investing in the development of next-generation systems designed to expand the market into untapped niches. According to several vendors and even some doctors, the future of the aesthetic-laser industry lies in compact, inexpensive laser systems that appeal to primary-care physicians and other nonspecialists who want to add cos
Aug 1st, 1999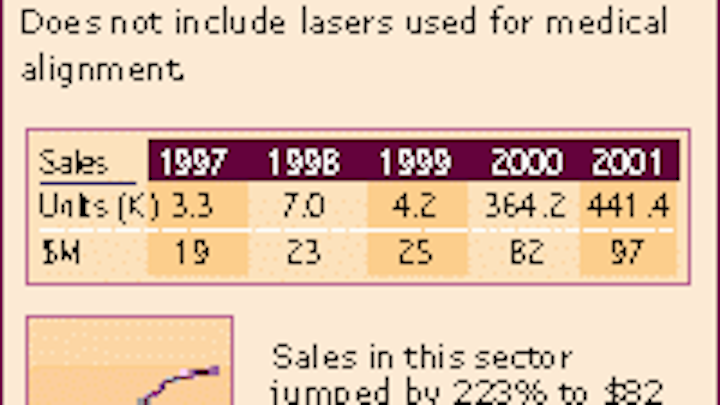 Kathy Kincade
Contributing Editor
Amid growing consensus and concern that the market for wrinkle removal and other cosmetic-laser applications has reached the point of saturation, some laser companies are investing in the development of next-generation systems designed to expand the market into untapped niches. According to several vendors and even some doctors, the future of the aesthetic-laser industry lies in compact, inexpensive laser systems that appeal to primary-care physicians and other nonspecialists who want to add cosmetic procedures to their practices and to patients who want quick results with little consequence.
"Today, people do not have the time to recover from the traditional cosmetic procedures that are used to counter the effects of aging," stated Dr. Richard Glogau, clinical professor of dermatology, University of California, San Francisco, during a presentation on trends in cosmetic dermatology and dermatologic surgery at the annual American Academy of Dermatology (AAD) meeting last March. "While conventional surgery may involve a large incision, the expense of major surgery, and a prolonged recuperation period, the latest procedures to treat facial rejuvenation are minimally invasive or noninvasive and take little recovery time."
This trend should translate into strong revenues for those companies developing compact, user-friendly, multiple-application systems that fit within the general practitioner's capabilities and budget. Many of these systems are initially being designed for nonsurgical, noninvasive skin rejuvenation-using the laser energy to thermally damage the tissue beneath the epidermis and achieve a wound-healing response that results in collagen regeneration-rather than ablation.
Laser Aesthetics (Auburn, CA) was the first company to introduce the nonablative approach and continues to report good results with its 1.32-µm Nd:YAG laser-the CoolTouch (see photos). Candela (Wayland, MA) is conducting trials with a 1.5-µm Er:glass laser, while BioLase (San Clemente, CA) is developing 950-nm diode-laser technology (gained through its acquisition of Laser Skin Toner) for this application. Coherent Medical (Santa Clara, CA) also has some nonablative tech nology in development, but declined to disclose any details. Some of these products will likely begin appearing on the market this year, according to Gerard Puorro, president and CEO of Candela.
At the same time, the market should continue to grow as the costs of both the technology and the procedures decline and the patient pool willing to pay out-of-pocket for these treatments-which, as they become less invasive, will require more frequent retreatments-expands. In addition, the rejuvenation lasers are not expected to replace CO2 and erbium-laser resurfacing because they are not able to achieve the same results with older, deeper wrinkles and sun-damaged skin.
Thus, while the skin-resurfacing market has reached a plateau and, in fact, has begun to decline, it should not disappear completely. According to a recent report from Frost & Sullivan (Mountain View, CA), skin-resurfacing lasers accounted for 37% of the aesthetic-laser market in 1997 but only 16% of the market in 1998. At the same time, total revenues in this market grew from $199.4 million in 1997 to $233.5 million in 1998. Revenues are expected to decline in 1999, however, to $224.5 million, before increasing once again in 2000 to $237 million. "There is a price to pay for nonaggressiveness," says Hillel Bachrach, who until June 1999 was vice chairman and executive vice president of ESC Medical (Yokneam, Israel), which is also developing a nonablative skin-rejuvenation approach using its intense-pulsed-light (nonlaser) technology. "But the patient population is practically endless, and we have not treated 1% of the population that can be treated with any of these applications."
Hair removal
Laser hair removal fits well into the low-impact, quick-turnaround model that is transforming the wrinkle-removal market. In fact, despite predictions that the laser hair-removal market is also reaching the point of saturation, Frost & Sullivan says that hair removal is expected to account for 65% of the total US aesthetic-laser market this year and that this market segment will continue to expand for the next several years, peaking at 76.5% of the market in 2004 (vs. 7% for skin rejuvenation).
A 40-year-old female underwent three skin-rejuvenation treatments with the 1.32-µm Nd:YAG CoolTouch laser (left). Treatments were two weeks apart; each site underwent two passes at 33 J/cm2 per treatment. A cryogen cooling spray applied prior to lasing protected the epidermis from thermal injury. After 29 weeks, the controlled thermal effect in the dermis stimulated new collagen formation, tightening the underlying tissue and smoothing the fine lines (right).
Click here to enlarge image
null
At this point, it is not clear which laser type will ultimately dominate the hair-removal market. There have been reports that the alexandrite laser, such as the GentleLase from Candela, is outpacing ruby and diode-laser sales for this application. One reason for this is likely the attractive price point-$69,000 for the GentleLase.
"From a technology point of view, we have been able to do something that increases the efficiency four times," Puorro says. "The design is simple, and it is inexpensive. So we have been able to come out in the market with a system that is half the price and more powerful."
Ken Witte, director of business development for Coherent Medical (which distributes the LightSheer, manufactured by Star Medical [Pleasanton, CA], a former subsidiary of Palomar now owned by Coherent), says the diode laser is still a very popular hair-removal product. "Our hair-removal sales continue to grow-not at the rate they were, but they have not plateaued," Witte says. "And I think there is still an upside in this market."
Hair removal is also a significant market for ESC Medical, which debuted the latest version of its nonlaser EpiLight system earlier this year (the company also sells a ruby laser and an alexandrite laser for hair removal). The new EpiLight, the third upgrade to this product, pulses five times faster than the original model and features a hair-growth-simulation program designed to improve outcomes through computer-assisted treatment planning. According to the company, this software eliminates the need to guess how often to treat or retreat a patient.
"The program incorporates data from more than 1000 treatments conducted at our 10 clinical sites, where we did multiple treatments at various intervals-enough to realize that the frequency of treatment should be related to the area you are treating," Bachrach says. "So if you want to do the chin and the growth cycle is six weeks, treating it after only four weeks doesn't make much sense. And we can show the patient via the simulation program why they should come back every six weeks, not every two."
ESC also appears to be well positioned to meet the evolving demands of the skin resurfacing/rejuvenation market. Its DermaK product incorporates both a CO2 laser and an erbium laser in an effort to capitalize on the strengths of each approach.
"The key today is to have as little downtime and the shortest recovery for the patient as possible," Bachrach says. "That is why we came out with the DermaK. You use the CO2 laser only for heating, and you do the ablation with the erbium laser. So there are only two to three days of downtime, but you are still able to get to the deep wrinkles."
Multibillion-dollar market?
While each of these companies has its own strategy and approach, they generally agree that the cosmetic-laser field is evolving into a multiapplication, multidiscipline model that will make more cost-effective and compact technologies available to physicians and other potential users outside of dermatology and plastic surgery. "Where everyone is trying to go in all of these things, whether skin resurfacing, hair removal, or leg veins, is to make [the technology] easier to use, cheaper, and less invasive to move it out of the hands of the specialists," Witte says.
And once the primary-care doctors become involved, the market will become technology-driven and, eventually, more affordable, adds Gerard Puorro. "Similar to what happened in the computer industry, lasers will become faster, smaller, cheaper, and manufactured at higher volumes," he says. "Five years from now, we should expect to see smart, tabletop lasers, many of them diode-based, that are designed to treat all the things we know." Combined with a seemingly endless pool of patients willing to pay for these procedures out of their own pockets, the end result should be quite profitable, he adds.
"There are 75 million baby boomers, and the doctors do not want to play with managed care or HMOs or private insurers anymore," Puorro says. "Practitioners are now creating a certain disposable income to reinvest in their practice and their patients, and I think we are headed for a multibillion-dollar market in the next few years."