Fiber-optic networks help astronomers peer into deep space
A stable frequency reference can be transmitted 300 km over a standard fiber-optic network to synchronize radio telescopes.
Feb 1st, 2018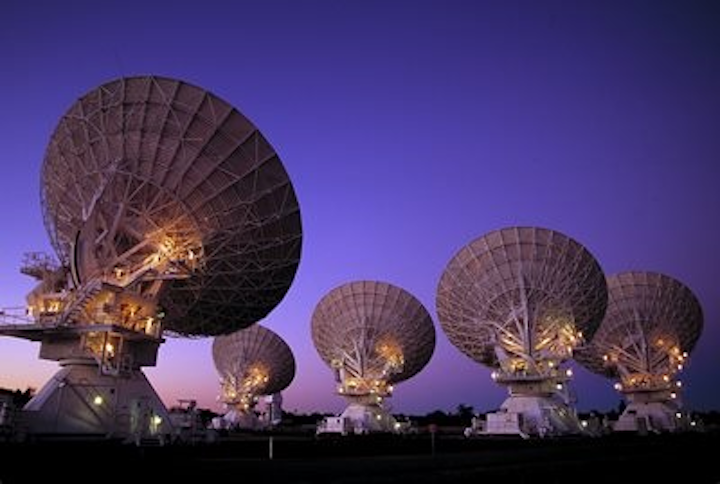 IMAGE: Australian researchers sent a reference signal between two radio telescopes using a 155 km fiber-optic telecommunications link. The new technique passively compensates for network signal fluctuations introduced by environmental factors such as temperature changes or vibrations, and can replace the use of atomic clocks. (Image credit: D. Smyth, CSIRO)
For the first time, researchers have demonstrated that a stable frequency reference can be reliably transmitted more than 300 km over a standard fiber-optic telecommunications network and used to synchronize two radio telescopes. Stable frequency references used to calibrate clocks and instruments that make ultraprecise measurements are usually only accessible at facilities that generate them using expensive atomic clocks. The new technology could allow scientists anywhere to access the frequency standard simply by tapping into the telecommunications network.
RELATED ARTICLE: Optical clock technology tested in space for first time
Linking radio telescopes in an array requires that each telescope have access to an atomic clock to record the precise time at which a signal is detected from an object in space. Focusing all the telescopes on the same object and then calculating the slight differences in the time for the signals to reach each telescope allows researchers to combine all the observations and pinpoint the object's location and other characteristics. Stable transmitted references could be used to calibrate the relative time at each telescope, eliminating the need for multiple atomic clocks in a radio telescope array.
In an article in Optica, the Optical Society's (OSA; Washington, DC) journal for high-impact research, researchers from a consortium of Australian institutions report on the successful transmission of a stable frequency reference between two radio telescopes via a fiber link and demonstrate that the technique's performance is superior to the use of an atomic clock at each telescope. The consortium included Australia's Academic and Research Network (AARNet), the Australian National University, the Commonwealth Scientific and Industrial Research Organisation (CSIRO), the National Measurement Institute, Macquarie University, and the University of Adelaide.

The results show that the technique is capable of compensating for signal fluctuations in the fiber-optic network introduced by environmental factors such as temperature changes or vibrations. The demonstration was even performed over a network that was transmitting live telecommunications traffic at the same time.

"By running the experiment on optical fibers also carrying normal traffic, we showed that transmitting the stable frequency standard doesn't affect the data or telephone calls on the other channels," said Kenneth Baldwin, a member of the research team from the Australian National University. "This is necessary to gain the cooperation of the telecommunications companies that own these fiber networks."

"The frequency of the quartz oscillator will also eventually drift, so our unique process combines local stabilization with the quartz oscillator for short time lengths, with the longer--greater than round trip time--stabilization provided by the transmitted stable frequency reference technique," said Baldwin. "This highly stable method for transmitting the frequency reference allows an atomic clock, which cost around two hundred thousand dollars, to be replaced with a system that only costs a few tens of thousand dollars."

The researchers say that their demonstration shows that the new method is ready for implementation by radio astronomers who want to avoid using multiple atomic clocks across a telescope array. The method can be used over even longer distances by using more amplifiers to boost the signal. This would also allow stable frequency references to be broadcast across a national fiber-optic network, where any scientist with access to a telecommunications network could use them.

SOURCE: OSA; https://www.osa.org/en-us/about_osa/newsroom/news_releases/2018/new_use_for_telecommunications_networks_helping_s/