Demand for optoelectronics contract manufacturing drives Avo Photonics' move to larger facility
The expansion helps Avo support their rapidly growing business in manufacturing custom photonics devices and systems.
Jul 24th, 2018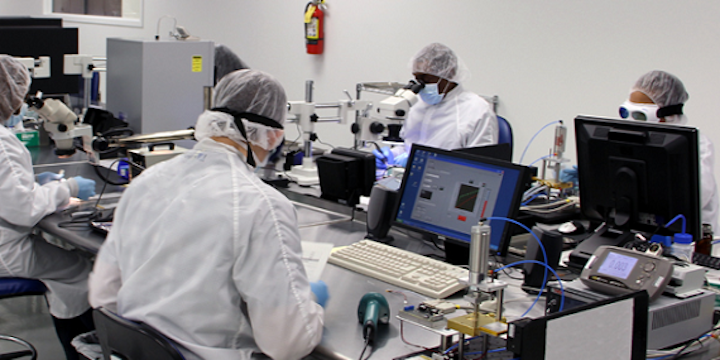 IMAGE: AvoLight [trademarked] from Avo Photonics means a single source for advanced, private-label design, development, and production photonic services to meet the requirements and challenges of its clients. (Image credit: Avo Photonics)
Optoelectronic product design, development, and manufacturing services company Avo Photonics (Horsham, PA) has completed their move into a new, significantly larger facility. The 41,000 sq. ft. building consists primarily of Class 100 to Class 10,000 cleanroom space. This expansion provides Avo with the infrastructure and capacity to support their rapidly growing business in manufacturing custom photonics devices and systems.
RELATED ARTICLE: Avo Photonics and Weatherford create deep-downhole photometer
Avo Photonics president Joseph Dallas said, "This is an exciting next step in our company's evolution. We are confident this strategic investment will enable our dynamic growth to continue and will allow us to continue providing the best capabilities and services to our customers."
Jeff Perkins, Avo Photonics COO, added, "We had completely out-grown our previous facility. Our new facility will support the additional manufacturing assets needed to not only grow our manufacturing volumes but also to allow expansion into new markets that require new and different tool sets and processes." Perkins also wanted to thank all the employees that worked to make the move as seamless as possible. "It's a testament to the quality and integrity of our employees that during the many months over which the move occurred we did not miss a single scheduled delivery."
Avo Photonics provides custom design, prototyping, and contract manufacturing services for customer-owned, optoelectronic components and systems. Markets include communications, medical, industrial, and aerospace. Avo Photonics is an ISO 9001 and ISO 13485 certified, US-based photonics contract manufacturer.
SOURCE: Avo Photonics; http://avophotonics.com/_media/uploads/files/Press%20Release%20-%20%20Avo%20Photonics%20Completes%20Move%20to%20New,%20Larger%20Facility.pdf