Integrated-photonics laser has record-narrow chip-based linewidth of 290 Hz
The hybrid chip-based laser also has a tuning range of 81 nm in the 1550 nm region.
Jul 6th, 2017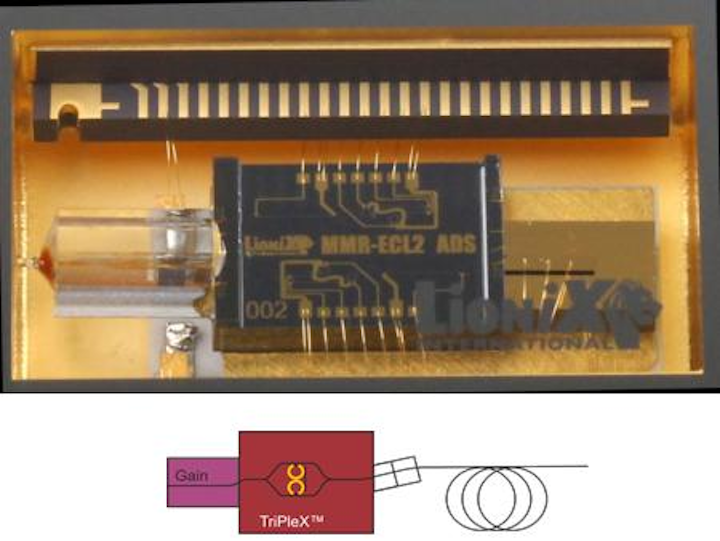 The University of Twente integrated-photonics narrowband tunable laser was created on a chip by LioniX International (top). In the chip, a laser-gain section is hybridly attached to a tunable reflector, creating an external-cavity laser (bottom). The gain section creates the first mirror and the necessary gain, the silicon nitride based TriPleX portion acts as a tunable wavelength-dependent mirror. (TriPleX is a LioniX process.) (Images: LioniX International)
Researchers from the University of Twente's MESA+ Institute for Nanotechnology and chipmaking company LioniX International (both in Enschede, Netherlands) have developed the world's most-narrowband laser diode on a chip.1
The tunable indium phosphide/silicon nitride (InP-Si3N4) hybrid integrated-photonics laser has an intrinsic laser linewidth of only 290 Hz and a spectral coverage of 81 nm at 1550 nm.
Team leader Klaus Boller of the University of Twente notes that the laser is ten times more coherent (ten times narrower bandwidth) than any other laser on a chip.
The researchers say that the new laser will bring numerous applications within reach that include controlling movable antennae on phone masts for 5G mobile internet, faster fiber-optic data transmission, and more-accurate GPS systems and sensors for monitoring the structural integrity of buildings and bridges.
Sources:
https://www.utwente.nl/en/news/!/2017/7/54645/university-of-twente-develops-record-laser-on-chip
http://www.lionix-international.com/ultra-narrow-linewidth-tunable-laser-available/
REFERENCE:
1. Youwen Fan et al., CLEO QELS 2017, paper JTh5C.9, https://www.osapublishing.org/abstract.cfm?URI=CLEO_AT-2017-JTh5C.9