LioniX International and Fraunhofer Heinrich Hertz Institute combine functionalities of their PIC platforms
Complementary properties of the silicon nitride and InP platforms will enable new applications.
Jul 27th, 2017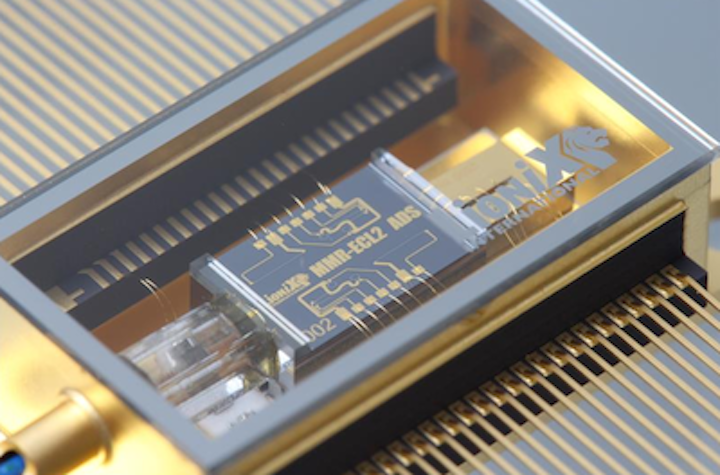 Narrow-linewidth tunable laser (Image: LXI)
LioniX International (LXI; Enschede, Netherlands) and Fraunhofer Heinrich Hertz Institute Berlin (HHI; Berlin, Germany) have said they will integrate together their two separately developed photonic integrated circuit (PIC) platforms. Combining the functionalities of both platforms enables new applications varying from telecom and datacom to biophotonics, sensing, and metrology, say the two outfits. Both platforms have their own unique properties, which are complementary, as was demonstrated in the realization of the recently announced record ultralow-linewidth lasers (290 Hz linewidth).
HHI and LXI will supply engineering resources to support the combination of both platforms.
LioniX International's PIC platform is based on stoichiometric silicon nitride realized by low-pressure chemical vapor deposition and is branded under the name TriPleX. The platform is complementary to HHI's indium phosphide (InP) platform, as it is ultralow-loss (over a wavelength range from 405 to 2350 nm) and has the ability to create spot-size converters enabling an optimized conversion between the mode profiles in, for example, HHI's InP chips as well as many types of fibers.
HHI's PIC platform relies on InP semiconductors, which can serve as light sources, detection, amplification, and phase control in the wavelength region from 1200 to 1650 nm. HHI's portfolio of commercial products includes high-speed photodiodes and balanced detectors, high-speed Mach-Zehnder and other modulators, and laser products. HHI's PIC platform for customer-specific PICs enhanced by LXI's low-loss PICs allow for a large range of products targeting a wide range of applications, according to HHI and LXI.
"Developing a standard interface between active and passive PICs allows for experience accumulation over many different designs and thus benefits hybrid integration and its industrial and academic users," says Martin Schell, director of HHI.
Source: http://www.alphagalileo.org/ViewItem.aspx?ItemId=177669&CultureCode=en