Temperature-insensitive photonic-bandgap fiber to advance fiber-based interferometric experiments
Other potential uses of the hollow-core fiber are in optical gyroscopes and distribution of time signals.
Dec 10th, 2015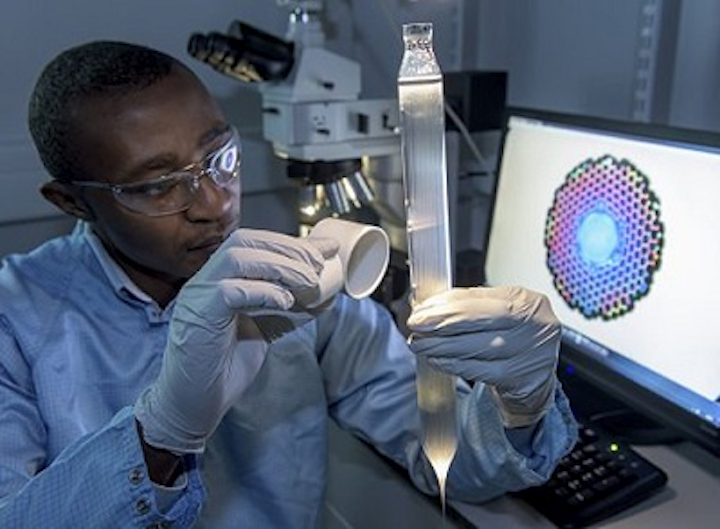 Eric Numkam-Fokoua of the University of Southampton inspects a hollow-core optical fiber preform. (Image: University of Southampton)
Researchers from the Time & Frequency Group at the National Physical Laboratory (NPL; Teddington, England) and the Coherent Optical Signals and Microstructured Fibre groups of Southampton's Optoelectronics Research Centre (ORC) at the University of Southampton (England) have unveiled an advanced photonic-bandgap fiber that has zero sensitivity to temperature changes.
The research explores the development of a robust hollow core fiber suitable for use in demanding applications, such as the distribution of accurate time signals, that are very sensitive to environmental variation such as changes in temperature.
Propagation time through an optical fiber changes with the environmental conditions occurring where the fiber is laid, since changes in the temperature alter both the fiber length (by a tiny but still significant fraction) and the refractive index associated with the silica glass at its core. These changes have a negligible impact for most fiber applications such as telecommunications; however, they can cause problems for many others such as fiber-based interferometric experiments and devices.
The hollow core photonic-bandgap fibers have a much smaller sensitivity to temperature variations than traditional solid-core fibers; the researchers saw a reduction in thermal sensitivity by a factor of 18 (three times larger than previously reported), making these fibers the most environmentally insensitive fiber technology available to date.
"These fibers are promising candidates for many next-generation fiber system applications that are sensitive to drifts in optical phase or absolute propagation delay," says Radan Slavik of the University of Southampton. "The combination of their unique properties makes the fibers attractive for a range of applications, including gyroscopes, fiber interferometers, and the delivery of precise synchronization signals."
Source: http://www.npl.co.uk/news/fibre-research-shows-promise-for-ultra-stable-applications
REFERENCE:
1. Radan Slavik et al., Scientific Reports (2015); doi: 10.1038/srep15447