ISLA 2 micron fiber laser project concludes with several technical advances
The EU-funded Integrated Disruptive Components for 2 µm Fibre Laser (ISLA) project has concluded with positive results.
Aug 13th, 2015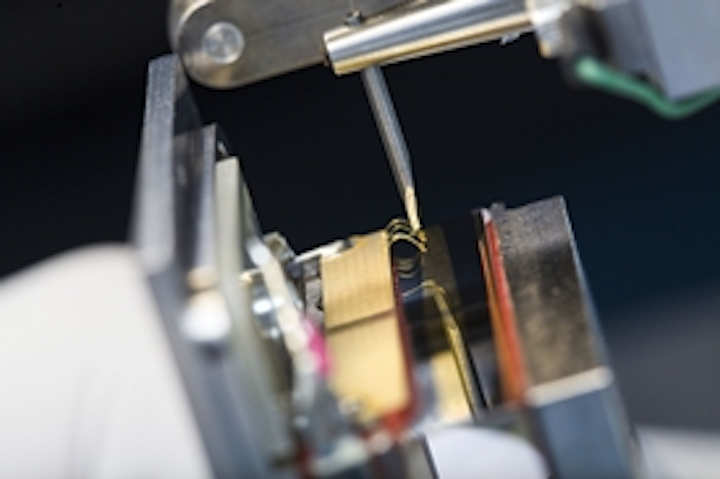 IMAGE: The ISLA project has developed a number of supporting components for 2 micron fiber laser applications. (Image credit: Gooch & Housego and ISLA)
The European Union-funded ISLA (Integrated Disruptive Components for 2 µm Fibre Laser) project has concluded with positive results. Gooch & Housego (G&H; Ilminster, England) wasproject coordinator with project partners Rofin Sinar (Hamburg, Germany), II-VI Laser Enterprises (Saxonburg, PA); JDSU (Milpitas, CA) the University of Southampton (Southampton, England); Trinity College, Dublin; and Vivid Components (Southampton, England). Since 2011, the project team says ISLA has had a major impact on the development of components for 2 µm fiber lasers. Among the major advances made in the project were:
Thulium fibers with 70% slope efficiency at >100 W output
Holmium fibers with 75% slope efficiency
Amplitude modulators and tunable filters
Fiber-coupled isolators, pump combiners and low loss taps
Wavelength-flattened couplers
Fiber coupled silicon pulse pickers
Graphene-based modelockers
793 nm diodes > 38 W in 105 µm fiber with 0.15 NA demonstrated
Wavelength-stabilized 793 nm diodes with 60% power conversion efficiency
The project culminated in a workshop held on 26 June 2015 after Laser World of Photonics, Munich. Slides from this event, summarizing the technology developed in the project, and including a range of presentations from external speakers on applications for 2 µm lasers, may be found on the project website at http://isla-project.eu/.
RELATED ARTICLE: Novel fiber lasers offer new capabilities
With the project completed, work continues at The Optoelectronics Research Centre (ORC) in Southampton, England to build a 0.5 kW continuous-wave 2 µm fiber laser based on ISLA components. This will be characterized at the ORC, and then transferred for industrial testing at the ROFIN Laser Applications Laboratory in Hamburg.
G&H has commercialized a large number of the products developed for ISLA, including fused fiber devices, acousto-optic filters, and modulators.
SOURCE: Gooch & Housego and the ISLA project; http://goochandhousego.com/ and http://isla-project.eu/