OFC/NFOEC 2005 combines upbeat mood with pragmatic perspectives
The number of exhibitors and exhibit attendees at the first combined Optical ­Fiber Communication Conference and the National Fiber Optics Engineers Conference (OFC/NFOEC 2005; Anaheim, CA; March 5-10) was not much different from the previous year's OFC meeting; apparently many of the systems vendors who previously would have been at NFOEC were not at the newly combined event-they have moved on to alternatives such as Supercomm (Chicago, IL; Jun 6-9)
May 1st, 2005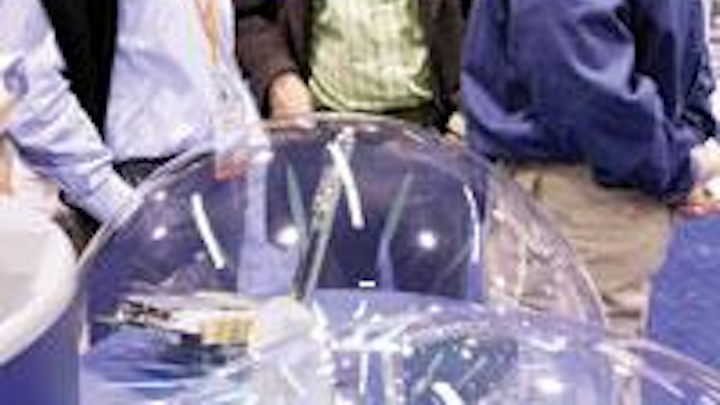 The number of exhibitors and exhibit attendees at the first combined Optical ­Fiber Communication Conference and the National Fiber Optics Engineers Conference (OFC/NFOEC 2005; Anaheim, CA; March 5-10) was not much different from the previous year's OFC meeting; apparently many of the systems vendors who previously would have been at NFOEC were not at the newly combined event-they have moved on to alternatives such as Supercomm (Chicago, IL; Jun 6-9).
Nonetheless, the mood at this year's meeting was strongly upbeat. People were once again talking­-as they did in the days of the telecom bubble-about a growing market, spurred in particular by the imminent prospect of extending fiber to the home and to the desktop (see figure). But, unlike the giddiness at the height of the telecom bubble, this year's optimism was firmly grounded in reality. Prominent themes underlying the numerous new technology and product announcements included industry consolidation, outsourcing, focusing on immediate market needs, and righting a long-standing market inversion between prices and costs.
Consolidation ahead
Industry consolidation is likely to speed up over the next few years because there are still too many suppliers in the market and many companies-perhaps working with capital obtained during the telecom bubble-are still pricing their products lower than their costs to draw customers, rather than following a viable business model, according to Dave Buse, senior vice president of sales and marketing for the Finisar (Sunnyvale, CA) Optical Products Division. Finisar discussed its recently completed (Jan. 31) acquisition of Infineon (Munich, Germany) transceiver product lines and technology, as well as several new-product introductions. Buse said acquisition of the Infineon 10-Gbit Ethernet products was particularly important in helping Finisar serve the still largely XAUI-based datacom market.
About 650 companies participated in the OFC/NFOEC exhibition in Anaheim, CA, this year, of which about 40% were international. Of 13,111 total meeting registrants, about 3500 arrived from other countries, with 12% coming from Asia.
Click here to enlarge image
Ten-gigabit Ethernet is the current market sweet spot, according to Thomas Fawcett, marketing manager for the ­fiberoptic-product division at Agilent (San Jose, CA), which announced at the meeting that it had surpassed 90 million active fiberoptic modules shipped since 1999. Another important trend is the continued doubling of fiber-channel speeds, he said. Looking ahead from the current market focus on moving from 2 to 4 Gbit, Finisar was demonstrating 8 Gbit at OFC and Agilent was expecting to demonstrate 8 Gbit by the end of next year. Fawcett also discussed the growth of outsourcing at Agilent from contract manufacturing up to the subsystem-assembly level in southeast Asia in the 1980s to full product-line-level assembly in southeast Asia and Japan in the 1990s, expanding further to include China and Korea in this decade.
NTT in Japan is anticipating three million new fiber-to-the-home customers in the next three years, according to Christopher DePalma, a marketing engineer at Hamamatsu (Bridgewater, NJ), which is gearing up to serve that market and which also introduced new receiver optical subassemblies, one for use in 10-Gbit/s XFP transceivers and SONET/SDH networks, and another for use in 4-Gbit/s fiber-channel applications. Anticipation of growing fiber-to-the-home deployments is also driving development of test-and-measurement equipment, in terms of performance as well as efficiency and mobility, according to both Werner Huettemann, vice president and general manager of computing and networking solutions at Agilent, and Jack Landau, marketing-communications manager at Anritsu (Laguna Hills, CA).
Product introductions at OFC from these companies included mobile equipment for efficient hand-held operation as well as 40-Gbit test systems. While the current market focus is on 10 Gbit, the likely growth of video over ­fiber-to-the-home systems is likely to accelerate growth to 40 Gbit, Heuttemann said.
Opportunities arise
As market consolidation is providing acquisition opportunities for some companies, it is also providing new ­market opportunities for others. Picolight (Boulder, CO) has stopped its development of Fabry-Perot and distributed-feedback technology to focus on its roots in ­vertical-cavity-surface-emitting-laser (VCSEL) technology; and to pursue opportunities created by ­market-consolidation moves such as the acquisition of the Honeywell VCSEL ­optical-products business (Richardson, TX) last year by Finisar, according to Picolight president and chief executive officer Steven Hane. His company offers 850-nm and 1310-nm ­VCSELs for short and medium distances for applications ranging from SAN to SAN extension and 10-Gbit Ethernet. "Picolight is being careful to pick its fights and hopes to be profitable in a year," Hane said, noting that his company also relies on contract manufacturing to remain competitive. "
If we can't beat the price of a transceiver coming from Asia, for instance, then we sell our component to that transceiver manufacturer."
Other technology ­introductions at the meeting ­included a small-format transceiver based on planar external-cavity laser technology from Redfern Integrated Optics (Santa Clara, CA) with a physical interface compliant with the XFP multisource agreement, targeted at a range of applications including 10-Gbit Ethernet and fiber channel.
Phasebridge (Pasadena, CA) introduced a three-axis fiberoptic-gyroscope transceiver integrating all three axes into one compact transceiver package with dimensions of 0.8 × 1.4 × 0.3 in. and transmitting more than 1 mW of output power with greater than 20-dB polarization extinction.
Color Chip (Or-Akiva, Israel) announced a single-fiber diplexer ­optical transceiver fabricated with its ion-­exchange process that forms planar ­structures of circular waveguides, in which light is guided through a high-­refractive-index core in the glass substrate.
Fibercore (Hampshire, England), which supplies specialty fiber for telecom applications as well as applications in aerospace, optoelectronic components, basic research, defense, and medical-device applications, introduced a design-and-simulation software package for erbium-doped ­fiber amplifiers.
In reflecting on the last few years in telecom industry, Chris Emslie, Fibercore's managing director, noted that the development of new markets from new technology ideas seldom if ever takes place in just a few years, but typically takes a decade or more. "There is no overnight success," he said.
Hassaun A. Jones-Bey