India grows into fourth largest optical-fiber market
Fiber deployment in India has surged over the past two years.
Oct 1st, 2003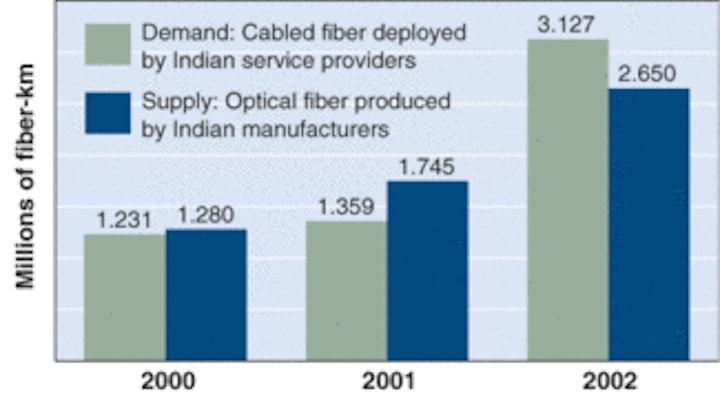 Fiber deployment in India has surged over the past two years. At the end of 2000, cumulative installations of fiberoptic cable in India totaled 2.5 million fiber-km. By the end of 2002, cumulative installations had more than doubled to 6.7 million fiber-km. In recent years, India has been one of the few major markets to experience growing demand for fiberoptic cable. In 2002, it ranked fourth in global demand, just behind Japan, the United States, and China.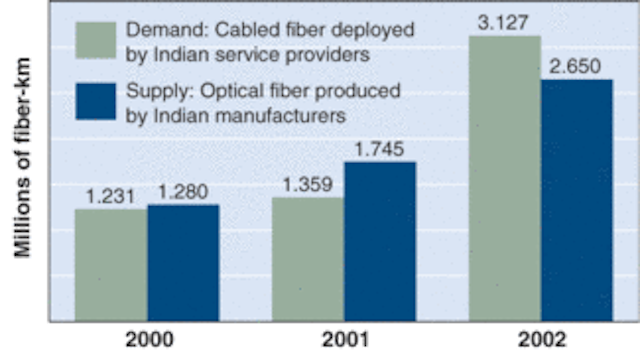 FIGURE 1. A surge in demand from India's service providers helped fuel a sharp increase in supply in 2002.
Click here to enlarge image
Domestic optical-fiber manufacturers in India have benefited from the surge in demand by Indian service providers (see Fig. 1). Sterlite Optical Technologies and Aksh Optifibre are the main suppliers of bare optical fiber to domestic cablers. According to company reports, Sterlite alone had a fiber manufacturing capacity of 4 million km as of March 2002, more than India's domestic demand in 2002. Aksh's capacity was expected to be about 1.5 million fiber-km by the end of 2002. In 2002, Sterlite produced about 2 million km of bare fiber and Aksh produced about half a million km. A few other Indian manufacturers have produced bare fiber, but their production has typically represented less than 10% of the combined Sterlite and Aksh output.
Almost all production is of conventional single-mode fiber (G.652), as non-zero-dispersion-shifted (NZDSF) fiber (NZDSF, G.655) is not in strong demand in India. In 2001/2002, Sterlite was considering NZDSF production—what it termed "development of optical fiber having better geometrical properties for long-distance transmission suitability"—but the company apparently canceled the plans since the downturn in the global market for long-distance fiber. Only two Indian service providers (Reliance and Gas Authority of India) are known to have deployed NZDSF on their networks.
The deployment of dense wavelength-division multiplexing (DWDM) equipment by several operators may make NZDSF more attractive in future deployments. Announced DWDM deployments include:
Bharat Sanchar Nigam (BSNL). BSNL commissioned an 8-wavelength (20-Gbit/s), 2400 route-km network between Chennai and Ernakulam in June 2002. In October 2002, it commissioned a 32-wavelength (80-Gbit/s) system connecting Chennai to Mumbai and Delhi. The network covers 9000 route-km and cost Rs 120 crore ($25 million). BSNL did not disclose its supplier for the equipment, but it was likely ZTE of China. BSNL plans to commission 11 more rings to cover another 16 cities by June 2003.
Bharti. In early 2002, Bharti Telenet contracted with Nortel Networks (Brampton, Ont., Canada) for its OPTera Metro 4000 next-generation SDH platform, and Bharti Telesonic chose the same platform for its long-distance backbone in August 2002. The OPTera Metro 4000 also has DWDM capabilities.
Gas Authority of India (GAIL). GAIL commissioned a DWDM network for approximately 3700 route-km in India's Northwest that connects 36 cities, including Delhi, Mumbai, Jaipur, Ahmedabad, Surat, and Agra. In June 2002, Nortel Networks supplied GAIL with its 10-Gbit/s DWDM system, the OPTera Long Haul 1600 Optical Line System, along with OPTera Metro 4100/4200 Multiservice Platforms and Nortel Networks Preside network management. GAIL lit 40 Gbit/s of the system's 320-Gbit/s capacity.
RailTel. RailTel said it plans to build a 37,000 route-km fiberoptic network using DWDM and SDH technologies in three phases through March 2005. No DWDM contracts, however, have been announced to date. RailTel awarded HFCL (India) and Huawei (China) a contract worth Rs. 37 Crore (US$8.1 million). for STM-16 (2.5-Gbit/s) SDH equipment to connect four metro areas (Ahmedabad, Pune, Secunderabad, and Bangalore) covering 11,000 route-km.
Tata. In March 2001, Tata Power selected Sycamore Networks (Chelmsford, MA) to build out a metro network backbone in Mumbai. Using Sycamore's SN 8000 MC, Tata Power built three metro rings within Mumbai, and the company said it plans to replicate and scale that footprint throughout other cities in India.
India is not immune to the global boom and bust cycle in optical networks. As a result of the completion of major long-haul network builds, KMI projects that annual fiber deployment in India will start to decline in 2003. KMI projects a compound annual decline of 15% in fiberoptic cable deployment from 2003 to 2007, when cumulative deployment will have reached 14.6 million fiber-km (see Fig. 2). Nevertheless, India will remain a strong source of global demand for fiber throughout the forecast period. Moreover, deployments for metro/access applications, which have been small, will grow sharply as India tries to achieve aggressive targets for increasing teledensity to average global levels.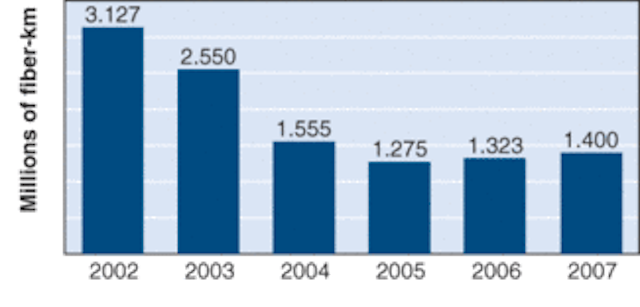 FIGURE 2: Demand for cabled fiber in India is expected to decline in 2003 and 2004, and then stabilize through 2007.
Click here to enlarge image
The massive fiber deployment that has occurred over the past three years and the expected strong deployment for 2003 provide India with a robust network to support demand for new services. Over the next few years, fiberoptic equipment providers will continue to find a healthy market for lighting new network segments and for upgrading old networks with higher-capacity systems to meet new traffic demands on Indian backbones.
NEIL DUNAY is a research analyst at KMI Research, 1 Richmond Square, Suite 303N, Providence, RI 02906; e-mail: ndunay@kmicorp.com.