Epoxy Technology holds industries together
A revolution in industrial bonding began more than 30 years ago when Frank Kulesza, founder of Epoxy Technology (Billerica, MA), developed a silver-filled electronically conductive adhesive, Epo-Tek 410. At the time, Kulesza was a roving epoxy consultant for IBM (Poughkeepsie, NY). Because solder was the technology of choice for conducting electricity in PC boards, IBM was not interested in incorporating an epoxy into its process. But Kulesza saw the potential in his polymer-based adhesive. Afte
Aug 1st, 1997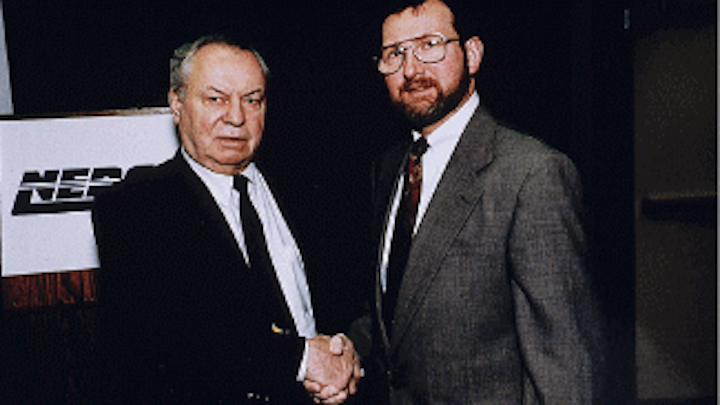 Epoxy Technology holds industries together
Laurie Ann Peach,
Assistant Editor, Technology
A revolution in industrial bonding began more than 30 years ago when Frank Kulesza, founder of Epoxy Technology (Billerica, MA), developed a silver-filled electronically conductive adhesive, Epo-Tek 410. At the time, Kulesza was a roving epoxy consultant for IBM (Poughkeepsie, NY). Because solder was the technology of choice for conducting electricity in PC boards, IBM was not interested in incorporating an epoxy into its process. But Kulesza saw the potential in his polymer-based adhesive. After establishing a small customer base, Kulesza established his own company.
Last fall, Epoxy Technology celebrated its 30th anniversary. A number of silver-filled adhesive systems derived from Epo-Tek 410 were introduced and eventually replaced the 410. These adhesives provided improved performance and handling properties. One of the derivatives, Epo-tek H20E, replaced eutectic die bonding in the early 1970s for microelectronics, and it continues to be a mainstay for the company. The markets have expanded from microelectronics to semiconductors, fiberoptics, lasers, telecommunications, and medical devices.
Epoxy, coined from the Greek words for between and oxygen, is just that--an oxygen atom between two already-joined atoms, usually carbon, forming a compound that can be either liquid or solid. Epoxies are the unsung heroes in most advanced technological devices. Although less than a gram may be required for fiberoptic connections, for bonding laser windows, or for microelectronic packaging, this type of adhesive is in every sophisticated instrument in the industrial world, says Ann Delmarsh, one of the original three employees of Epoxy Technology.
Kulesza refers to himself and his employees as "problem solvers." About 25% to 30% of the company`s resources is devoted to research and development, and this involves anticipating the needs of upcoming technologies, as well as working with customers to develo¥adhesives for specific applications. One example of such an epoxy is Epo-Tek 301, an optically transparent adhesive for bonding optical filters. Kulesza developed this product 25 years ago specifically for Corion Corp. (Franklin, MA). The material exhibits a greater than 97% transmission between 320 and 900 nm, cures at room temperature, and has a very low viscosity. From this original undertaking, a full line of optical products evolved. Current R&D projects are focused on UV and visible light cure adhesive formulations.
As the fiberoptic industry was beginning to flourish, a need arose for an adhesive that was moisture-resistant, able to withstand high temperatures, and had good wicking capabilities for fiberoptic bundles and connections. The company introduced Epo-Tek 353ND to the market. "This epoxy is one of the best in the world," says Kulesza, which may be the reason why Epoxy Technology is the leading supplier of adhesives for the fiberoptic industry.
Epo-Tek 353ND is currently the highest-volume adhesive the company produces. Whether used for bonding, coating, or encapsulating, epoxies have played a major role in the development of the fiberoptics industry worldwide. Before an adhesive is developed, the application must be identified. Then, various parameters must be defined, such as shelf life, cure temperature, spectral transmission, viscosity, materials to be bonded, thermal endurance, strength, and hardness. With all this in mind, the optimal epoxy is either selected or custom-designed. An evaluation material may be sent to a customer for on-site testing, or the customer may send prototype components to the company. "We don`t read a book on how to [develo¥epoxies], we write the book," says Richard Estes, vice president of technical operations.
The second revolution
If conductive epoxy was the first revolution in 1966, the polymer flip-chi¥process will be second, says Kulesza. Kulesza developed a polymer flip-chi¥device in 1971, but little interest was expressed in the concept. Kulesza reintroduced the technology in 1991 as a replacement for the more-complex and costlier solder-bum¥process. "Our flip-chi¥process works with low temperatures and is much less expensive than solder," says Kulesza.
The flip-chi¥process is a method for stenciling conductive epoxy bumps that form the interconnection between substrates and inverted semiconductor chips. Applications include the fabrication of optical diodes integrated with electrical interconnects, infrared sensing devices, memory modules, and a variety of fiberoptic applications.
Kulesza is so confident that the polymer fli¥chi¥is an idea whose time had come that, in February this year, he started a new company, Polymer Fli¥Chi¥Corp., to provide contract manufacturing services for flip-chi¥assemblies. The new company is expected to be in full production by the end of 1997. Epoxy Technology will supply the conductive polymers, underfills, and other adhesives.
In 30 years, Epoxy Technology has grown from three employees to 37. Products have expanded from Epo-Tek 410 to more than 100 distinct materials with a wide array of chemical, electrical, thermal, and physical properties. The number of custom formulations is two or three times the size of the standard product line. As the semiconductor, optics, and fiberoptics industries continue to flourish, so will the use of epoxy adhesives. o
Click here to enlarge image
Frank Kulesza (left), founder of Epoxy Technology, congratulates Richard Estes, vice president of technical operations, on formation of spin-off company Polymer Flip-Chi¥Corp.