TELECOMMUNICATIONS: Fiber cables to span the Arctic Ocean
The demand for better connections between Tokyo and London is driving construction of the first submarine fiber-optic cables to span the Arctic Ocean.
Apr 2nd, 2012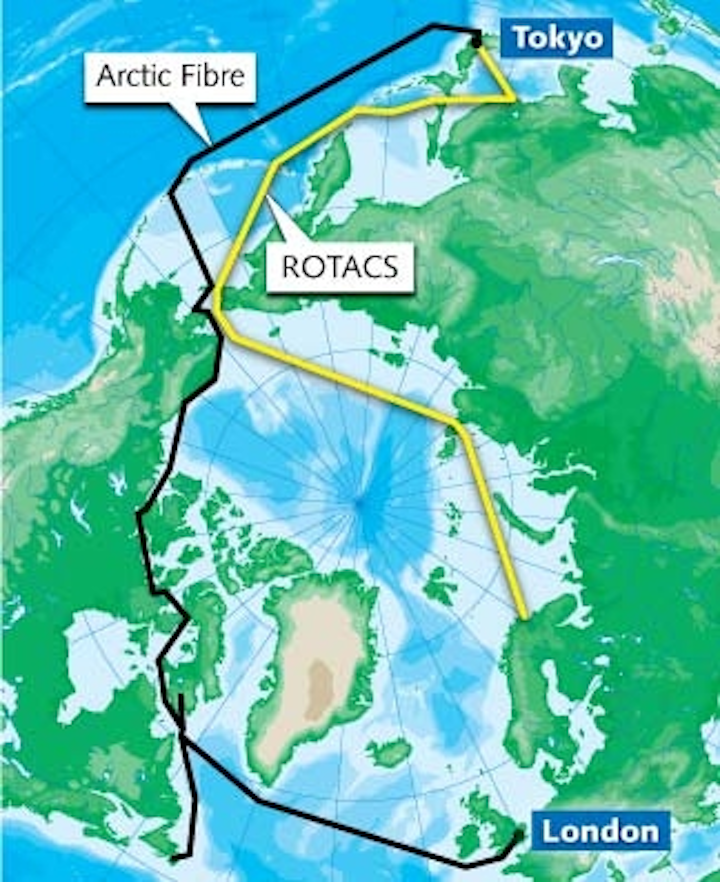 The demand for better connections between Tokyo and London is driving construction of the first submarine fiber-optic cables to span the Arctic Ocean. High-capacity cables are planned for two routes, one through the Northwest Passage in Canadian and Alaskan waters, the other through Russian waters on the other side of the Arctic. The cables will be among the world's longest, and also will provide high-speed connections to communities and industries along the Arctic coast.

Shrinking ice sheet
Harsh Arctic conditions and extensive sea ice long made submarine cables unthinkable in the Arctic. Now, shrinking of the ice sheet has opened enough water to allow cable laying from mid-August through mid-October. But the job requires ice-capable ships that must be modified for laying cable, and likely will be accompanied by ice-breakers. Laying cable is more difficult than other shipping because it requires following the planned cable path. "You can't vary the route to avoid ice like a ship making a one-time passage," Chris Carobene, managing director of marine construction for TE SubCom (Morristown, NJ).

Special gear may be needed to install the cable, but Carobene says "we are not planning on changing the cable." Standard fiber submarine cable has been used as far north as Spitzbergen, where since 2003 it has linked the Arctic islands with Norway. Unarmored cable can withstand high pressures and cold temperatures on the deep sea floor where damage from ice or human activity is unlikely. Metal-wire armor can be added in shallow water where risks of damage are higher.

Most cable will be laid in deep water to avoid damage from moving ice. Icebergs calving off Greenland can reach depths of 170 m, so Arctic Fibre (Toronto, ON, Canada) will lay cable at 600 to 3500 m depths in the Davis Strait along Greenland, and bury cables up to 3 m under the sea floor in shallower iceberg-prone areas, says Doug Cunningham, company president. Sea ice in other areas can form ridges up to 18 m deep, so Arctic Fibre will lay most cable at depths below 50 m, and the cable in shallower water. At landing points, Arctic Fibre will route the cable through horizontal holes drilled up to 40 m deep to protect them during winter freezes. A third of the 15,500 km cable will be covered by pack ice more than half of the year.

Arctic Fibre will have three fiber pairs providing express service between Tokyo and London. Each will carry 40 Gbit/s on up to 80 channels per fiber initially, with upgrades possible to 100 Gbit/s per channel. A separate fiber pair will carry local traffic to about a dozen points in the Arctic to keep freeze-thaw damage to a drop cable from affecting through traffic, a serious concern because sea ice makes repairs impractical much of the year. Because the system extends beyond the 11,000 to 12,000 km dispersion limit of current technology, Arctic Fibre will install a regenerator in Cambridge Bay, Nunavut, where Canada has a major defense base.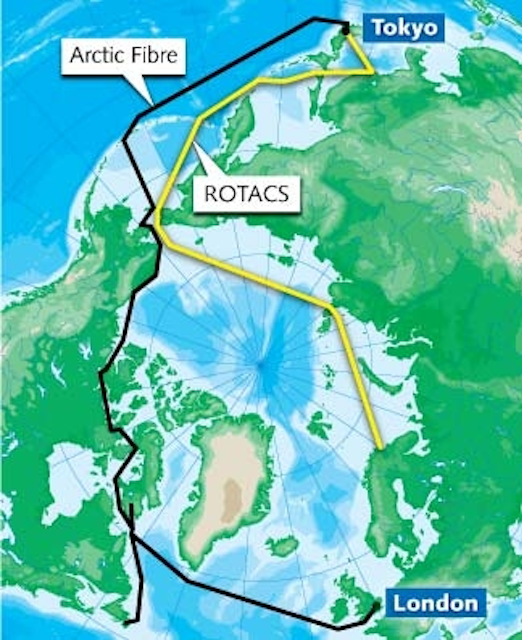 Submarine cables from Tokyo to London are planned for two distinct routes through the Arctic Ocean. The Polarnet Project plans to lay the ROTACS cable through the Russian region of the Arctic (yellow line). Arctic Fibre has chosen a route along the Northwest Passage through the Canadian Arctic (black line); Arctic Link will follow a similar route. Construction is slated to begin this year on ROTACS and Arctic Fibre.
10 Tbit/s
The Russian Optical Trans-Arctic Cable System (ROTACS) planned by the Polarnet Project (Moscow, Russia) has a more ambitious design, with six fiber pairs carrying through traffic. Each fiber will be able to carry 100 Gbit/s on each of 100 channels. That's the cutting edge of current submarine systems, and it will give ROTACS more than twice the ultimate capacity of Arctic Fibre. The cable will land in Murmansk, Anadyr, and Vladivostok in Russia, with some additional drop points in the Russian Arctic.

The great-circle route through the Arctic promises to cut latency (round-trip transmission time) between London and Tokyo from the current 230 ms. With a shorter route, ROTACS is offering latency of 155 ms. Arctic Fibre will have latency of 168 ms along the Northwest passage, made possible by cutting across the Boothia Peninsula to save 1800 km from an all-water route. High-frequency security traders will pay premium prices for the lowest available latency. Low latency also improves performance of web sites and real-time video conferencing.

Another attraction of the Arctic cables is that they would offer an alternate link between the Far East and Europe, bypassing zones in the Far East and Middle East where a series of cable breaks have caused Internet traffic jams. Key problems include seismic activity on the Pacific Rim, and damage from fishing trawlers and ship's anchors. Carriers also worry about possible sabotage, particularly in the troubled Middle East.

But the cables could make the most difference to Arctic communities, which have long relied on limited-capacity links to geosynchronous satellites that hover low on Arctic horizons. Military bases, research stations, and industry should all benefit, and prospects for speeding economic growth helped earn Polarnet approval by the Russian government in October.

Current plans call for construction to begin this year on both Arctic Fibre and ROTACS, with completion expected in 2014. Arctic Fibre is budgeted for $640 million (US) and ROTACS for $800 million. A third system is also in the works, Arctic Link, planned by the Arctic Cable Company (Sterling, VA) to run through the Northwest passage; plans call for construction to start next year.