New gratings for grating compressors have 500X lower absorption
Jun 1st, 2019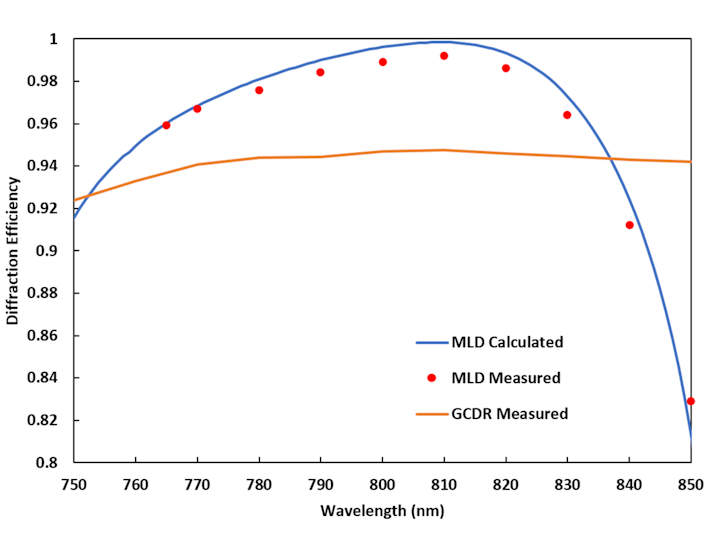 A team from the Advanced Photon Technologies (APT) program at Lawrence Livermore National Laboratory (LLNL; Livermore, CA) has achieved a breakthrough in the design of gratings for the compression of ultrashort laser pulses. The researchers have fabricated 1480 lines/mm gratings with an efficiency exceeding 97% over a 56 nm bandwidth and with a center wavelength of 810 nm.1
Using a custom multilayer dielectric (MLD) design, they achieved two major advances over widely used gold gratings: first, a significantly enhanced diffraction efficiency over a large bandwidth, and second, a 500-time-lower absorption—a quality valuable for high-average-power ultrafast laser applications. At the same time, the damage threshold in the nanosecond regime was significantly enhanced by >4X, and at femtosecond duration is comparable to gold gratings.
Their actual goal was to produce gratings for pulse compressors in femtosecond-pulse-amplification schemes with high repetition rates and megawatt-average powers. Just a few years ago, the same team delivered the diode-pumped High-repetition-rate Advanced Petawatt Laser System (HAPLS) to the Extreme Light Infrastructure (ELI) institute (both in Prague, Czech Republic). HAPLS is designed to produce 30 fs pulses with 30 J energy at a repetition rate of 10 Hz. This corresponds to an average output power of 300 W and even 420 W before compression.
That system used gold-coated dielectric ridge gratings with enhanced diffraction efficiency. But the gold layer absorbed about 3.5%, which led to a heat load of about 15 W per grating. The gratings were located in vacuum, so active cooling was required. The HAPLS gratings represented a major advancement, as they were fabricated using a new technique that did away with the gold-overcoated photoresist layer underneath, which greatly limits the applicable power on the grating.
Minimizing guided-mode resonances
In contrast, the new MLD gratings use a multilayer dielectric coating without a final gold layer. The design of the actual coating layers was optimized to minimize guided-mode resonances (GMRs), an effect in which part of the laser pulses couple into the grating multilayer stack, just as in a waveguide. This effect acts as a loss channel and therefore promotes laser-induced damage to the MLD stack.
Within the new coating, GMR were eliminated by modifying both the multilayer stack and the groove dimensions. This led to a substantially improved damage threshold for nanosecond pulses, and equivalent to gold at pulses with durations of <80 fs.
By raising the reflectivity of the single grating from about 94% to about 99%, the total efficiency of a grating compressor is raised from about 73% to 93% for 30 fs pulses and the heat loss is made 500X smaller (see figure). This leads to a much-improved energy throughput and significantly reduced cooling requirements. The effect is even more dramatic for narrowband pulses.
This achievement opens up numerous opportunities in several fields of application. First, every standard chirped-pulse amplifier (CPA) can be made about 20% more efficient by adopting the new technology. Second, industrial femtosecond-CPA lasers in the multikilowatt range become much simpler and more cost-effective, as efficiency is improved and cooling requirements are significantly reduced.
Perhaps the biggest breakthrough applies to energetic petawatt systems with high average power. 10 Hz systems such as HAPLS can be operated without active cooling on the compressor gratings—however, using active cooling and these new gratings, CPA lasers with average powers of 100 kW and beyond are now feasible. This eliminates a substantial obstacle for the further development of high-power ultrafast lasers that LLNL's APT program is working on. Multi-100-kW ultrafast lasers are key for new developments such as laser-based particle acceleration.
In a short interview, co-author and program director Constantin Haefner stated that the team now wants to extend the concept to other wavelengths and to work on true multi-100-kW designs.—Andreas Thoss
REFERENCE
1. D. A. Alessi et al., Opt. Laser Technol., 117, 239–243 (2019); https://doi.org/10.1016/j.optlastec.2019.04.005.