Molybdenum smart windows store energy like a battery
University of Alberta researchers have turned a smart window into a high-capacity rechargeable battery.
Apr 23rd, 2018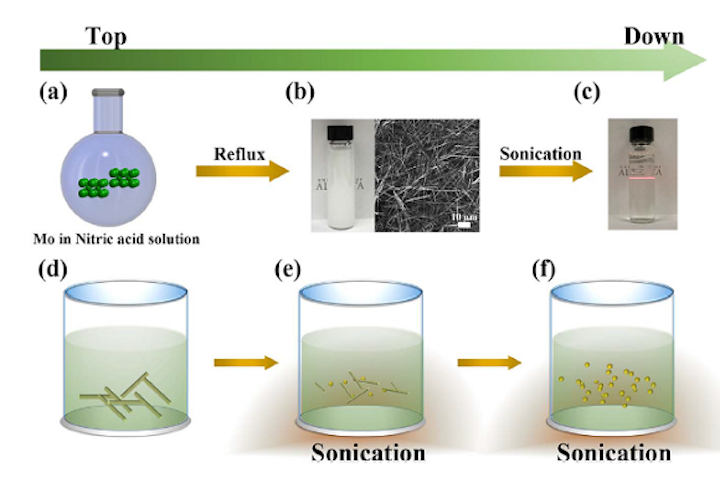 IMAGE: The process to synthesize aqueous colloidal molybdenum oxide used in the energy producing transparent windows is shown. (Image credit: University of Alberta)
Materials capable of simultaneously modulating light transmission and storing electrochemical energy would be invaluable for display technologies and as green "smart" window platforms for improving household energy efficiency. For these purposes, electrochromic materials are often considered; however, there is a fundamental incompatibility between the two functions. Attaining useful energy storage requires the injection of large charge densities, which correspondingly degrades the coloration efficiency in an electrochromic material, and thus limits the device performance.
RELATED ARTICLE: 'World's thinnest lens' made from layers of molybdenum disulfide
But professor Abdulhakem Elezzabi and his research group at the University of Alberta (Edmonton, AB, Canada) have overcome this limitation through the development of a hybrid nanocomposite material consisting of colloidal nanocrystalline molybdenum oxide (MoO3) dispersed within a W0.71Mo0.29O3 nanowire matrix, simultaneously yielding an 100% enhanced energy capacity and 50% optical contrast modulation. The researchers essentially turned a smart window into a high-capacity rechargeable battery. Electrical energy can be stored in the transparent smart window and can be recovered when needed to power electrical devices.
The process developed is inexpensive and can be scaled for manufacturing. The films can be prepared with a top-down and scalable synthesis techniques, and the films can be applied with spray-coating methods that are easily integrable with large-scale manufacturing processes. This novel material was used to construct a prototype energy-storing smart window. The 8 cm x 8 cm device exhibited fully reversible contrast switching, and could power an LED in excess of 10 minutes, after coloration at -2.5 V for only 1 minute. The researchers say that this material will have fundamental applications in future smart-glass technologies.
The paper, "Nanohybridization of molybdenum oxide with tungsten molybdenum oxide nanowires for solution-processed fully reversible switching of energy storing smart windows," has been accepted for publication in the journal Nano Energy.
SOURCE: University of Alberta; https://www.ualberta.ca/