AIM Photonics awards UCSB-led team $1.7 million to demo new waveguide platform
Consortium to develop a CMOS-compatible platform for integrating MWIR and LWIR laser sources.
Jun 20th, 2018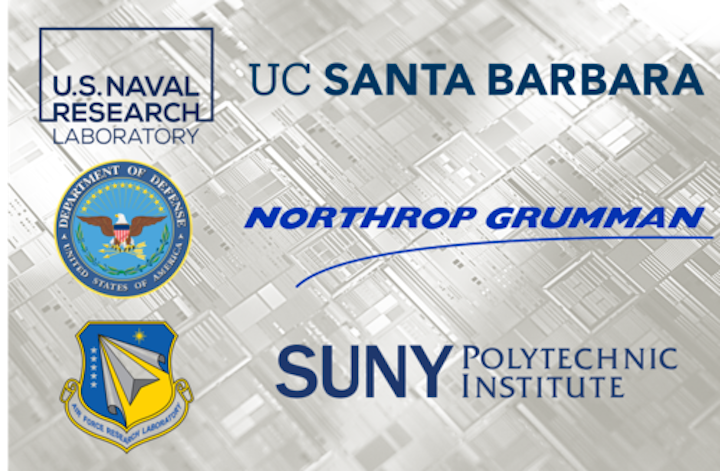 The American Institute for Manufacturing Integrated Photonics (AIM Photonics) has selected a team led by the University of California, Santa Barbara (UCSB) to develop a CMOS-compatible waveguide platform for integrating mid-wavelength and long-wavelength infrared (MWIR and LWIR) laser sources. The new platform is intended to address opportunities beyond the more established telecom wavelength range around 1550 nm, enabling commercial and military applications such as sensing atmospheric trace gases.
The $1.7 million Department of Defense (DoD) project will support a consortium of AIM Photonics members led by UCSB and including Northrop Grumman, the U.S. Naval Research Laboratory, and SUNY Polytechnic Institute. The partnership will add MWIR laser sources (nominally 3.0 μm < λ < 5.0 μm) and LWIR laser sources (nominally 8.0 μm < λ < 14.0 μm) into the capability offerings of AIM Photonics.
Related: New DoD, AIM Photonics partnership to create sensors for photonic systems
Related: AIM Photonics releases roadmap for U.S. integrated photonics
"The extension of photonic integrated circuits to MWIR and LWIR wavelengths may be expected to strongly impact Navy systems," noted Jerry Meyer, Senior Scientist for Quantum Electronics at the U.S. Naval Research Laboratory. "They will be particularly valuable in systems requiring such advanced capabilities as IR power scaling, multispectral beam combining, high-resolution IR imaging, and chemical threat detection."
Aside from DoD interests, there are numerous medical, bioenvironmental, remote sensing, communications, and manufacturing and process monitoring benefits that may be demonstrated through this work.
Source: AIM Photonics