Leti demonstrates new curving technology that improves optoelectronic devices
Leti will demonstrate PIXCURVE technology for curved optoelectronics at SPIE Photonics West 2018.

Jan 20th, 2018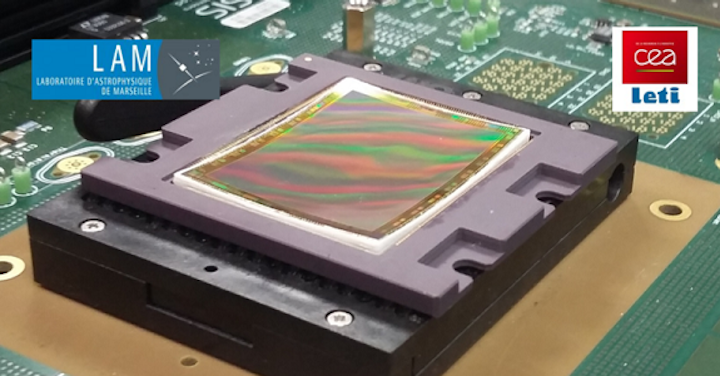 IMAGE: A fully functional prototype CMOS 20 Mpixel full-frame sensor, working in the visible, is one product that can be created from Leti's curved substrate technology. This prototype was developed by CEA-LETI in the frame of the LAM-CEA collaboration funded under the FOCUS Labex and ERC. (Image credit: LAM/CEA-LETI)
At SPIE Photonics West in San Francisco, Jan. 27-Feb. 1, Leti (Grenoble, France) will demonstrate its new curving technology for optical components that improves performance, enhances field of view and compensates for optical aberrations. Called PIXCURVE, it is one of several developments that Leti will demonstrate at booth 431 in the Moscone Center. The topic also is one of 20 papers Leti will present during the conference.
RELATED ARTICLE: Spherically curved CMOS array improves image quality across the field
PIXCURVE is a proof of concept for optical components such as microdisplays, visible imagers and cooled infrared sensors used in mobile phones, telescopes, medical-imaging tools, IR sensors and other imaging applications. In addition to improving performance, the curving substrate technology minimizes the vignetting effect that reduces brightness on the borders of images, and it makes cameras, imagers, and microdisplays lighter and more compact.
The technology can be used to curve components such as CMOS imagers and charged-coupled device (CCD) imagers for mobile phones, cameras, medical equipment, and industrial-control equipment. Other uses include IR sensors for astronomy, defense, drones and microdisplays for automotive applications, augmented reality and virtual reality.
"Leti's advances in miniaturization and integration technologies for photonics will help make the digital world visible for key uses in multiple sectors," said Alexis Rochas, Leti business developer, visible imaging. "PIXCURVE helps demonstrate the institute's focus on curvature radius and both spherical and cylindrical curvature of image sensors and imagers, and its response to imaging-equipment companies' interest in a wide range of curved optical components."
The paper highlighting PIXCURVE technology, "Curved sensors for compact high-resolution wide-field designs: prototype demonstration and optical characterization", will be presented at 2:40 p.m. Thursday, Feb. 1.
SOURCE: Leti; http://www.leti-cea.com/cea-tech/leti/english/Pages/What%27s-On/Press%20release/leti-to-demonstrate-new-curving-technology-that-improves-performance-of-optical-components-at-photonics-west.aspx and http://ewass.kuoni-congress.info/press/2017/06/28/two-eas-members-awarded-prizes-for-revolutionary-curved-detectors/