Thermal imaging diagnoses disease
Researchers are using infrared (IR) cameras for medical diagnostic purposes.

Aug 16th, 2018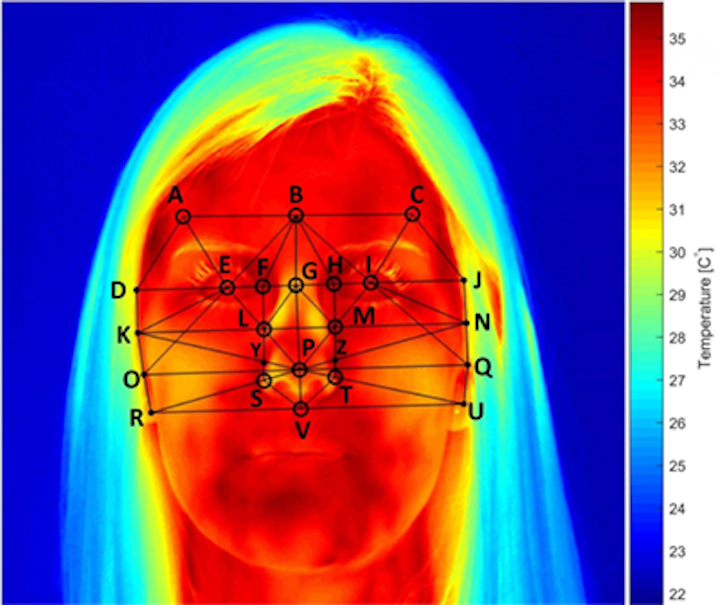 IMAGE: Among the markers for disease diagnosis or physical understanding using thermal imaging, facial temperatures, which can be measured using a thermal camera, are strongly correlated to mental workload. The effect is most pronounced around the nose. Facial temperatures are reduced as people perform tasks of increasing difficulty. (Image credit: University of Nottingham)
Researchers around the world are using infrared (IR) cameras to capture and record temperature variations on the skin for medical diagnostic purposes. By analyzing the images, researchers glean information on metabolic and vascular activity to recognize abnormal changes in physiology.
RELATED ARTICLE: Thermal imaging improves sports medicine and exercise research
Thermal imaging is used to study a broad number of diseases where skin temperature can reflect the presence of inflammation in underlying tissues or where blood flow is increased or decreased due to a clinical irregularity. Currently, many physicians use thermal imaging cameras to detect a number of medical conditions, such as arthritis, repetitive strain injury, muscular pain, and circulatory problems.
Relieving pain
Rheumatoid arthritis is a chronic autoimmune disease that can affect the hands, wrists, feet, knees, and shoulders. Arthritic joints tend to have higher temperatures than nonarthritic joints, so thermography can help physicians evaluate and monitor inflammation caused by the early stages of the disease. Read the full article at the SOURCE for more information.
Infectious for infrared
Infectious skin diseases are another area in which thermal imaging technology can be employed. At the Institute of Microbiology and Hygiene at Charité University of Medicine in Berlin, Angela Schuster and her colleagues have shown that IRT can assess a skin infestation called tungiasis, which causes inflammation of the skin. Tungiasis is caused by fleas that bite the skin surface before burrowing into the epidermis. The fleas then burrow deeper, into the upper dermis, to feed from blood vessels.
Thermographic images of the foot of a person with tungiasis were captured using a FLIR T660bx camera. The results showed that the temperature around a lesion caused by tungiasis was significantly higher than the median temperature of the foot. Researchers believe that the technique might be used to diagnose hidden and atypical manifestations of tungiasis and other infectious skin diseases prevalent in the tropics.
Second that emotion
Some researchers are trying to learn whether thermography can determine an individual's emotional state. At the University of Granada, researchers have analyzed thermal differences between subjects who were exposed to photos of their loved ones and those shown images from the International Affective Picture System, a standardized database of pictures for studying emotion and attention.
The results showed that when an individual viewed an image of a loved one, specific regions around the body increased in temperature by up to 2 degrees C. Even more interesting, the thermographic system revealed that while passion increases temperatures around the hands and face, empathy (or the capacity to place oneself in another's position) decreases temperatures, especially in the nose. Read the full article at the SOURCE for more information.
SOURCE: AIA Vision Online; https://www.visiononline.org/vision-resources-details.cfm/vision-resources/Thermal-Imaging-to-Diagnose-Disease/content_id/6938