Luminate finalist Bounce Imaging wins first responder award for throwable 360 camera
Bounce Imaging received the top winner award for its 360/VR throwable tactical camera.
Mar 20th, 2018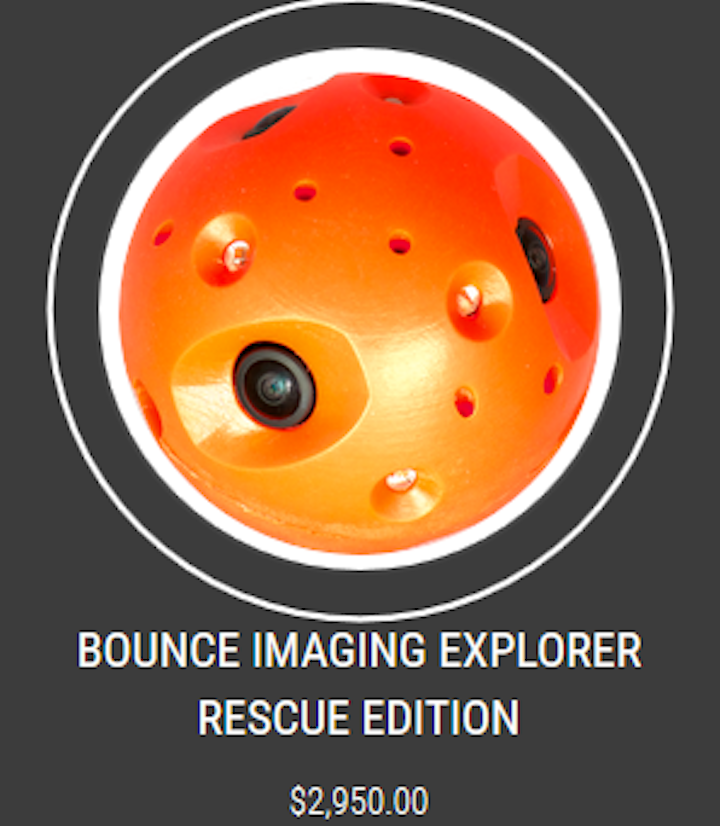 IMAGE: Shown is a 'throwable' spherical-shaped camera that can enter tactical areas to improve the safety of first responders while providing a 360 degree view of its surroundings. (Image credit: Bounce Imaging)
Bounce Imaging (Buffalo, NY), one of Luminate NY's ten inaugural finalist companies, received the top winner award for its 360/VR throwable tactical camera in the Under Fire Response Innovation Showdown--a national competition drawing entries from technology companies with innovative products for first responders.
RELATED ARTICLE: Luminate names ten winners in optics, photonics, and imaging accelerator program
The award, presented to Bounce Imaging's CEO Francisco Aguilar, recognizes outstanding technologies to provide first responders with a way to complete their tasks more quickly, more efficiently, or more safely. "We were honored to be among the many wonderful companies serving this very important target audience of first responder professionals. Thanks to TEEX (Texas A&M Extension Service) and PDC (Product Development Company) for selecting Bounce Imaging to receive this prestigious award," said Aguilar.
Other recent recognition for Bounce Imaging was provided by Police K9 Magazine who named Bounce as an Editor's Top Pick after the release of their K-9 camera mount at the International Police K9 Conference. The magazine cited "Their unlimited field of view and advanced stabilization" as ideal for use as K9 mounted cameras.
Additionally, a Bounce Imaging camera is featured on Season 9: Episode 16 of NCIS: LA, which will air on March 25, 2018.
Sujatha Ramanujan, managing director of Luminate NY, is very excited about Bounce Imaging receiving the award. "Being acknowledged like this is a tremendous opportunity for both Bounce and Luminate. We are so proud of all ten of our outstanding companies and are pleased to be helping them on their journey to success."
All of the companies are part of the six month Luminate NY Accelerator Program. Each received an initial $100K investment as well as a chance to compete for $2M more in investments that will be announced at "Light Tomorrow with Today", the Demo Day taking place on June 28.
SOURCE: Bounce Imaging; http://bounceimaging.com/