Pyreos gets first volume order for digital pyroelectric sensor
Four-channel low-power pyroelectric device works without calibration for many years.
Apr 27th, 2017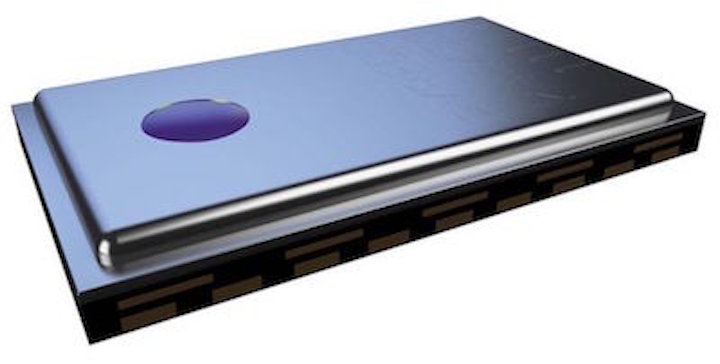 (Image: Pyreos)
Passive infrared sensor developer Pyreos (Edinburgh, Scotland) has won its first volume contract for its two-chip digital pyroelectric sensor, which incorporates both a sensor and a processor (ASIC). Called the ezPyro sensor, the four-channel low power device works without calibration for many years and is the world's smallest digital pyroelectric sensor, according to Pyreos. The order was won from a South Korean customer that is deploying the sensor in two of its products.
The ezPyro sensor has been designed into a standalone fire-detection device and a standard closed-circuit television (CCTV) camera, adding a flame-detection feature to the system. Pyreos has a well-established customer base in South Korea, mainly in gas detection and fire detection. Exports accounted for 78% of the company's revenues in 2016, with 44% of sales coming from Asia that year.
The ezPyro chip was launched in May, 2016 at the Sensor+Test measurement fair held at Nuremburg in Germany. Measuring 5.65 by 3.7 mm and with a height of 1.55 mm, the ezPyro sensor is a two-chip package that incorporates a sensor with an ASIC processing unit, producing four channels of signals from a digital interface.
Pyreos' pyroelectric sensors have response times measured in milliseconds, rather than the conventional timescale measured in seconds, says the company.
Current consumption for a single channel is less than 3.5 μA, rising to 72 μA in high-power mode, compared with figures measured in milliamps for similar products, says Pyreos. The sensors can also operate over temperatures from -40°C through to 85°C.
Pyreos' expansion has been fuelled by £ 1.8 million raised in September, 2016 from new and existing investors. The company was spun out of German industrial firm Siemens in 2007. Shareholders include Robert Bosch Venture Capital GmbH, the Scottish Investment Bank (the investment arm of Scottish Enterprise), Seraphim Capital, and Siemens Technology Accelerator. They were joined in 2016 by new investor London Business Angels, one of Europe's most respected and active private investment groups. The investment followed a £2.5m internal funding package secured in 2015.
Pyreos will be at stand 5-231 at the Sensor & Test Show (Nuremburg, Germany) from 30 May to 1 June 2017.
Source: Pyreos