Sales of service robots rise providing market opportunities for photonics
Sales in service robots for professional use will increase 12% in 2017 to a new record of $5.2 billion.
Oct 12th, 2017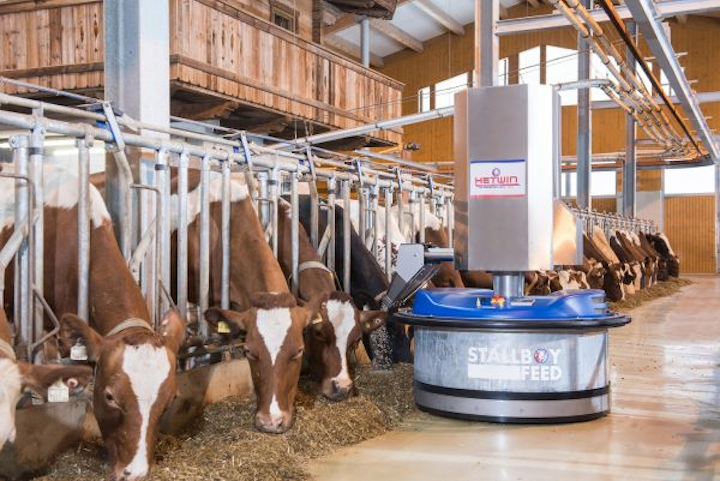 Image: Hetwin Barne cow-feeding robot. Courtesy IFR.
Sales in service robots for professional use will increase 12% in 2017 to a new record of $5.2 billion, according to the International Federation of Robotics (IFR; Frankfurt, Germany). The expected average growth rate in the 2018-2020 timeframe is 20 -25%.
"In terms of value, the 2018-2020 sales forecast indicates a cumulative volume of around $27 billion for the professional service segment," says Gudrun Litzenberger, General Secretary of the IFR. "Robots for medical, logistics, and field services are the most significant contributors."
At the same time, the market for personal service robots, which assist humans in their everyday lives, is also progressing. It is projected that sales of all types of robots for domestic tasks –eg, vacuum cleaning, lawn mowing, or entertainment--could reach an estimated value of around $11 billion (2018-2020).
Some of the primary photonics technologies used in service robots are lidar, structured light systems, two-camera stereo systems, time-of-flight sensors, and single-lens camera systems. Other sensing/locating technologies may be combined with the photonics components to provide even more information to the robots, including GPS navigation, radar, sonar, and inertial guidance.
Related: Vision for Service Robots—Market Analysis, published by Strategies Unlimited in 2011 but still relevant.
Related: An oral history of the DARPA Grand Challenge---Grueling robot race that launched the self-driving car
"Robots are clearly on the rise, in manufacturing and increasingly in everyday environments", says Martin Hägele, IFR Service Robot Group. "The growing interest in service robotics is partly due to the variety and number of new startups, which currently account for 29% of all robot companies. Furthermore, large companies are increasingly investing in robotics, often through the acquisition of startups."
Approximately 290 out of the 700 registered companies supplying service robots come from Europe. North America ranks second with about 240 manufacturers, and Asia third with about 130.
In the US, about 200 startup companies are working on new service robots. The European Union plus Switzerland count 170 companies that are creating a new entrepreneurial culture for the service robotics industry, and Asia has about 135 startups.