Micro-optics maker PowerPhotonic announces major expansion plans
PowerPhotonic to invest in a new facility, with cleanroom, that will treble its manufacturing capacity.
Sep 5th, 2017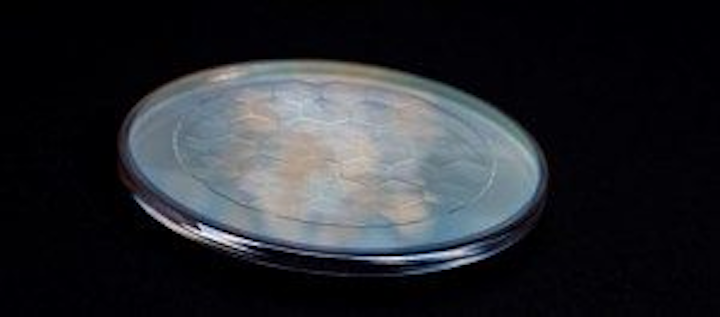 A fused-silica axicon array beam shaper made by PowerPhotonic is used with multimode lasers and handles peak and pulsed power of up to 20 kW continuous-wave (CW). The beam shaper has an efficiency of greater than 98% and can be used to generate ring-shaped spots -- a typical requirement for materials processing applications. (Image: PowerPhotonic)
PowerPhotonic (Dalgety Bay, Scotland), which designs and manufactures micro-optics for the laser industry, says it will invest in a new facility that will treble its current manufacturing capacity.
In a move scheduled to be completed by the end of 2018, the company will transfer its operations into a larger 15,820 square foot facility at the St Davids Business Park in Dalgety Bay to capitalize on global growth opportunities. The investment will include the creation of a new class-1000 cleanroom facility to expand production capacity for PowerPhotonic's micro-optic technology.
PowerPhotonic recently secured about £1m of financing through the combination of a Clydesdale Bank finance package and a Regional Selective Assistance grant from Scottish Enterprise. The finance package received by PowerPhotonic will, the company asserts, propel the company into a new phase of growth as the new operating facility is established. The growth will include bringing 16 new permanent highly skilled jobs to the local area over the next three years.
Established in 2004, the company designs, manufactures and sells precision micro-optics worldwide to the laser industry, having developed its commercial technology from research done at the Institute of Photonics and Quantum Sciences at Heriot-Watt University (Edinburgh, Scotland). The main applications, which include beam-shaping, are in the industrial materials-processing, medical, telecom, scientific, and defense markets. Its products are currently exported worldwide, including across the European Union, North America, and Asia.
For more info, see www.powerphotonic.com.
Source: PowerPhotonic