Transparent conductive films for photonics proliferate
Cambridge, England--Transparent conductive sheets (on glass or other substrates) are used in photonics for organic LED (OLED) lighting, organic phototovoltaics, dye-sensitized solar cells, and displays, among other uses.
Jan 23rd, 2014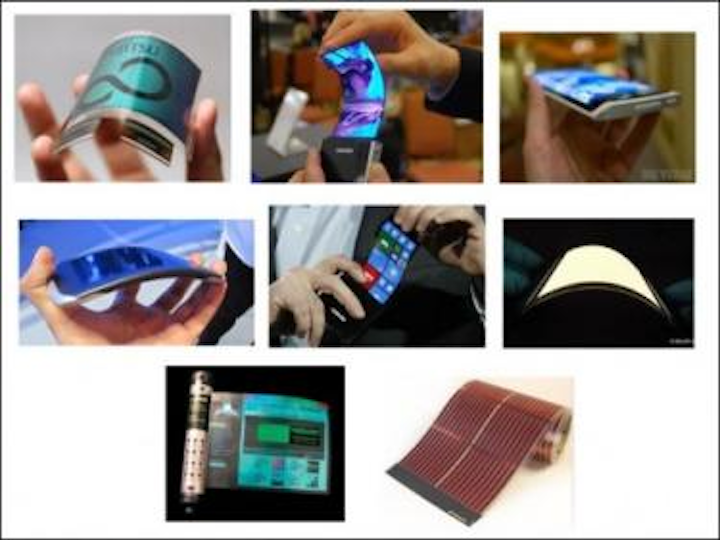 (Courtesy of IDTechEx; Sources: Samsung, HP, Fujitsu, Solvay, and others)
Cambridge, England--Transparent conductive sheets (on glass or other substrates) are used in photonics for organic LED (OLED) lighting, organic phototovoltaics, dye-sensitized solar cells, and displays, among other uses. Now, Khasha Ghaffarzadeh, head of consulting at IDTechEx, has provided a summary of existing and experimental types of transparent conductive films, described their advantages and disadvantages, and given an indication of where the market is going (his information also includes nonphotonic uses for these films, such as touch screens).
What Ghaffarzadeh says about non-ITO films is especially interesting. A condensed version of what Ghaffarzadeh says is as follows:
Transparent conductive films is already a large and well-established business. Indeed, the nondisplay sector alone (includes touch) is set to generate $1.4 billion in 2014 at the sheet level. This is a fast-growing sector with a 6% CAGR between 2014 and 2024.
The key trends changing the needs are a tendency towards ultralow sheet resistance values and mechanical flexibility. New applications such as current-driven OLED lighting and photovoltaics are appearing that demand sheet resistance values substantially below the 150-250 ohm/sqr required by existing capacitive touch technologies, while touch applications themselves are also growing in size. Mechanical flexibility is also a growing trend. In the short term, robustness will be phased in, followed by devices with a fixed curvature before bendable versions are launched.
ITO-based
Indium tin oxide (ITO) is the incumbent solution today, controlling almost the entirety of the market. ITO-on-glass gives the best results, but requires a high annealing temperature and is rigid. ITO-on-glass has fast been losing market share in the touch screen sector to ITO-on-PET [PET is a polymer film], which has a higher sheet resistance but offers lower cost, increased robustness, and limited flexibility. This shift, coupled with the increase in demand from the touch sector (particularly large-sized ones), has convinced key suppliers to heavily invest in increasing ITO-on-PET production capacity worldwide.
ITO-on-PET itself is also facing pressures. The uncertainty associated with the cost of raw indium is forcing many users to consider alternatives. The limited sheet resistance (150-350 ohm/sqr) will also not readily meet the needs of emerging applications. ITO-on-PET offers limited flexibility, but it does not survive when bent too much and/or too many times. These market forces are opening up the space for ITO alternatives.
Alternatives to ITO
Many ITO alternatives are also emerging on the market. These include silver nanowires, carbon nanotubes, PEDOT, graphene, and a variety of metal-mesh technologies. No single technology is a one-size-fits-all solution.
Graphene is a late entrant onto the scene and is currently over-priced and underperforming. It is however a technology that is witnessing large R&D investment and rapid innovation. Silver nanowire is a commercially well-funded solution and has already demonstrated initial product acceptance from a variety of end users. Carbon nanotubes offer a mediocre sheet resistance but promise to minimize stack layers. PEDOT has come a long way in terms of sheet resistance but is today only on a par with existing ITO-on-PET solutions. Metal mesh offers low sheet resistance, low cost, and the potential to skip the patterning step. There are multiple ways of manufacturing metal mesh TCFs and supplier numbers are fast multiplying. In many instances, however, yield is still a sticky question mark. The table below benchmarks various technologies on the basis of several important parameters, demonstrating that there exist tradeoffs.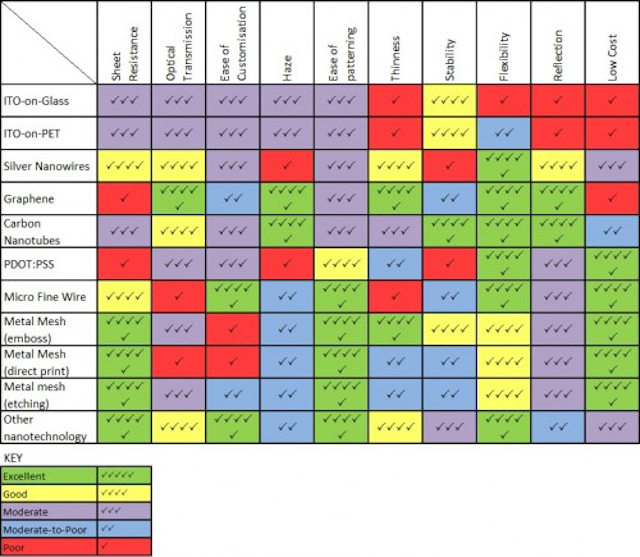 FIGURE. Benchmarking different TCF and TCG technologies on the basis of sheet resistance, optical transmission, ease of customization, haze, ease of patterning, thinness, stability, flexibility, reflection, and low cost. The technology compared includes ITO-on-Glass, ITO-on-PET, silver nanowires, graphene, carbon nanotubes, PEDOT, metal mesh, and other nano-based solutions. (Source: IDTechEx)
Full analysis and assessment
The IDTechEx report Transparent Conductive Films (TCF) 2014-2024: Forecasts, Markets, Technologies provides a detailed and complete assessment of incumbent and emerging technology solutions. For each technology, IDTechEx assess production method, key cost drives, key figures-of-merit including sheet resistance, optical transmission, haze, flexibility, surface smoothness, stability, etc. IDTechEx provides a SWOT analysis for each technology. Moreover, IDTechEx identifies all suppliers globally, outlining their commercialization progress.
For more information, see www.IDTechEx.com/tcf.