Vision Research digital cameras acquire >16,000 fps at full resolution
The Phantom v-series line of digital high-speed cameras now includes v1210 and v1610.
Dec 12th, 2011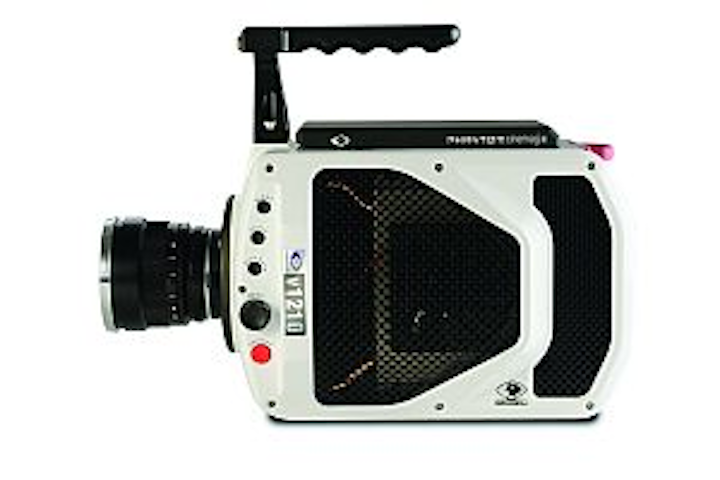 The Phantom v-series line of digital high-speed cameras now includes v1210 and v1610. The 1 Mpixel cameras have widescreen 1280 × 800 CMOS sensors. The v1610 can acquire >16,000 fps at full resolution and up to 1 million fps at reduced resolution. The v1210 captures >12,000 fps.
Vision Research
Wayne, NJ
www.visionresearch.com

More Products

-----

PRESS RELEASE

Vision Research Raises the Bar in the High-Speed Imaging Industry With the Introduction of Two New Phantom® v-Series Cameras

New Phantom v1610 Is 60 Percent Faster than Any Other Digital High-Speed Camera in Its Class

WAYNE, N.J. (AUGUST 8, 2011) – Vision Research, a leading manufacturer of digital high-speed imaging systems, unveils two additions to the company's Phantom® v-Series line of digital high-speed cameras with the introduction of the Phantom v1210 and v1610. These top-of-their-class cameras are the world's fastest 1 megapixel digital high-speed cameras. They feature high definition and widescreen 1280 x 800 CMOS sensors. The Phantom v1610 is 60 percent faster than any other camera on the market, with the ability to acquire more than 16,000 frames-per-second (fps) at full resolution and up to 1,000,000 fps at reduced resolution.

"Vision Research's innovations in the high-speed imaging industry and its launches of the v1210 and v1610 add advanced capabilities to the market," says Rick Robinson, Division VP Marketing, Vision Research. "With the ability to capture high-resolution images at ultra-high-speeds, the v1210 and v1610 bring new tools to scientists, researchers, engineers and others who need to see phenomena invisible to the human eye."

Both cameras are based on Vision Research proprietary sensors offering not only high speeds, but larger 28-micron pixels that allow for superior sensitivity when shooting in low light, which is often a problem with high-speed imaging. The v-Series additions make possible image capture at more than 12,000 fps (12 gigapixels/second) in full resolution when utilizing the v1210, and more than 16,000 fps (16 gigapixels/second) when the v1610 is called into action. If higher speeds are needed, reduced resolution images are available up to 650,000 fps or up to 1,000,000 fps when the FAST option is used.

The v1210 can be configured with 12GB, 24GB, or 48GB of memory, and the v1610, with 24GB, 48GB, or 96GB of memory. That memory can be segmented into as many as 63 partitions and allows continuous shooting of back-to-back shots without the need for constant downloading. The cameras offer 12-bit pixel depth standard.

Phantom CineMag Workflow

Both cameras come standard with Vision Research's breakthrough CineMag interface allowing a user to save a high-speed shot from camera memory to non-volatile storage in a matter of seconds. With a CineMag mounted on the camera, a user can continue to conduct tests and experiments without the time-consuming task of downloading large amounts of data over Ethernet.

Camera Control

The cameras come with built-in on-camera controls (OCC), allowing most camera settings to be set or changed with the turn of a knob – eliminating the need for connection to a PC or laptop for camera control.

Phantom v1210 and v1610 Outputs and Inputs
The Phantom v1210 and v1610 connections are conveniently located on the back panel of the camera. These include timecode, dual power inputs, HD-SDI, GPS input, camera synchronization, and trigger.

Additional High-Performance Features:

- Full Resolution 1280 x 800 imaging

- Image-Based Auto-Trigger

- 10Gb Ethernet port

- Internal Mechanical Shutter

- SMPTE & IRIG timecode, Genlock, Ready, and Strobe Outputs

- Frame Synchronization to internal or external clock (FSYNC)

- HD-SDI video outputs

- Component Viewfinder Port

- Nikon F-mount lens connection with Canon EOS, PL, and C mounts available

About Vision Research
Vision Research designs and manufactures high-speed digital imaging systems used in applications including defense, automotive, engineering, science, medical research, industrial manufacturing and packaging, sports and entertainment, and digital cinematography for television and movie production.

The Wayne, N.J. based company prides itself on the unsurpassed light-sensitivity, image resolution, acquisition speed, and image quality produced by its systems, as well as robust software interfaces, reliability and versatility of its camera family – all which continue to stand as benchmarks for the high-speed digital imaging industry. Known for its innovations in high-speed digital camera technology and sensor design, Vision Research has received numerous research and development awards and was recently honored with an Emmy® Award for its revolutionary technology and engineering.

Vision Research's broad line of digital high-speed cameras, marketed under the Phantom® brand, add a new dimension to the sense of sight. They are used as innovative engineering tools, enabling users to visualize and analyze physical phenomena when it's too fast to see, and too important not to™. For additional information regarding Vision Research, please visit www.visionresearch.com.

Vision Research is a business unit of the Materials Analysis Division of AMETEK Inc., a leading global manufacturer of electronic instruments and electromechanical devices.

-----

Follow us on Twitter

Follow OptoIQ on your iPhone; download the free app here.

Subscribe now to Laser Focus World magazine; it's free!