CSIRO licenses solar-concentrating technology to China
CSIRO will sign a technology licensing agreement with a Chinese solar company for concentrated solar power.
Dec 14th, 2016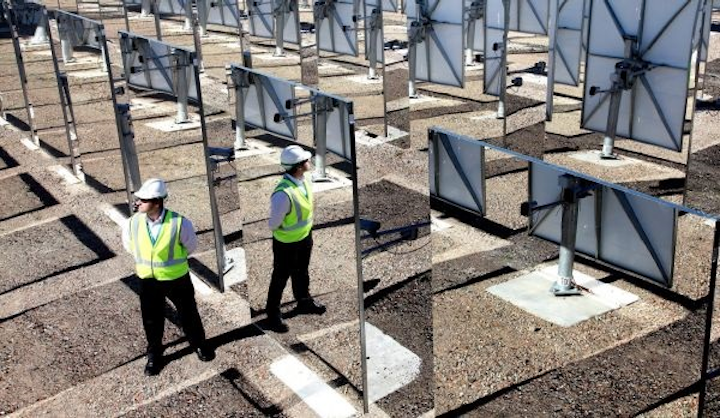 IMAGE: The solar thermal research hub at Steel River, Newcastle in Australia is shown. (Image credit: Phil Hearne)
The Commonwealth Scientific and Industrial Research Organisation (CSIRO) of Acton, Australia will sign a technology licensing agreement with a Chinese solar company that could reap millions of dollars in royalties for the national science and industry organization. The deal with Thermal Focus (Beijing, China) allows the company to bid for business in the burgeoning Chinese market for concentrated solar power using Australian-designed technology.
China aims to build infrastructure that produces 1.4 GW of concentrated solar power by 2018, increasing this to 5GW by 2020. "To put that into perspective, Australia has 50GW capacity in all its power stations," said Wes Stein, CSIRO's chief energy research scientist. CSIRO chief executive Larry Marshall said, "This partnership takes our climate mitigation focus to a global stage."
RELATED ARTICLE: Profiling solar energy in concentrated solar power systems
Concentrated solar power, or solar thermal, uses mirrors to focus the sun's energy into a collector. At collected temperatures of 560 degrees, that energy is then stored in molten nitrate salts in large thermal tanks. This can then generate superheated steam to drive turbines for electricity generation for weeks. CSIRO's patented technology uses smaller mirrors of about five square meters, known as heliostats, and field-control software to direct the solar energy and the technology was pioneered at the CSIRO's energy center in Newcastle. The solar thermal team has grown to more than 30 scientists and engineers.
A CSIRO spokesman said the licensing agreement covered a technology transfer payment with recurring royalties for the number of heliostats installed. "Organisations in China are bidding separately for equipment supply for each plant. It is a competitive process," the spokesman said. That means by 2020, the size of the heliostat market in China will be about $8 billion.
Wei Zhu, of Thermal Focus, said the company's long-term target was to have 15 per cent of that market, or $1.2 billion. He said the company's first commercial project would probably be in the Inner Mongolia desert region about 800 km northwest of Beijing. John Grimes at the Australian Solar Council said, "CSP with storage is the missing link in China's renewable energy market."
There are no commercial plants operating concentrated solar thermal technology in Australia. He said this was because government leadership in Australia had been lacking. The solar deal comes after an interim report by a Senate committee recommended all Australian coal mines close by 2030. Its final report will be handed down on February 1.
SOURCE: The Sydney Morning Herald; http://www.smh.com.au/technology/sci-tech/csiro-sells-concentrated-solar-power-technology-to-china-20161128-gsz8gh.html