Microdisplay companies cooperate on LED structured lighting for optical inspection
Forth Dimension Displays and iView are cooperating on Structured Light Projectors (SLPs) for PCB manufacture.
Sep 5th, 2016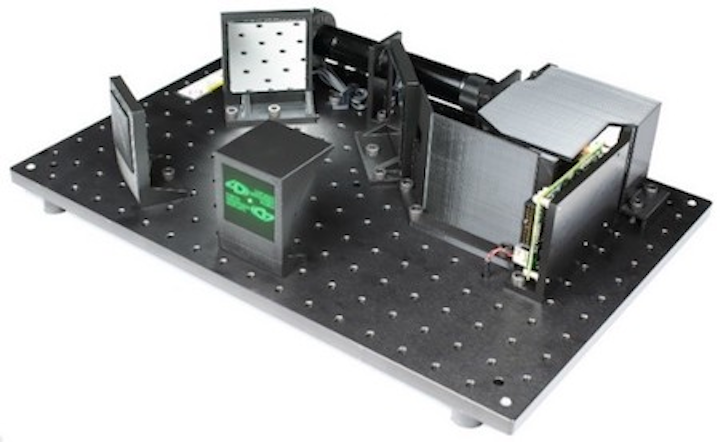 IMAGE: Microdisplays are a key component of structured lighting systems to improve automated optical inspection. (Image credit: Forth Dimension Displays)
Microdisplay and spatial light modulator manufacturer Forth Dimension Displays (ForthDD; Fife, Scotland), a wholly owned subsidiary of wearable and head-worn display manufacturer Kopin Corporation (NASDAQ:KOPN), and picoprojection company iView Limited (iView; Hong Kong) have entered into an agreement to develop, manufacture and sell Structured Light Projectors (SLPs), a key component of 3D automated in-line optical inspection (3D AOI) equipment which is rapidly replacing 2D AOI in printed circuit board (PCB) manufacture.
The companies say that the ability to use 3D AOI to measure components in all three dimensions, on every PCB in real time, enables companies to improve yields and product quality while reducing wastage and costs.
RELATED ARTICLE: OLED microdisplays improve digital image fusion applications
ForthDD's SXGA-3DM is a fast switching, all digital, high-performance reflective spatial light modulator (SLM) product. Designed for 3D AOI, the SXGA-3DM features the SXGA (1280 x 1024) Time Domain Imaging [trademarked] display with a 3D metrology specific display drive interface. iView will manufacture the SLPs at their Shenzhen factory combining ForthDD's SXGA-3DM SLM with an LED illuminator and LED drive electronics, optical components, and housing. The SLP will deliver precise, high-resolution structured light patterns over a 40 mm x 40mm field of view. This combination of the products and expertise from the two companies will allow Chinese 3D AOI equipment manufacturers to reduce their time to market and benefit from an established, experienced SLP supply chain.
Steve Yeung, CEO of iView, said, "3D scanning using structured light projection is an emerging technology with various applications. In particular, the market for 3D AOI machines is rapidly growing in China. Combining ForthDD's SLM and iView's projection technology will result in a cost effective 3D AOI optical system solution for our customers."
Greg Truman, CEO of ForthDD, said, "The market for 3D AOI machines is growing rapidly in all parts of the World. ForthDD has a very strong position in the market, supplying leading manufacturers in Germany, Japan and South Korea. Working closely with iView, ForthDD intends to develop a similarly strong position supplying Chinese 3D AOI machine manufacturers."
SOURCE: Forth Dimension Displays; http://www.forthdd.com/iview-and-forth-dimension-displays-to-collaborate-on-structured-light-projectors-slps-for-chinese-3d-automated-in-line-optical-inspection-3d-aoi-market/