Headwall hyperspectral imagers delineate cancer tumor margins for surgery
An EU medical consortium has successfully used hyperspectral imaging technology from Headwall in a brain cancer surgical trial.
Mar 10th, 2016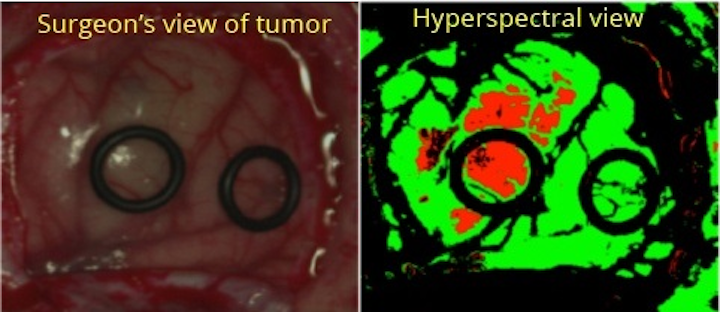 IMAGE: Hyperspectral imagers from Headwall image in the visible and near-infrared region to identify tumor margins--not visible with the naked eye--for surgery as part of the HELICoiD project. (Image credit: Headwall Photonics)
A European Union medical consortium has successfully deployed advanced hyperspectral imaging technology from Headwall Photonics in a brain cancer surgical trial that allows doctors to easily visualize the presence of hard-to-detect cancer tissue in the brain. Hyperspectral imaging presents an advanced, highly resolved view of brain tissue, allowing doctors to very accurately discriminate between healthy and cancerous tissue in a non-invasive manner based on the chemical composition of the tissue.
RELATED ARTICLE: Imaging spectrometers examine the world around us
The HELICoiD project (Hyperspectral Imaging Cancer Detection) is built around Headwall's Hyperspecsensors to deliver high spatial and spectral resolution, aberration-corrected imaging so that neurosurgeons can identify brain tumor margins for resection in real time.
"We are very excited about the success we have achieved thus far using Headwall's Hyperspec instruments," said Dr. Gustavo Marrero Callico, HELICoiD program manager and associate professor at University of Las Palmas de Gran Canaria. "Distinguishing between normal and cancerous brain tissue is very difficult, which meant looking at new imaging techniques that could resolve those differences with a high degree of specificity. Headwall delivered exceptional spectral imaging technology and provided a solid basis for project collaboration and dialogue."
Acquiring the valuable spectral data for the HELICoiD team were sensors operating in both the visible and near-infrared spectral regions. "This Hyperspec [trade mark] technology is extremely useful in demarcation of the specific tumor margins for surgical resection," said Headwall CEO David Bannon. "It also results in a much more positive outcome for the patient as the neurosurgeon now has a visual spectral imaging technique for safely minimizing the amount of tissue to remove. Headwall is very pleased to be at the forefront of a medical program that took our technology and delivered astounding results."
Integration work is underway now to move this technology forward and into additional trials worldwide.
SOURCE: Headwall Photonics;http://www.headwallphotonics.com/press-releases/press-releases-blog/headwalls-spectral-imaging-sensors-aid-brain-cancer-surgery