IMAGING SPECTROMETERS
Ordinary chromatic aberration from a refractive element provides the dispersion in an imaging spectrometer developed for military target identification. Developed by Pacific Advanced Technology (PAT, Santa Ynez, CA) under a Phase II SBIR grant from the Air Force Phillips Laboratory (Kirtland AFB, NM), the instrument offers 843 channels with a nominal spectral resolution of
Dec 1st, 1995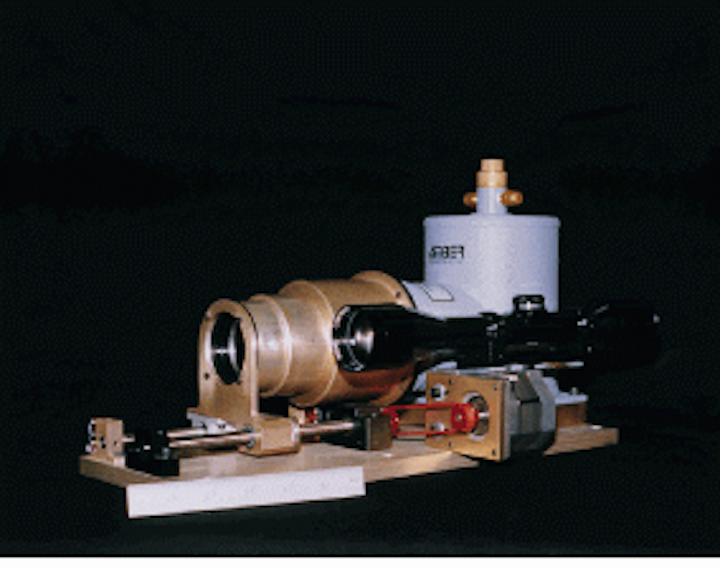 IMAGING SPECTROMETERS
Dispersive singlet replaces complex IR optics
Ordinary chromatic aberration from a refractive element provides the dispersion in an imaging spectrometer developed for military target identification. Developed by Pacific Advanced Technology (PAT, Santa Ynez, CA) under a Phase II SBIR grant from the Air Force Phillips Laboratory (Kirtland AFB, NM), the instrument offers 843 channels with a nominal spectral resolution of
5 nm in the mid-infrared wavelength range from 3 to 5 ?m.
In imaging spectrometry, the image of a scene is spectrally dispersed and captured at high spatial resolution in the detector plane. Intensity data as a function of wavelength are then analyzed to yield information about the absorption, reflectance, and radiative characteristics of objects in the scene. Most imaging spectrometers incorporate gratings or prisms as the dispersing element, combining them with sophisticated imaging objectives and detectors to gather data.
In contrast with more conventional systems, the image multispectral sensor (IMSS) instrument from PAT uses a single optic as both the imaging and dispersing element (see photo). A germanium refractive lens imparts a substantial amount of longitudinal chromatic aberration, or longitudinal color, to the incident wavefront, effectively dispersing it. The lens position along the optical axis is varied to achieve best focus for the spectral channel under examination. Energy on either side of this wavelength range will image in a highly defocused condition such that it can be processed out by a PAT proprietary software algorithm. To image from 3 to 5 ?m, the lens must translate about 50 mm axially. Peak response is at 4 ?m.
A two-dimensional indium antimonide (InSb) cooled focal-plane array detector produced by Amber Engineering (Goleta, CA) captures the spectral information at each channel. The initial IMSS incorporated a 128 128-pixel array, but current designs use a 256 256 array. These detectors include bandpass filters to reject illumination outside of the 3- to 5-?m range.
The dispersing lens has also been designed to work with a 512 512 focal-plane array. Engineers at PAT, under contract to the Office of Naval Research, are currently integrating such a system. This array offers region-of-interest detecting in which the user can preferentially acquire input from a specified group of pixels, allowing read out rates as high as 23 kHz.
System magnification changes as a function of wavelength, resulting in a corresponding variation in instantaneous field of view (IFOV). For the
256 256 detector array, the IFOV at
3 ?m is 7.3!, with a spatial resolution of about 0.5 mrad per pixel. This resolution improves steadily as wavelength increases, dropping to 0.31 mrad at
5 ?m. The chromatic-aberration approach to imaging spectrometry is viable for spectral regions from the far-infrared (IR) to the ultraviolet.
Funded by the Ballistic Missile Defense Organization and Amber, PAT has developed an f/2.3 mid-IR system that is available from Amber as an accessory to its Radiance 1 IR camera. Notes Massie, OThis system has a niche application for users who need narrowband IR imaging with a certain spectral resolution per pixel in a lightweight, compact, economical system.O The first commercial f/2.3 unit will be shipped by the end of 1995.
Kristin Lewotsky
Click here to enlarge image
Prototype of the IMSS system shows system optic (left) and cooled focal-plane array detector (rear). Rangefinder (front) allows target selection.