Laser-based breath analyzer diagnoses asthma, schizophrenia
Researchers at the University of Oklahoma (Norman, OK) have developed a diagnostic system that uses tunable diode-laser absorption spectroscopy to noninvasively detect and monitor diseases by quantifying molecular biomarkers in breath samples.
Jun 1st, 2002
by Kathy Kincade
Researchers at the University of Oklahoma (Norman, OK) have developed a diagnostic system that uses tunable diode-laser absorption spectroscopy to noninvasively detect and monitor diseases by quantifying molecular biomarkers in breath samples. The technology, dubbed the Breathmeter, is being commercialized by Ekips Technologies (Norman, OK), a university spin-off headed by Patrick McCann, a professor of electrical and computer engineering at the University of Oklahoma.
McCann has spent much of his career working with IV-VI semiconductor materials in a variety of applications, including medical diagnostics. His research led to the development of the Ekips system, which utilizes lead-salt diode lasers. He notes that, despite their age, lead-salt lasers offer a number of advantages for this application. "Lead-salt lasers have sufficient tunability across a fairly wide spectrum, and they are able to do this much better than the newer quantum-cascade lasers," he said.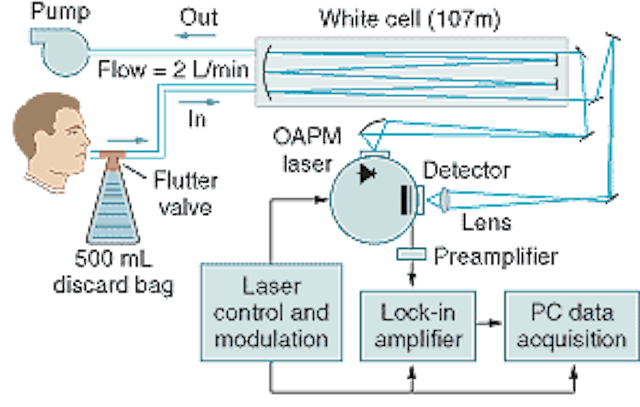 The prototype of the Breathmeter includes a cryostat (circle) with a laser and detector inside, an off-axis parabolic mirror, a White cell, and control and acquisition components.
Click here to enlarge image
In addition, McCann and his colleagues have incorporated advances in compressor technology that can cool both the laser and the detector at the same time (see figure). They use a single-stage-compressor cooling system and have integrated the laser and detector on the same cryostat. This gives them the high signal quality required while eliminating the need for liquid nitrogen to cool the system, making the instrument more practical for everyday use in a medical clinic.
Even with such engineering advances, however, McCann and his colleagues could not have used these or any other lasers for this application because the supporting technology was not advanced enough. In addition to the laser, the computer hardware and software that scan and analyze the data are critical to making this a real-time procedure that can measure the molecules in human breath as it is exhaled. Researchers have discovered nearly 400 different elements in human breath, and studies have shown that the presence of abnormal elements can be used to diagnose and monitor many illnesses and conditions, such as asthma, cancer, organ rejection, renal function, diabetes, and schizophrenia.
"We couldn't have done this three years ago because computers were not fast enough," McCann said. "The laser scans at a 20-Hz frequency and each scan collects 500 to 1000 data points. So you need to have algorithms that can look at the peaks in that spectrum and do curve fitting, and it is essential to do this in real time. At the same time, the same computer is controlling the instrument and all of its functions."
Asthma diagnosis
The first commercial application Ekips is pursuing is early diagnosis of asthma. According to McCann, there is a growing body of research coming out of Europe that indicates that asthmatics have higher levels of nitric oxide in their system. The ability to detect the presence of nitric oxide before someone begins to suffer an asthma attack would help the patient and reduce medical costs.
"Asthma is caused by two problems: constriction and an underlying inflammatory process," McCann said. "Existing diagnostic tests (primarily spirometry) only look at the mechanical aspects. There is no test that evaluates the inflammatory component of the disease. Our test measures the biological molecular marker that is associated with this, so it is a much earlier test."
In addition to Ekips, at least four European companies are looking to gain marketing clearance from the U.S. Food and Drug Administration (FDA) this year for breath analyzers: Oridion (Jerusalem, Israel), Aerocrine (Solna, Sweden), EcoPhysics (Munich, Germany), and Wagner (Munich, Germany). None of these companies is using a laser-based technique, according to McCann. Rather, their approaches involve a reagent technique that uses ozone to react with the nitric oxide and photodiodes to measure the resulting fluorescence. Unfortunately, this means a tank of ozone must be wheeled into the doctor's office, which poses potential safety issues. In addition, these tests measure only one molecule at a time, whereas the Ekips system allows the simultaneous measurement of both nitric oxide and carbon dioxide, which McCann and his colleagues believe yields more precise data.
Ekips is beginning Phase I clinical trials of a prototype of the laser-based system and is working with the University of Oklahoma Health Sciences Center Oklahoma City, OK) to design the protocol for the Phase II trial, which will focus on both asthma and chronic obstructive pulmonary diseases. McCann is hopeful that the Breathmeter will be on the market for these applications in the next 12 to 18 months.
McCann and his colleagues are already working to improve the technology, to expand its capabilities and reduce the cost of the system (currently about $70,000). They are also looking at other applications that involve the detection of different markers, such as carbonyl sulfide for organ rejection and carbon disulfide for schizophrenia. The technology could also find its way into nonmedical spectroscopy applications, such as industrial monitoring, air pollution, and even chemical warfare.
"Long-term, we need to have lasers and better detectors that work at higher temperature range," McCann said. "This would knock more than $10,000 off the product."