High-density storage options compete
If the 2004 Optical Data Storage topical meeting (April 18–21; Monterey, CA) had taken place in Hollywood, someone might have accused Blu-ray Disc (BD) of trying to steal the show.
Jun 1st, 2004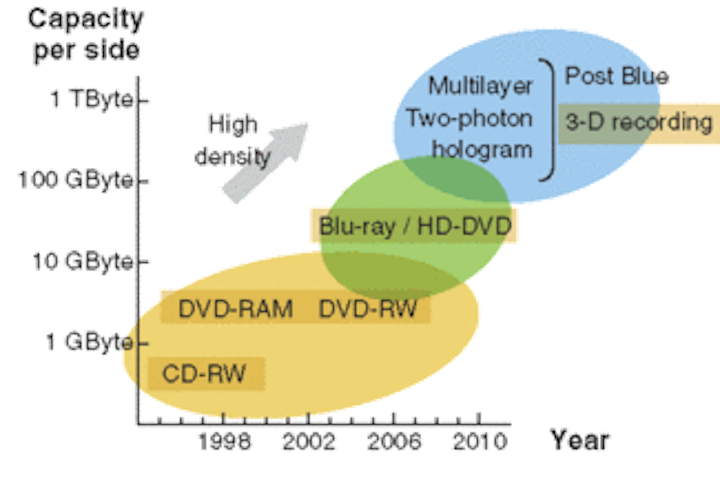 If the 2004 Optical Data Storage topical meeting (April 18–21; Monterey, CA) had taken place in Hollywood, someone might have accused Blu-ray Disc (BD) of trying to steal the show. The opening technical session for the 300-plus attendees began with an overview—direct from the Panasonic Hollywood Laboratory (Universal City, CA)—of the proposed BD application format for high-definition (HD) movie distribution. The same opening session closed with a show-stopping 25-GByte BD made of recyclable paper—courtesy of Sony and Toppan Printing (both Tokyo, Japan)—that even managed to draw national media attention (see related Newsbreak, p. 11). These two presentations addressed two issues that either BD, or any other aspirant to become the HD replacement for current DVD technology, will have to address: providing a reason to switch and providing an economically attractive alternative.
A compelling reason to switch is needed, according to Masayuki Kozuka of the Panasonic Hollywood Laboratory, because the DVD business is still quite healthy with U.S. retail sales for 2002 of 56.2 million DVD players and 68.5 billion titles. As an example of what will be required of BD to be successful, Kozuka referred to three differentiation factors that current DVD technology had to provide over VHS video: improved handling convenience, improved image quality, and new capabilities for multimedia viewing and special features in addition to traditional linear movie viewing.
Correspondingly, he said that the BD-ROM is being designed in a "tri-mode" enhanced-performance structure that content providers will be aware of, but that will be transparent to the user. An "HD movie" mode will provide continuity with existing DVDs with high-definition movies and special features. An "expanded interactive" mode will make use of a Java programming environment to allow both users and content providers to create new types of content such as games or educational materials. And a "browser mode" will provide a network link for activities such as downloading alternative content.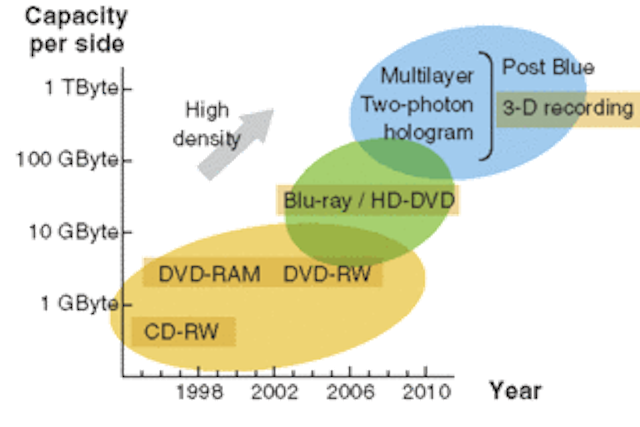 Since the mid-1990s, optical storage capacity has grown by an order of magnitude with each successive generation.
Click here to enlarge image
The BD-ROM is still a couple of years away, but Sony has already been shipping 23-GByte optical-data-storage systems based on the BD standard to business customers for several months and plans to begin shipping a consumer-oriented, dual-layer 50-GByte BD video recorder by the end of this year. Matsushita (Osaka, Japan; the parent company of Panasonic) expects to begin shipments of a dual-layer 50-GByte system this summer. The BD Founders group has expanded from the nine companies that established the specification in Feb. 2001 (see Laser Focus World, August 2003, p. 32) to 13 companies with the addition of Mitsubishi Electric (Tokyo, Japan), optical-disc manufacturer TDK (Tokyo, Japan), and PC manufacturers Dell (Round Rock, TX) and HP (Palo Alto, CA).
HD-DVD offers compatibility
The rival HD-DVD approach, backed primarily by NEC and Toshiba, has focused on compatibility with existing DVD technology, despite a lower capacity than BD (20 vs. 25 GByte for RAM, and 15 vs. 25 GByte for ROM), and has not started shipping products. But HD-DVD did win the endorsement of the DVD Forum industry group representing manufacturers of existing DVD products. Advocates of both approaches are courting movie studies for support, although the only studio that had made a commitment back in April was Sony's Columbia TriStar Entertainment. From a market perspective, such developments were described by CNN at the time of the meeting in April, as a looming "DVD format war." The New York Times portrayed it as a "21st century version of the Beta vs. VHS fight" over videotape formats.
From the perspective of optical-storage technology, the roadmap can be drawn a little differently. Instead of an evolution from VHS to DVD video to Blu-ray or HD-DVD ROM distribution of movies, the optical-storage-technology evolution has gone roughly from 0.5-GByte compact discs to 5-GByte DVDs. It is currently moving into 50-GByte DVD based on a wavelength shift from red to blue, and is contemplating a fourth generation of 500-GByte storage media that is likely to be based on major differences in structural approach (see figure).
Among the numerous technological approaches to 500-GByte and terabyte storage media currently under development, volumetric approaches, such as holography, multilayer, and two-photon absorption, appear to show significant promise, according to Motoyasu Terao, chief R&D group researcher at Hitachi (Tokyo, Japan), who taught a short course on Advanced Media Technology and Migration. Terao described a multilayered electrochromic approach under development at Hitachi, in which all disc layers remain transparent to the laser writing or reading process unless they are selected by application of a voltage. Selected layers lose their transparency, thereby exposing their electrochromic information for alteration by laser radiation.
During opening remarks at an evening panel session on fourth-generation optical storage and alternatives, session chair Ed Schlesinger (Carnegie Mellon University; Pittsburgh, PA) pointed out that each generation of optical storage media so far has grown by an order of magnitude over the previous one and has been targeted at a specific application. Then he asked, "So what would a 500-GByte, fourth-generation storage medium be used for? And remember, it has to be something that you can sell millions of." After laughter and a brief silence from the full conference-room audience one individual yelled back, "Movies on cell phones."