Lowering the privacy barrier
"Winston turned sharply. He had set his features into the expression of quiet optimism which it was advisable to wear when facing the telescreen."
Nov 1st, 1998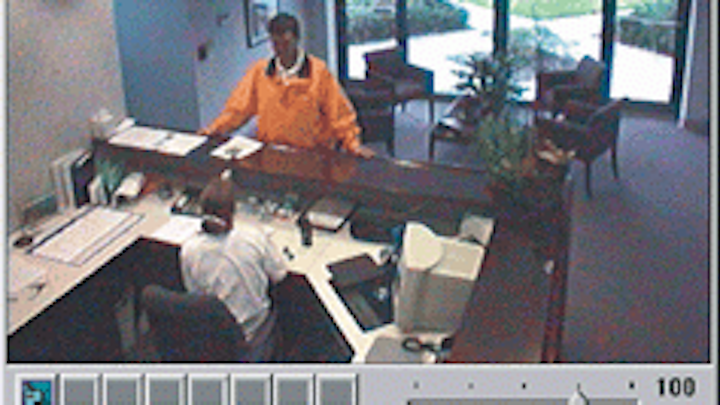 Lowering the privacy barrier
Hassaun Jones-Bey, Senior Editor
"Winston turned sharply. He had set his features into the expression of quiet optimism which it was advisable to wear when facing the telescreen."
Winston Smith, the protagonist of George Orwell`s futuristic surveillance nightmare novel 1984, could occasionally avoid the omnipresent video surveillance of Big Brother`s thought police because Smith, an employee at the Ministry of Truth, knew where the cameras were. They were in the same ubiquitous telescreens that constantly droned out official newspeak propaganda.
Smith secretly kept a diary of his subversive thoughts, which he was able to conceal merely by stepping beyond the viewing angle of the telescreen in his apartment. He also knew that the telescreens could not observe people in darkness and that infractions occurring in view of the telescreens might still escape detection if the thought police did not happen to be watching their monitors at the time the violations took place. But that was in 1984.
In 1998, Winston (telecommuter) Smith would not need to scrawl "down with big brother" into a secret diary. He could blast his political and social revelations onto the Internet instead--although he might be surreptitiously observed by his employer, or maybe by his ex-wife`s private detective. A charge-coupled-device (CCD) surveillance camera might be hidden in a clock radio on his desk, in an overhead sprinkler valve, or in that little light-emitting diode (LED) near the on-off switch in the lower right-hand corner of his computer monitor.
Even after dark, infrared technology would allow hidden cameras to record with impeccable resolution Smith`s clandestine adventures with Julia, his coworker and paramour. Best of all, his ex-wife`s private eye wouldn`t have to sit up all night and watch the whole thing. Nor would she have to weed through every petulant glance and heavy breath recorded on miles of videotape. Motion sensors would automatically mark relevant image frames in the digital record for subsequent retrieval and analysis.
On the other hand, by clicking on the video section of his web page, Smith could surreptitiously observe his ex-wife through the CCD "nanny cam" hidden in the eye of the teddy bear that Smith had given his daughter for her fourth birthday. Smith and his ex had promised two months ago to quit spying on each other, but the LED readout on the voice-pattern analyzer concealed in Smith`s palm during that conversation warned him that she was probably lying.
This is for real, folks!
The key difference between the technology described in Orwell`s classic novel, published, amazingly enough, in 1948, and in our parody of it is that the technology described here is real. Commercial, law-enforcement, and military applications currently dominate the use of optoelectronic de vices. But the small personal market is likely to grow as surveillance technology becomes more versatile and affordable, according to Michael Williams, president of Ellery and James, Ltd. (Washington, DC).
Williams says his one-year-old firm does consulting and custom systems design for military, police, prison, and other institutions in the area of infrared illumination and has recently introduced its first product--an infrared LED illumination system--into the OEM market. The purpose of the system is to provide evidence-quality closed-circuit television surveillance after dark using inexpensive CCTV cameras, thereby saving 70% to 80% off the cost of currently available low-light/no-light video systems.
The arrival of complementary metal-oxide semiconductor (CMOS) image sensors that rival CCD systems in image quality while requiring an order of magnitude less power and significantly undercutting CCD cost are also expected to boost traditional surveillance applications while expanding use in personal and household applications (see Fig. 1). Hewlett-Packard (HP; Palo Alto, CA) marketing manager Neal Carney refers to the personal surveillance market as the "dark side" of what HP sees as primarily a communication technology.
"What we see emerging is imaging for communication," Carney says in describing the various video communication and video-conferencing possibilities that motivated HP`s entrance last month into the CMOS image sensor market with four products. "We believe it is going to drive a new use model for digital image-capture devices that are just beginning to emerge in the marketplace," he says. "Eventually these kinds of image-capture devices will be imbedded in other end products [such as] portable computers, cell phones, personal digital assistants, organizers, and [ultimately] a single-chip camera."
Despite the primary focus on communication applications, HP also considers the security and surveillance market for CMOS image sensors to be important, as well as a third market for games and toys. Currently available technology in the game market would allow Winston Smith to repeatedly annihilate Big Brother by programming his image onto the bad guy in his daughter`s Game Boy.
Omicron (Miami, FL) projects a $9.5 billion market in North America and Europe for surveillance cameras based on its CMOS image sensor design and a $1.8 billion market for toy vehicles, such as a remote-controlled car scheduled for introduction in October. The user does not need to keep the car in sight because the car transmits a video image back to its owner--even at night. In a curious twist on the dark side of emerging surveillance markets for informative rather than esthetic images, Omicron also introduced a CMOS device to monitor the inside of a baby`s diaper. The company estimated a $460 million market for the CMOS baby monitors.
Keeping businesses safe
Overall, the lion`s share of the surveillance market is in the industrial or commercial sector, according to Williams, and Dave Underwood, president of Integral Technologies (Indianapolis, IN) divides that commercial market into two aspects: access control and security. The digitization of the image capture and management process is beginning to merge those two functions, he says (see Fig. 2).
On the access control side, identification methods are becoming personalized by the use of identification cards with pictures that provide not only a visual presentation that can be recognized by a human guard but also digital information, through the use of a frame grabber, that can be recognized by a computer.
On the security side, live surveillance data that were once collected with an analog camera and transmitted through a coaxial cable to an analog multiplexer for routing to an analog time-lapsed VCR are now routed digitally to the hard disk of a computer using a wavelet compression card (in the case of Integral Technologies) to replace the multiplexer and VCR. When these systems are combined, the same computer can issue badges, provide access to authorized people, and collect surveillance data (that could stand up in court if necessary) whenever a card swipe or a motion detector indicates that someone is entering or leaving the premises.
The digital compression technology that makes all of this possible has been around for a while for digital video editing, but it has just taken on surveillance applications within the last year or two, Underwood says. Image quality, speed of access, and cost advantages have made it attractive for the commercial security sector. And eventually, as the price goes down, it may migrate to home security applications.
"In the future, you will see this kind of technology migrate into the home," he adds. "That`s down the road. It`s a price point issue, not a functional issue."
Orwell`s book ends depressingly, with a broken-spirited Winston Smith parting from a broken-spirited Julia and telling himself in abject submission that he loves Big Brother. They are defeated by the omnipresent spy cameras of 1984. But today`s evolving technology presages a higher degree of individual choice. "What we see happening is that the ability to capture images [with CMOS image sensors] will be as common as keyboards are today for capturing text or numerical information," Neal Carney says. "The prices are going to follow the same roadmap as the rest of the electronics industry, and [the image sensor] will be just another pervasive input device."
The spy camera concept may take the technology to a more intrusive level of surveillance than some people would like, he says, "but we do think that capturing images brings some very positive things to facilitate communications." o
Click here to enlarge image
FIGURE 2. The digitization of image capture and handling is allowing integration of access control, surveillance, and other security-related functions in the commercial environment. A PCI-bus video capture and compression system enables fast video switching, digital video recording, and viewing from as many as eight cameras simultaneously.