INNOVATION AWARDS: Daylight Solutions wins first Innovation Award
The 2006 PhAST/Laser Focus World Innovation Awards program is designed to honor the most timely, groundbreaking products in the field of laser science.
Jun 1st, 2006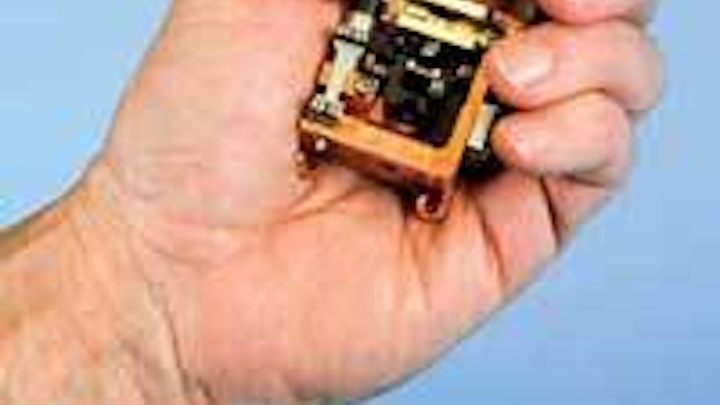 The 2006 PhAST/Laser Focus World Innovation Awards program is designed to honor the most timely, groundbreaking products in the field of laser science. The awards are sponsored by Laser Focus World magazine and PhAST-the Photonic Applications, Systems and Technologies conference, which is collocated with the Conference on Lasers and Electro-Optics (CLEO) and the Quantum Electronics and Laser Science Conference (QELS), or CLEO/QELS, all managed by the Optical Society of America (Washington, D.C.).
Innovation Award entrants were challenged to show how their application, service, or product (launched between March 2005 and March 2006) met several key criteria, including significant impact to the photonics industry, overall excellent functionality and long life expectancy, secure patent position, and above all, an exceptional level of innovation.
One winner and four honorable mentions were chosen out of 24 entrants. The awards were presented at the CLEO/QELS and PhAST Plenary Session on Monday, May 22. - Gail Overton
INNOVATION AWARD WINNER
null
Daylight Solutions (Poway, CA)
Click here to enlarge image
Daylight Solutions was recognized for its mid-infrared solutions, including the development of high-volume, commercially viable, mid-IR laser sources based on quantum-cascade (QC) lasers. Although it has been known for decades that the mid-IR spectral region between 4 and 12 µm holds the key to important discoveries in molecular detection and imaging, the lack of high-performance, affordable mid-IR laser sources and detectors has stymied commercial efforts. Daylight Solutions' "Tiny Tunables" are compact, high-performance, room-temperature, QC external-cavity tunable mid-IR lasers with a tuning range of 10% (compared to typically 1%) around 4.5, 5.5, 8.5, 9.5, and 10.5 µm center wavelengths-all in a footprint smaller than 24 cubic inches. For more information, visit www.daylightsolutions.net.
HONORABLE MENTIONS
null
Fianium (Southampton, England)
Click here to enlarge image
Fianium was honored for its supercontinuum fiber laser. The high-brightness supercontinuum is generated with high-intensity ultrafast lasers and high-nonlinearity components. Fianium's laser uses an all-fiber configuration that allows it to meet the industrial requirements of cost, size, and reliability. The supercontinuum fiber laser provides a single-source solution for many biomedical and industrial processing tools such as confocal microscopes and flow cytometers, and offers reduced speckle effects and extended spectral components to excite fluorescence in a wider range of dyes and materials. For more information, visit www.fianium.com.
PolarOnyx (Sunnyvale, CA)
Click here to enlarge image
PolarOnyx created a 100 µJ femtosecond fiber laser that will profoundly impact future fiber-laser applications. The laser is described as "revolutionary" for its ability to offer micrometer-level materials processing and micromachining with its breakthrough 100 µJ peak power, compact size (several times smaller than solid-state lasers), maintenance-free operation, air-cooling, and integrated controller. Numerous patent applications secure its innovations in the management of nonlinearity, third-order dispersion, and gain-narrowing effects. For more information, visit www.polaronyx.com
Sacher Lasertechnik (Marburg, Germany)
Click here to enlarge image
Sacher Lasertechnik developed the first commercial diode-laser-based portable source for terahertz generation. The terahertz spectral region is an important tool for penetrating solid objects in the quest to improve imaging technology, but the lack of viable terahertz sources and detectors has hindered commercial development. Sacher's terahertz source uses two tunable lasers that are amplified within a pulse operation module. It allows pulsed and continuous-wave operation. For more information, visit www.sacher-laser.com.
Thorlabs (Newton, NJ)
Click here to enlarge image
Thorlabs' swept-source-based three-dimensional (3-D) optical-coherence-tomography (OCT) microscope system enables imaging and diagnosis of a sample's optical properties. It providies highly detailed computer-based reconstruction of an object's surface, as well as internal structure of a sample through a computer-generated tomographic reconstruction for samples even slightly transparent to light in the range of 1200 to 1700 nm. External features with height variations of more than 200 nm can be measured accurately, while internal features can be resolved with a resolution of better than 10 µm. For more information, visit www.Thorlabs.com.