SiLC enters lidar market with on-chip coherent 1550 nm integrated vision sensor
SiLC Technologies announced an integrated 1550 nm FMCW lidar on a chip at 1550 nm wavelength.
Jan 16th, 2019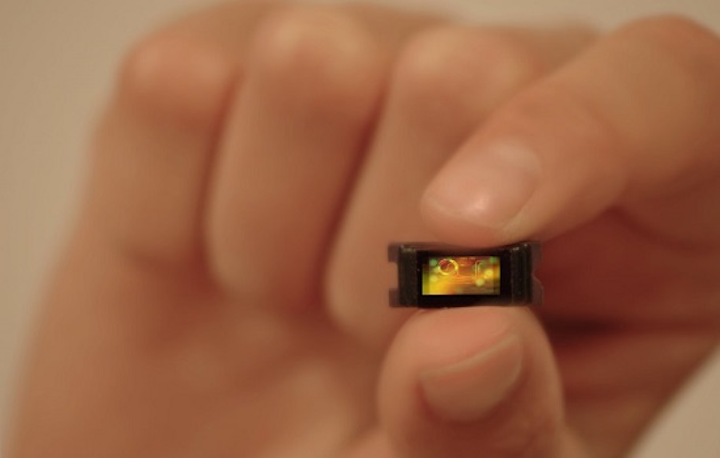 IMAGE: Shown is the tiny, integrated, chip-based 1550 nm lidar vision sensor from a silicon photonics startup. (Image credit: SiLC Technologies)
SiLC Technologies (Monrovia, CA), a silicon photonics-based supplier of integrated 4D vision solutions, today announced an integrated 1550 nm FMCW lidar on a chip. Utilizing frequency modulated continuous wave (FMCW) technology at 1550nm wavelength, SiLC's Vision Sensor represents the future of lidar in which safety, performance and range dramatically increase, while full integration enables a low-cost, low power, and compact footprint. SiLC's silicon-based integration platform will transform the economics of the lidar market and enable a broad range of consumer, industrial, robotics and security applications. SiLC will demonstrate record-setting performance with its integrated 4D Vision Sensor test chip at the 2019 Consumer Electronics Show (CES).
Unlike existing solutions, based on Time of Flight (TOF) technology at 905 nm, which suffer from range limitation due to eye safety and concerns about multi-user cross-talk, SiLC's FMCW 1550 nm Vision Sensor enables interference free and eye safe operation. Using coherent detection techniques enables low laser peak power and measurement of instantaneous velocity at the same time.
"The gating factor limiting the broader use of this technique has been the expensive telecom-grade components, such as narrow linewidth lasers and coherent receivers," explained Mehdi Asghari, CEO of SiLC. "This is where we come in. We're able to integrate all the required functionalities into a single silicon chip, utilizing our mature silicon photonic platform, to offer a compact and cost-effective solution."
"The LiDAR space has become attractive for specialized semiconductor players like us to invest in application-specific solutions," explained Asghari. "In the automotive sector, we are a supplier to existing LiDAR manufacturers and Tier 1s, providing them with a path to a cost effective and scalable platform. We are in discussions with customers and aim to deploy first products with our strategic partners before the end of 2019 to support their development and evaluation activities."
SiLC was founded by industry veteran Mehdi Asghari and his team, who have a long and proven track record together in silicon photonics going back over 20 years. This includes a successful IPO for Bookham and the repositioning of Kotura for datacenter optics and its subsequent commercial sale to Mellanox. SiLC's technology is mature and proven. It has supported qualification and ramp to volume production of many products in the past, in both telecom and data center applications, and enjoys a well-established manufacturing eco-system.
SOURCE: SiLC Technologies; https://www.prnewswire.com/news-releases/silicon-photonics-startup-silc-technologies-targets-range-extended-eye-safe-lidar-with-highly-integrated-4d-vision-chip-300767238.html