Continuous, splice-free fiber Bragg gratings possible with draw-tower process
Geel, Belgium--FBGS is able to produce continuous, splice-free FBG-based sensor fibers with multiple FBGs along the length at customer-specified positions.
Feb 3rd, 2012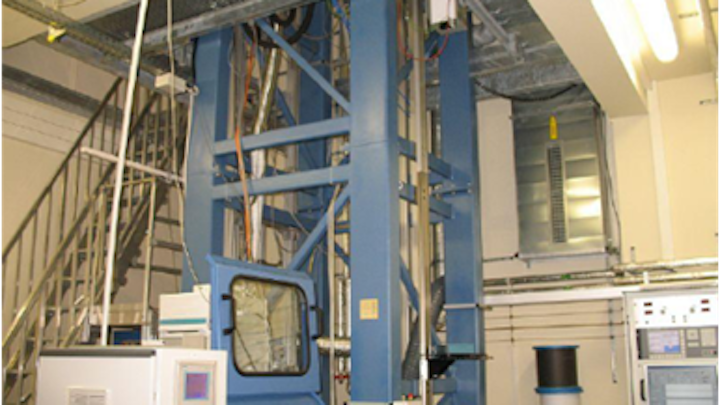 Geel, Belgium--FBGS, a fully owned subsidiary of FBGS Technologies (Jena, Germany) and a developer and manufacturer of high-strength fiber Bragg grating (FBG) sensors using draw tower technology, is able to produce continuous, splice-free FBG-based sensor fibers with multiple FBGs along the length at positions required by the particular customer need. The FBGs are written during the drawing process before the fiber is coated, meaning thatcoated draw tower fiber Bragg gratings (DTGs) are less fragile than conventional FBGs.
The DTG gratings are written in highly germanium-oxide-doped (photosensitive) silica fiber using one single laser shot during the drawing of the optical fiber. Because of the high doping concentration, the bending loss of the resultant DTG fiber is extremely low and is also less sensitive to transversal effects, making them suitable for sensing solutions in aerospace and oil & gas ordownhole applications, and the renewable energy, industrial process, and medical industries.
The traditional method of manufacturingoptical sensors of the fiber Bragg type usually starts with a fully drawn and coated fiber--the coating of which must first must be removed. This is a manual process that cannot exclude damage to the fiber, or at least diminishing its mechanical stability. At the intended measurement point, the fiber is exposed to ultraviolet laser light that produces an interference pattern on the fiber, which results in periodic areas of high and low refractive index, acting as a wavelength-selective mirror. After this process the fiber is recoated at the exposed locations.
According to FBGS, advantages of DTG FBGs over standard FBGs include extremely high mechanical strength--more than 5 times higher than conventional gratings; spliceless or splice-free grating chains that can be produced with a user-specified number of grating sensor elements; a high-temperature coating that operates between minus 180 Celsius and plus 200 Celsius; excellent coating uniformity; and higher repeatability and quality.
Embedded FBG sensor technology is capable of providing very useful information on residual strains within a material and the structural integrity of components during service. It is no secret that aircraft manufacturers are looking at incorporating structural health monitoring (SHM) technology into next-generation airplanes.
To distinguish them from traditionally produced FBGs, these sensors are trademarked DTG (draw tower grating) by FBGS.
SOURCE:FBGS; www.fbgs.com

IMAGE: A draw tower is shown that is used to produce continuous, splice-free fiber Bragg grating (FBG)-based sensor fibers trademarked as DTG for draw tower grating. (Courtesy FBGS)