Sound-sensing fiber optics improve fracking
New York, NY--Halliburton and others are exploring acoustic sensing using fiber optics to improve fracking operations.
Jul 12th, 2013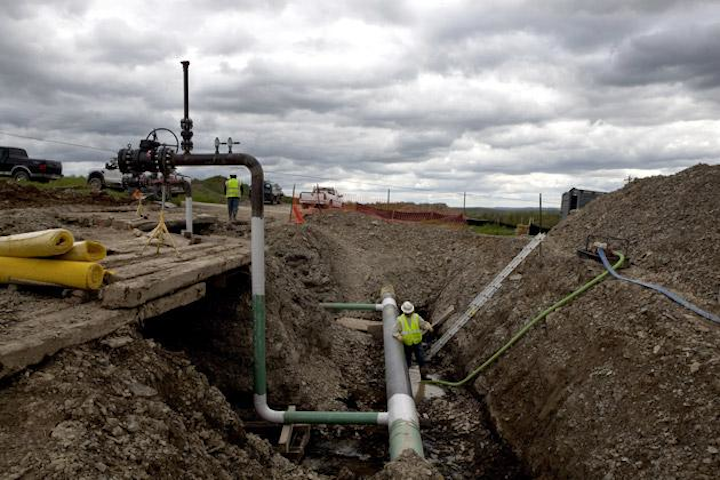 IMAGE:Fiber optics that sense optimal fracking sounds could improve fracking operations like this one taking place in Bradford County, PA in May 2012. (Image credit: Katie Orlinsky/Getty Images)
New York, NY--In a story from David Wethe on Bloomberg Businessweek,the prospect of fine-tuning energy exploration has the world's largest oil and natural gas producers testing fiber-optic lines in fracking wells (http://www.laserfocusworld.com/articles/print/volume-47/issue-4/features/photonics-applied-optical-sensing-downhole-sensing-puts-fiber-optics-to-the-test.html). Contractors from Halliburton (http://www.laserfocusworld.com/articles/2013/02/Halliburton-Applied-Photonics-Center.html) to Exiius are already using the sensory cables in U.S. wells. As a result, the $586 million market (http://www.laserfocusworld.com/articles/2013/05/distributed-fiber-optic-sensor-market-to-reach-1-1b-in-2016.html) for distributed fiber-optic sensing lines will almost double in the next three years, according to a study published by consulting firm Information Gatekeepers and revised in June by fiber-optics consultant Light Wave Venture. "This market is evolving very, very aggressively," says the study's author, materials engineer Dave Krohn. "Clearly the driver is oil and gas."
Halliburton and others are testing distributed fiber-optic cables (http://www.laserfocusworld.com/articles/2013/01/fiber-optic-sensing-distributed-fiber-optic-sensing-solves-real-world-problems.html) that record sound and temperature along their entire length. With steel-encased lines clamped between fracking wells and rock, drillers can record sounds that signal the perfect frack, says Glenn McColpin, director of reservoir monitoring at Halliburton's Houston-based Pinnacle unit. His team is refining software to convert the sounds to a graph, showing how thoroughly the rock hiding the fuel has fractured. "Our whole goal is to make the perfect frack every time," he says. "Now we've got a window into the well to see exactly what's happening."
The ecologically controversial practice of hydraulic fracturing, or fracking, has helped push U.S. oil production to a 21-year high. It also remains a very expensive guessing game. Drilling companies often fire the mixture of chemicals, sand, and water more or less blindly at rocks that hold oil and natural gas to create fissures and extract the seeping fuel.
To find and measure a bedrock fracture, microseismic sensors in a nearby monitoring well track subtle earth movements as the rock cracks. Fracking each well typically takes 15 "stages" of mixture-firing at about $100,000 a pop, says Alexander Robart, a principal at PacWest Consulting Partners, which focuses on oil and gas. Success during the process is hard to determine: Robart says 80% of North American production comes from about 20% of the stages.
The industry started experimenting with fiber-optic temperature-sensing abilities about a decade ago and later began testing their use in analyzing sound. In addition to discerning between good and bad fracking stages, the fiber picks up subtle noises that can indicate when the cement sealing of a spent well isn't working--a safety threat that could allow residual gas to reach the surface and trigger an explosion.
Eventually, drillers will be able to measure production flow based on sounds, says McColpin. He compares it to a flute: As different holes in the well's casing are opened or clogged, the combinations change the pitch of fluid traveling through the well. Programmers are also working on algorithms to detect the difference in the sound of water versus oil flowing into the well from surrounding rock, meaning valves for different areas in the well bore could be opened or closed as needed to minimize water incursion.
Fewer fracking stages mean less toxic sludge pumped down toward a community's water table, but it doesn't make the chemical cocktail itself any cleaner. And while fiber lines can save drillers money on ill-aimed or unnecessary fracking stages, efficiency hungry companies may balk at using fiber optics on smaller operations. Installing the fiber can cost as much as several hundred thousand dollars per well. That's more acceptable on a $50 million offshore well than a small $6 million land well, says PacWest's Robart. The use of acoustic fiber could drop if more improvements aren't made, says Joseph Elkhoury, general manager of microseismic services at drilling-services leader. "We are in the wide-enthusiasm phase of acoustic sensing," he says.
An unexpected challenge for drillers is how to manage the mountains of data the cables are collecting. Halliburton has assembled engineers, scientists, and former U.S. space program technicians in a Houston lab to comb through data that pour in fast enough to fill a DVD every 28 seconds, says McColpin. So far, companies are afraid to throw anything out, not knowing what might prove to be the crucial puzzle piece later. "It's untenable," he says. "You can't collect 15 terabytes a week continuously for 20 years on a well." Still, the author writes that this may be a good problem to have for an industry that's long been blasting in the dark.
SOURCE: Bloomberg Businessweek, Technology; http://www.businessweek.com/articles/2013-07-11/better-fracking-through-sound-sensing-fiber-optics