ANNUAL REVIEW AND FORECAST: Skies may be clearing, but fog still lingers
Although laser industry sales recovered nicely across all sectors in 2010, the aftermath of the recession is still impairing visibility going forward.
Jan 1st, 2011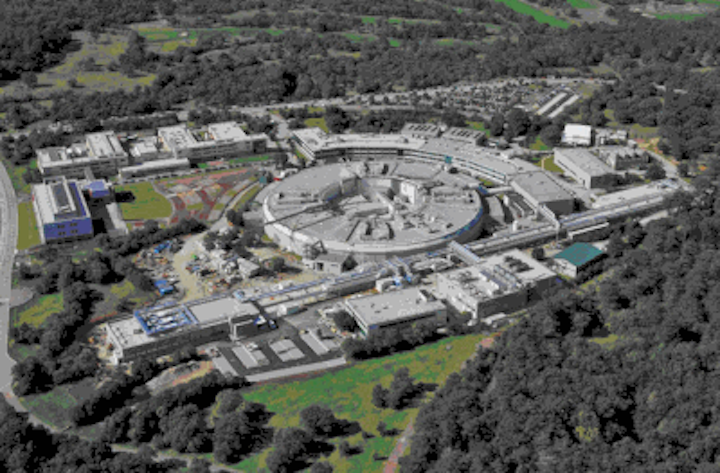 Although laser industry sales recovered nicely across all sectors in 2010, the aftermath of the recession is still impairing visibility going forward.
GAIL OVERTON, STEPHEN G. ANDERSON, DAVID A. BELFORTE, and TOM HAUSKEN
With some exceptions, nearly everyone we spoke to in mid to late 2010 about the lasers and photonics industry, which by all indications is growing, hesitated to be openly bullish about 2011. "In the upheaval of the 2008/2009 recession, the biggest thing that the laser market lost was visibility going forward," said Jean-Michel Pelaprat, CEO and president of Vytran (Morganville, NJ). "We once had a good grasp on quarterly performance, but now, even monthly performance is difficult to predict in certain market segments. Companies learned a lot during the recession and cleaned up their free-spending ways, holding onto their money until expenditures are absolutely necessary." Couple this tight-fisted mentality with the rapid obsolescence that accompanies acceleration of new technologies (and corresponding reluctance to invest in something today that could be outdated tomorrow), and a fog creeps in to obscure the view as photonics companies attempt to anticipate market performance.
But there is an upside to uncertainty. Who knew that the Apple iPad would be the fastest-selling consumer electronic device ever, with sales of 3 million units in its first 80 days on the market—surpassing the iPhone's 1 million units in its first quarter.1 Just like the iPhone, the iPad depends on lasers for cutting, trimming, drilling, and marking its various semiconductor, metal, glass, and plastic components. Semiconductor tools maker Ultratech (San Jose, CA) has noted that continued adoption of its laser spike anneal technology is driven by demand for leading-edge consumer devices like smart phones and tablets. And have you seen the commercial for the new Xbox 360 Kinect—"games that get your whole body moving"? Kinect's gesture recognition capabilities are enabled by infrared (IR) laser diodes, raising the prospect of additional high-volume laser diode sales beyond telecom and data storage applications.
Despite the success of these new consumer gadgets, laser manufacturers—especially those serving the semiconductor and materials processing markets—are concerned that the 2010 sales surge simply reflects an unsustainable pent-up demand for equipment on the heels of the downturn. "Q3 2010 semiconductor capital equipment [capex] orders just reached 2007 peak levels and chip sales are at an all-time high—it's been a record year for global semiconductor revenues, forecasted to reach a never-before-seen $300 billion," said Dan Tracy, senior director, industry research and statistics for SEMI (San Jose, CA). "Capex growth for 2010 has been unprecedented with spending through September already 70% above the $15.9 billion spent for all of 2009." However, Tracy does expect to see seasonal slowing in late 2010 and into early 2011. Texas Instruments' 3Q financials included a statement from its chairman, president, and CEO Rich Templeton that supports Tracy's assessment: "As we move into the fourth quarter, we expect sequentially lower revenue reflecting a combination of seasonal patterns, continued soft demand in computing and consumer markets, and slowing growth in the industrial market."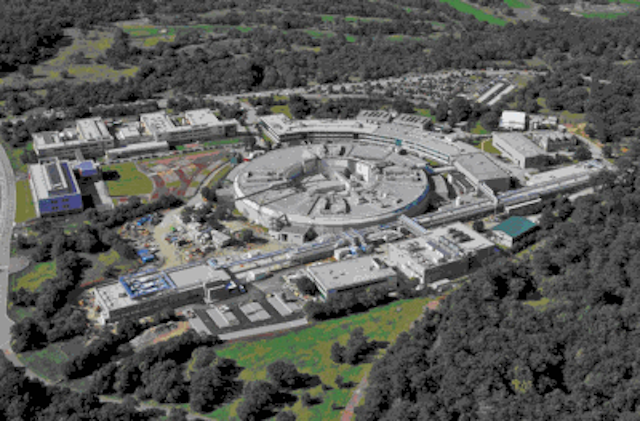 Double-dip fears
These subtle signs of contraction in the semiconductor markets are not the only reason for a lack of clarity going into 2011. Because laser sales in some sectors track gross domestic product (GDP) closely and depend on strong US and Chinese economies, some recent developments are disturbing.
According to the Office for National Statistics (ONS; www.ons.gov.uk), UK GDP has grown 1.7% on a year-to-year basis as of 2Q10 and grew 1.2% alone between April and June; however, the growth rate slowed to 0.8% from July to September, with ONS data showing that the economy had still made up only less than half of the output lost during the 2008/2009 recession. Eurostat (epp.eurostat.ec.europa.eu) reported that Euro-area (16 countries) GDP growth rate emerged from negative territory in 2009 to reach 0.9% in 2010 and is forecast at 1.5% for 2011; however, temper this with the 3.0% and 2.8% growth rates in 2006 and 2007, respectively, and you can begin to see why the recession chasm is indeed appearing to be wide.
Similar roll-off in the GDP is evident for the US and China as well. The US Bureau of Economic Analysis (BEA; www.bea.gov) said GDP increased 3.7% in 1Q10, but only 1.7% in 2Q with the deceleration reflecting a sharp increase in imports. Although 3Q US GDP increased 2.5%, the trend is lower compared to 1Q. And the National Bureau of Statistics of China (www.stats.gov.cn) reported that 1Q GDP had grown 11.9% compared to the same quarter last year, while 2Q GDP for China grew at a slightly lower rate of 11.1% compared to 2Q09 and slowed again to 10.6% in 3Q. China's small GDP correction and its late 2010 0.25% increase in its one-year lending and deposit interest rate raise speculation that the Chinese economy may be slowing.
Although laser manufacturers disagree as to what impact these changes will have on worldwide laser sales, they do agree on one growing trend in China: an apparent increase in domestically manufactured lasers. In the Business Forum at last year's International Congress on Applications of Lasers & Electro-Optics (ICALEO), Paul Crosby, director of marketing at Coherent (Santa Clara, CA), said that in the next three to five years, China would begin to manufacture more of its own low- and high-end lasers rather than buying them from US and European manufacturers. And data from some suppliers supports that prediction. "We are seeing a rapid increase in sales of our M2 measurement systems into Asian [non-Japan] markets," said Allen Cary, sales and marketing manager for Photon Inc. (San Jose, CA; acquired by Ophir Optronics in May 2010). "Although the geographical makeup of sales for laser-beam characterization tools may be changing, the sales are welcome considering that business fell considerably during the recession."
Cary believes that macroeconomic impacts from recent financial changes in China are long-term issues and overall not a concern for the next few years. And although he thinks that most European markets are healthy, he adds that Europe is still concerned about the US economy. "Although the macroeconomic picture is mildly encouraging, there is a general feeling of angst that maybe the other shoe will drop—the foreclosure mess continues, commercial real-estate markets are weak, stimulus spending has reached a plateau, and political turmoil as evidenced by the rise of the Tea Party leaves most of us wondering what the credit and tax situation will be in 2011."
Although Laser Focus World forecast an 11.3% drop in laser sales for 2009, the actual $5 billion figure of 2009 was a whopping 23.5% drop from the $6.54 billion actual of 2008. This year, all indications are that the recovery has been swifter and greater than our anticipated 11% growth forecast for 2010. In fact, our 2010 estimated laser sales are $6.37 billion—a 27.3% increase from 2009 and nearly erasing the approximate 27% downturn during the recession. But even with the undisputedly glowing financials from 2010, the lingering environment of uncertainty and "angst" means that most laser manufacturers and their suppliers are reluctant to talk about big gains in 2011.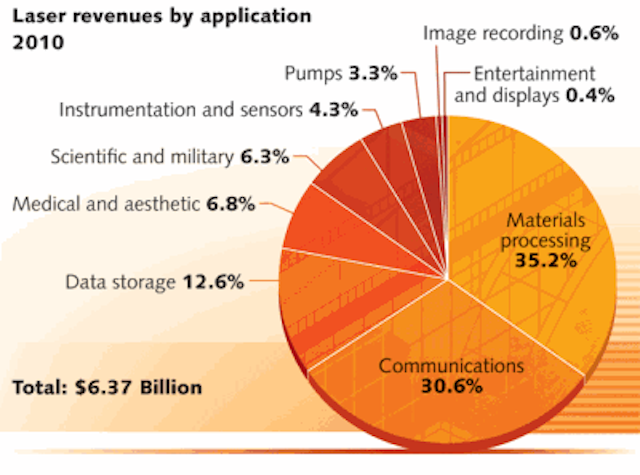 Back in the black
So just how good was the financial performance of major laser companies in 2010? The approximate 37%, 55%, 38%, and 42% sales growth figures for Rofin-Sinar (Plymouth, MI and Hamburg, Germany), Coherent, JDSU (Milpitas, CA), and Newport Corp. (Irvine, CA), respectively, for calendar 3Q10 compared to the same quarter in 2009 were typical.
Compared to $107.6 million in sales for calendar 3Q09, Coherent reported 3Q10 sales of $166.4 million and record bookings of $192.5 million. "Demand was led by flat-panel display applications for LCD annealing systems and light-guide panel manufacturing used in LED-based displays," said John Ambroseo, Coherent's president and CEO, in the company's November 2010 press release.
Although its commercial lasers (nondiode lasers) business brought in just $25 million of JDSU's total $411.3 million net revenue for its first fiscal quarter (ended Oct. 2, 2010), those figures are expected to improve long term with the introduction of a fiber-laser offering in the form of a partnership with Amada (Fujinomiya, Japan), says JDSU director of product line management for commercial lasers Werner Wiechmann. In addition, JDSU sees healthy growth in the use of Q-switched diode-pumped solid-state (DPSS) lasers for scribing of low-k wafers to support higher-speed semiconductor devices and for scribing wafers for LEDs used in television backlighting. Wiechmann cautioned, though, that the semiconductor market is currently at a record high and there are signs of a potential slowdown. "However, we expect to keep selling lasers for low-k scribing due to the leading-edge nature of this technology even if the broader semiconductor industry slows down," he adds.
On its laser diode side, JDSU specializes in pump lasers for both telecom amplifiers and fiber lasers, and IR diodes to support gesture recognition technologies—a growing application for JDSU. In fact, Microsoft (Redmond, WA) increased its December quarter forecast for its Xbox 360 Kinect sensors from 3 million to 5 million units based on presales, retail orders, and consumer interest; Kinect went on sale in early November 2010.2
In last year's Laser Market Review & Forecast, Herman Chui, senior director of product marketing for Newport's Spectra-Physics laser division, accurately predicted that Newport would see positive signs across all of its laser markets in 2010. When considering the prospects for 2011 in certain industries, Chui sees growth in the markets for lasers in scientific research, bioinstrumentation, and microelectronics; however, he is more cautious about the solar and semiconductor capital equipment industries. "We are cautiously optimistic about the overall markets for lasers, with gains in some segments more than offsetting the softening in others," said Chui. "For example, even within solar, the market signals are mixed depending on the panel or tool manufacturer and their application."
Oclaro (San Jose, CA) saw record profitability in its 2Q calendar results, with annual revenues nearly doubling from $210 million in its fiscal year 2009 to $392 million for fiscal year 2010 (period ended July 3). In addition to combining revenues from its April 2009 creation via the Bookham/Avanex merger, Oclaro credited the rise to a healthy telecommunications industry: 80–90% of its products target the telecom components market. "The recession didn't slow the need for bandwidth, keeping the underlying demand for telecom components strong," said Yves LeMaitre, Oclaro executive VP and division manager. "Although we are seeing some signs of inventory corrections in the latter part of 2010, demand for new technology such as VCSELs [vertical-cavity surface-emitting lasers] for optical mice and Intel's LightPeak are promising developments." LeMaitre says that despite the current battle over connector types and standards, LightPeak is the first high-bandwidth optical connection and brings with it high expectations. "LightPeak is a coup for Oclaro VCSELs because just like data storage lasers, the industry recognizes the need for ultrahigh VCSEL reliability in the LightPeak platform—reliability understood well by telecommunications component providers like Oclaro."
But again, Oclaro's enthusiasm is tempered with caution. For calendar 3Q, Oclaro saw 43% year-on-year growth but experienced a slowdown in the rate of revenue growth in late September 2010, issuing a cautious guidance for the December quarter. "All big capex decisions were pushed out in 2008 and early 2009, and drove our early 2010 gains," said LeMaitre. "But we believe the inventory correction we've seen in telecom will be short term. In the meantime, the demand for our Advanced Photonic Solutions products has continued to be solid. Given the strong underlying fundamental market drivers across our business, we are optimistic about our ability to grow 30–40% in calendar 2011."
Foggy forecast
Coherent says its combination of record backlog and future orders should support organic, year-over-year revenue growth of 15–20% in 2011; the Semiconductor Industry Association (SIA; Washington, DC) forecasts the semiconductor market to grow 6% in 2011, while IC Insights (Scottsdale, AZ) is more bullish, predicting 11%3; and Trumpf (Ditzingen, Germany) predicts 20% growth for its 2010/2011 fiscal year. Even though these industry players anticipate healthy growth in 2011, their predictions seem conservative compared to the phenomenal 30–70% growth figures for 2010, depending on the market sector. For 2011, Strategies Unlimited is projecting 10.8% revenue growth to $7.05 billion for the worldwide laser markets. The fog is starting to clear, but no one is certain what waits on the other side.
THE MARKET SEGMENTS
Materials processing
Midway through 2009 the news from the industrial laser materials processing sector began turning positive, even at the depths of the recession in capital equipment spending. At first some of the smaller niche market suppliers started seeing increases in business. Then the public companies cited growing demands from the semiconductor, aerospace, and medical devices markets in their quarterly reporting. Not a tsunami of good news, but certainly an advancing tide.
As the industrial laser market opened in 2010, the rather gloomy revenue picture began showing signs of life and, led by gains in solid-state and fiber laser sales, an upward revenue trend started that continued from quarter to quarter. Asia became the salvation market, especially China, where unfettered demands for industrial laser systems almost single-handedly turned around the recession in Germany. By the half-year point, it was obvious that a rapid return to profitability and growth in sales for these laser suppliers was reaching record heights, although the persistent gloom in the high-power carbon-dioxide (CO2) laser market in fabricated metal products dampened enthusiasm on the part of industry analysts.
By the time quarterly reports were issued in November, 85% of the public companies reported revenue gains over the comparable quarter, many to the tune of 40–60%, and even higher in some cases. Even laggard companies supplying high-power CO2 lasers started reporting increases in sales.
However, the companies selling solid-state and fiber lasers took the lead in sloughing off the ravages of the recession and accelerating the industry on a path to strong revenue growth. Industrial Laser Solutions (ILS) tracked a 17% gain in 2010 solid-state laser revenues—a number all the more interesting because sales in late 2009 had already started building up, driven by laser systems bookings for information technology applications (display devices for communications and entertainment such as flat-screen televisions). A top performer in 2010 was the fiber laser, which zoomed past 2008 revenue levels led in part by the acceptance of high-power fiber-laser integration into sheet-metal cutting systems (one integrator booked 65 unit sales of these laser-cutter systems). Fiber lasers racked up an impressive 41% revenue gain in 2010, albeit from a depressed 2009 level. Taken together, these two laser technology sectors contributed 42.5% to revenue growth.
Stronger-than-expected low-power CO2 laser sales (18% gain) plus a 27% increase in high-power sales (a deceiving number as revenues had dropped 30% over the two-year period 2008 to 2009) helped drive strong growth. Diode and excimer laser sales increased by 32% in 2010, offsetting the first year of decline experienced in 2009. Diode lasers in particular began to show the growth potential forecasted several years ago, but the recession somewhat stultified the sector.
In the emerging market for laser systems used in photovoltaic (PV) materials processing, VLSI Research Europe (Bedford, England) managing director John West said the market was $260 million in 2009 and is expected to decline to $240 million in 2010. West attributes the 2010 laser systems revenue decline to the failure of silicon thin-film on glass-cell technology, which uses several laser processing steps, to compete against crystalline silicon cell technology, which uses fewer or no laser processes. Although the systems numbers are respectable, the actual laser revenues are some fraction (1/3 to 1/6) of the total system forecast. And keep in mind that VLSI reports the total market for solar cell and module manufacturing equipment in 2010 at $4.9 billion dollars, making laser tools just a small 5% of that market. Anticipating 2011, West adds, "At $240M the [2010] market for laser systems is still four times larger than it was back in 2006, and the prospects are for sustained growth in the region of 10% for the foreseeable future."
The materials processing market also includes sales of lasers for semiconductor lithography, dominated by Cymer (San Diego, CA) and Gigaphoton (Oyama, Japan), which were revised upward to include service revenues to $746 million in 2010 and are forecast to increase 5% to $784 million for 2011.
In summary, the laser materials processing market recovered nicely in 2010 from its recessionary slump, growing at rates between 20% and 40% (depending on application). Estimated sales for lasers used in materials processing applications for 2010 was $2.24 billion, and looking ahead to 2011, the industrial laser marketplace is on track to exceed 2008 levels—one year ahead of projections made at the depth of the recession. This remarkable recovery is a testament to the diversity of laser materials processing technology. With a range of laser types being utilized by a broad spectrum of manufacturing companies, some of the industrial laser suppliers experienced growth in a severe recession and a rapid return to record sales and profits.
Projections of worldwide industrial laser sales of $2.52 billion for 2011 are based on a return to high single-digit growth in the laser metal-cutting segment led by fiber-based systems; continued double-digit growth in fiber lasers influenced by new product suppliers establishing a place in the market; double-digit growth in the aerospace, medical devices, agricultural, and construction equipment sectors; and continued but slower growth in the semiconductor, display, and alternative-energy market.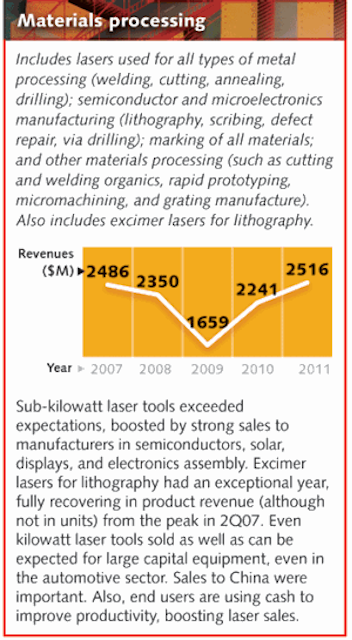 Medical and aesthetic
Since the close-to-30% drop in ophthalmic, surgical, therapeutic, and aesthetic laser sales in 2009 due to the recession-based reduction in discretionary spending by consumers, the financials of major companies in this market have stabilized or steadily improved. Biolase (Irvine, CA) Q3 revenue (excluding license fees and royalties) was up 27% sequentially from Q2 primarily due to strong sales of its Waterlase MD erbium/chromium 2780 nm dental laser, Cutera (Brisbane, CA) Q3 sales were essentially flat at $12.1 million compared to $12.2 million in the same quarter last year, Cynosure (Westford, MA) revenues for the first nine months of 2010 are 11% ahead of the same period in 2009 on strong Asian and European business, Iridex (Mountain View, CA) Q3 total sales increased to $10.8 million from $9.9 million in Q2 2010 led by 5.8% growth in its ophthalmic laser products and consumables as well as its MicroPulse photocoagulation technology, Palomar (Burlington, MA) Q3 revenues were up to $15.8 million compared to $14.5 million for the same quarter last year, and Syneron (Yokneam, Israel), which merged with Candela in late 2009, saw Q3 sales increase 10% over the same quarter last year.
The medical laser industry is counting on new product launches and sales initiatives to drive its continued growth. In November 2010, Theralase (Toronto, ON, Canada) dedicated a sales team to therapeutic laser devices for horses; the in-home acne and hair-removal laser products from TRIA Beauty (Pleasanton, CA) are now available in stores and the company is expanding international sales efforts to take advantage of the multibillion-dollar global hair-removal market. Cutera is on target to introduce its FDA-approved vascular laser at the American Academy of Dermatology meeting in February 2011; Australian regulators approved Cynosure's dual-wavelength Smartlipo MPX laser body sculpting workstation. Iridex is now shipping its EndoProbe intraocular laser delivery device into Japanese markets, and Palomar, which has primarily marketed to physicians and beauticians, is planning to launch the only over-the-counter, FDA-approved laser device for periorbital wrinkle treatment in Spring 2011. A recent indication that new technologies and sales efforts are paying off is Biolase's $9 million order in September 2010—the largest in company history—for its Waterlase MD and iLase dental lasers.
Increasing steadily from the 2009 $379 million dollar level, 2010 sales for lasers into the medical therapy and aesthetics segment reached $432 million and are forecast to increase further to $487 million for 2011; however, the total value still falls short of the $607 million pre-recession level for 2007.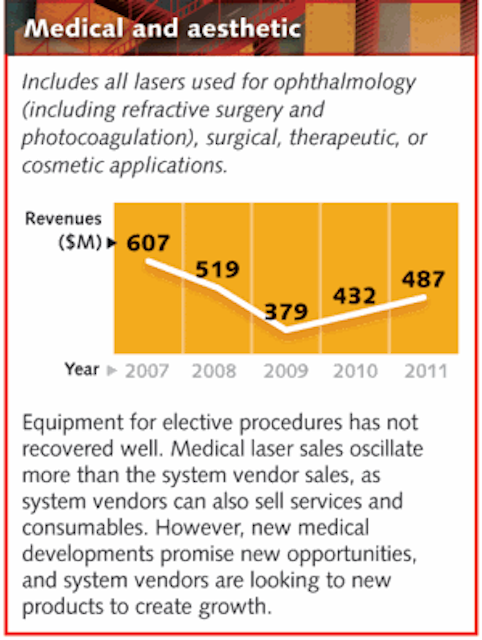 Scientific research and military
Coherent reported a very strong 3Q within its scientific business with record orders for Chameleon lasers used in biological imaging and for amplifiers favored in basic research. High-energy-laser manufacturer Continuum (Santa Clara, CA) has plenty of backlog going into 2011 and sees upside for scientific research in biomedical imaging and light detection and ranging (lidar)—especially for environmental monitoring.
The "2010 Global R&D Funding Forecast" published by Battelle (Columbus, OH) and R&D Magazine (www.rdmag.com) says that R&D funding increases from the US and Europe are expected to be mediocre and trail peak funding levels of 2008 for several more years, despite stimulus funding (largely spent in 2009 and 2010) from the American Recovery and Reinvestment Act (ARRA) and the European Economic Recovery Plan (EERP).4 Global R&D growth will come primarily from emerging nations like China and India—driving a 7.5% increase in Asian R&D. In total, we expect 2010 global R&D spending to increase 4% over 2009 to $1156.5 billion.
High priorities in the global R&D budget include alternative energy, biotech and pharmaceuticals, infrastructure enhancement, and information technology. Some high-dollar projects include the $481.6 million (US Senate request for 2011) Inertial Confinement Fusion Ignition and High-Yield Campaign of the National Nuclear Security Administration that includes the National Ignition Facility and the University of Rochester's OMEGA Laser Facility as well as Sandia National Laboratory's Z machine, and the Extreme Light Infrastructure (ELI) project (see page 77)—a 200 PW laser with an estimated cost of €400 million ($541 million dollars).5 We estimate 2010 laser sales for R&D at $212 million. But as the stimulus phase ends and larger projects enter the feasibility stage and conclude the construction stage, we expect 2011 sales to remain flat.
The US Congressional Budget Office (www.cbo.gov) recorded a total budget deficit of $1.3 trillion in fiscal year 2010, prompting US Secretary of Defense Robert Gates to plan on $100 billion in cuts to the defense budget over the next five years. The US defense budget, which accounts for some 45% of worldwide military spending and more than doubled from $281 billion in 2000 to nearly $595 billion in 2008 under the Bush administration, is estimated to grow to $721 billion in 2011 before being cut back to near-2009 levels of just under $634 billion by 2013, according to the White House Office of Management and Budget (www.whitehouse.gov/omb).6 Combine this with the European debt crisis and a slowdown in military spending for China (7.5% in 2010 compared to decades of double-digit growth), and the inevitable trend is downwards for worldwide military spending.7
Regardless of this downward trend, the greater than $1.56 trillion worldwide defense budget (based on 2007 data from The Center For Arms Control and Non-Proliferation) is still larger than the approximate worldwide $1.16 trillion R&D budget, with continuing upside for lasers as photonic and optoelectronic technologies displace EMI-prone electronic components. Examples include laser-triggered ordinance (to prevent electronic arming and firing of weaponry in the event of an EMP attack), laser dazer and dazzle technology to disable enemy combatants, infrared countermeasures using mid-infrared DPSS and quantum-cascade lasers, and diode-pumped alkali lasers for missile defense.
Directed-energy weapons did suffer a setback in 2010 with the possible decision to cut funding for the Airborne Laser (ABL) by as much as 50%; however, in February 2010, Textron Defense Systems (Wilmington, MA) demonstrated a 100 kW directed-energy laser and both solid-state and fiber-laser projects in this sector are being funded.
We estimate 2010 worldwide military laser sales at $188.9 million (up 15.8% from 2009) with 9% growth to $205.9 million for 2011.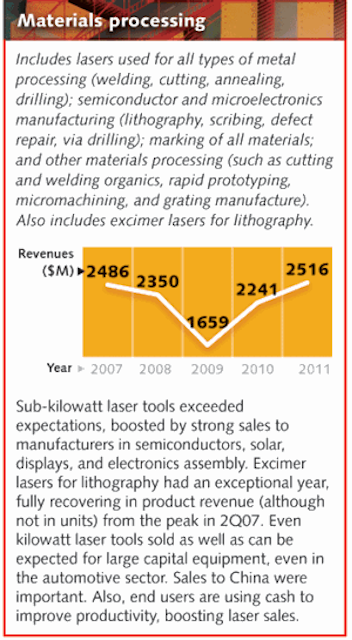 Instrumentation and sensors
Our annual analysis of the "four Bs" of biomedical laser instrumentation companies Bruker Corp. (Billerica, MA), Bio-Rad (Hercules, CA), Becton Dickinson (Franklin Lakes, NJ), and Beckman Coulter (Brea, CA) showed 2010 revenues up approximately 10% compared to 2009. Spectroscopy, diagnostic imaging, drug delivery, and cytometry instrumentation is primarily targeted at the life sciences industry, but is spilling over rapidly into the areas of homeland security and environmental monitoring as these devices evolve from benchtop laboratory instruments to more compact, in situ field and clinical instruments (such as handheld spectrometers and consumable lab-on-a-chip devices) thanks to continuing miniaturization of optoelectronic components and sophisticated data-collection algorithms.
Estimated at $103.2 million for 2010, we forecast that lasers used in biomedical and analytical instrumentation will continue a reasonable growth trend up to $114 million in 2011. Even though miniaturization has increased the number of field-portable laser-based instruments, those instruments typically incorporate lower-power (and lower-priced) diode lasers. Adding the anticipated 2011 revenues from other lasers in this segment including lasers for inspection and metrology instrumentation ($41 million) and lasers for sensing applications such as optical mice, lidar, gesture recognition, and barcode scanners (another $158 million), the total worldwide 2011 revenue for instrumentation and sensor lasers is forecast at $312 million.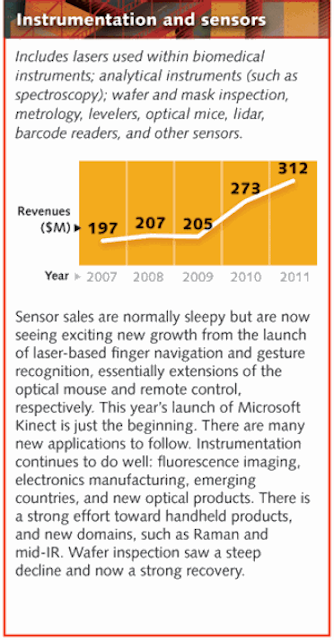 Communications and optical storage
Remember the "record profitability" statements from Oclaro and its near-doubling of revenue through the first half of 2010 compared to the same recession period a year earlier? Those financial results nicely mirror the gains made in the communications industry in 2010. For example, JDSU expanded 980 nm pump capacity by 50% in 2010, and shipped its one-millionth 980 nm pump laser in September 2010. "Pump laser diodes are now shipping at levels that surpass the bubble days," said Toby Strite, JDSU director of product line management for transport components. "And considering that pump power levels have increased from 120 mW back then to 400 mW today, the increased demand is even more unprecedented."
The robust communications recovery supports last year's assessment that 25% growth would bring 2010 back to 2008 levels. In fact, our numbers indicate that 2010 growth was more like 28%, although other communications market analysis companies such as Light Counting (Eugene, OR; www.lightcounting.com) put 2010 growth estimates at 16%, 17%, 25%, and 22% for transceiver, Ethernet, Fibre Channel, and 10 Gbit/s DWDM transceiver modules, respectively.8
On the data communications side, 2010 was a growth year and 2011 is looking similar. "A migration to parallel optics and evolving standards for 40 Gbps and 100 Gbps Ethernet, as well as InfiniBand, are driving a robust data communications market for 850 nm VCSELs [vertical-cavity surface-emitting lasers]," says Jim Tatum, director of new product development for Finisar's Advanced Optical Components group (Allen, TX). "Even in the recession, discretionary spending continued for consumers in relatively inexpensive forms of entertainment such as online gaming, watching videos, and sharing personal information and photos—driving the need for bandwidth. There is no reason to believe that this need will diminish in 2011."
Overall, we put the worldwide market for communications (telecom and datacom) lasers at $1.95 billion for 2010 with 14.1% growth in 2011 to $2.22 billion.
We estimate revenues for data-storage lasers in 2010 downward to $799 million based on new data from Techno Systems Research (Tokyo, Japan). In addition to volume declines in 780 nm and 650 nm lasers for traditional CD and DVD players, respectively (due to 405 nm Blu-ray systems and music downloads directly to MP3 players), Blu-ray uptake itself has been slow and blue-violet laser prices have been falling. As a result, a further 2% loss is forecast for data storage lasers in 2011 to $785 million total.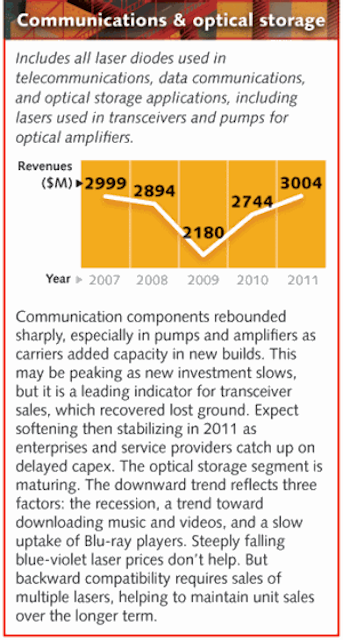 Image recording
The printing industry will grow slightly in 2011 at a forecasted $41 million ($25 million for prepress tools and photofinishing; $9 million for laser printers) compared to the $36 million of 2010, but a far cry from the $60 million dollar levels of 2007/2008. The decline in print media continues, although digital printing and printed materials for industrial and food packaging remain strong, all while the market share for printing equipment continues its transfer from US and European suppliers to Chinese printing-tool manufacturers.
Allen Cary says that Photon Inc.'s sales of its NanoScan scanning-slit profiler—used to characterize laser output for laser printers—are experiencing moderate sales growth thanks to a relatively healthy replacement business. Cary has seen the laser-printer manufacturing business move out of Japan and into other Asian countries in recent years.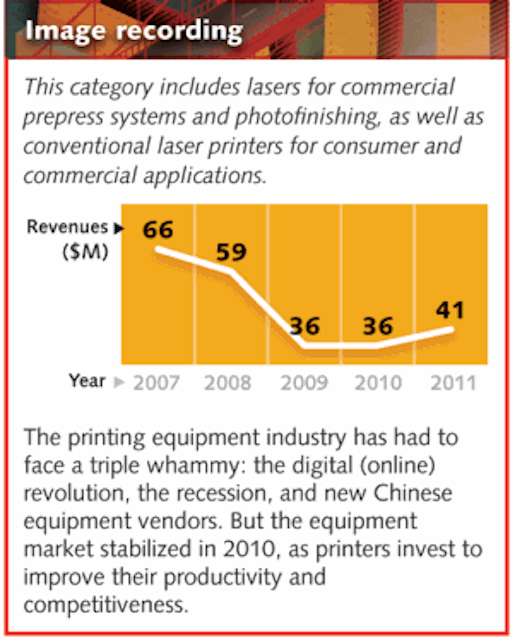 Entertainment and display
Driven by consumer appetite for iPads, smart phones, picoprojectors, 3D television, automotive touch screens, and LED-backlit thin-film-transistor (TFT) liquid-crystal display (LCD) flat-screen TVs, the display industry is enjoying growth in 2010. The availability of green laser diodes has resulted in numerous picoprojection offerings but laser television has still not taken off, despite the latest 75 in., 3D-ready offering from Mitsubishi.
Laser and laser diode sales may benefit from picoprojector (or pocket-projector) sales--anticipated to reach 142 million units by 2018 according to DisplaySearch (Austin, TX)--as well as a recent trend towards lower-cost, laser-diode based entertainment display venues. "2009 and the first half of 2010 were 'challenging' for the laser entertainment business," said William R. Benner Jr., president and CTO of Pangolin Laser Systems (Orlando, FL), which provides software and related systems to the laser entertainment and display industry. "But the last half of 2010 was better: lasers are back in vogue at major concerts like Shakira and Madonna, and lower-cost laser technology is enabling a surge in laser entertainment at nightclubs and corporate events." Benner says that the launch of the Casio (Tokyo, Japan and Dover, NJ) GREEN SLIM projector in early 2010 (a mercury-free projector that uses a red LED, blue laser diodes, and phosphor conversion of blue diodes to generate green light) has dramatically changed the laser entertainment industry. "Non-professional light-show producers are 'harvesting' the 24, 1 W blue laser diodes from the $800 Casio projector and using them for low-cost, home-built laser entertainment systems in everyday venues," he adds. "We've probably sold three times as many low-cost QuickShow software packages this year compared to the full LD2000 Professional packages, and we see this trend continuing into 2011."
With estimated revenues of $27 million in 2010, we expect worldwide laser sales for light shows, information displays and TVs, laser pointers, and laser video and holographic projection to increase in 2011 to $32 million as the consumer markets recover.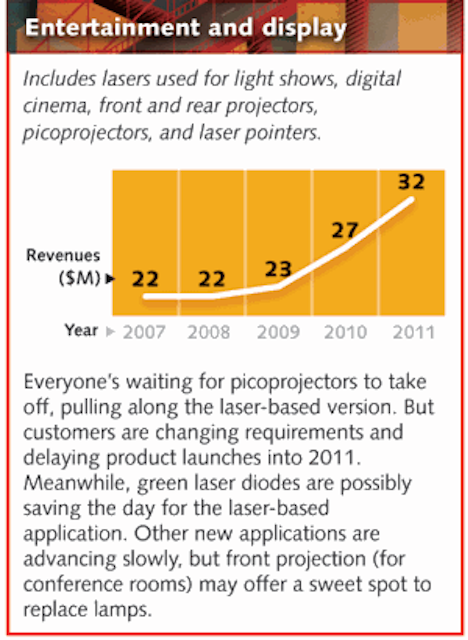 Other—pump lasers
Lasers not included in any of the previous segments are pump lasers for DPSS and fiber lasers. Our 2010 estimated sales of $213 million are forecast to grow to nearly $244 million for 2011 due to expected growth in the materials-processing sector for DPSS, fiber, and ultrafast lasers.
Although most laser companies enjoyed 30–55% sales growth in 2010 compared to 2009, fiber-laser and amplifier manufacturer IPG Photonics (Oxford, MA) reported an enviable 3Q10 revenue surge of 74% compared to the same period last year—up 19% sequentially from 2Q10. Companies that support fiber-laser and DPSS manufacturers also had an exceptional year: "2010 sales of our Faraday rotators and optical isolators—key ingredients in fiber-laser and picosecond and femtosecond solid-state laser systems—have not just reached, but have surpassed pre-recession levels," said Mike Torrance, VP of business development for Electro-Optics Technology (EOT; Traverse City, MI). "The continued improvement in beam quality and dollar-per-watt quotient of fiber lasers continues to expand their use in marking and engraving applications, while cost and reliability improvements have resulted in gains in micromachining and medical applications for picosecond and femtosecond laser systems," adds Torrance. "EOT expects to see continued strong growth in 2011 as these laser technologies find new applications and markets."
REFERENCES
1. J. Melloy, Fast Money online, www.cnbc.com/id/39501308/iPad_Adoption_Rate_Fastest_Ever_Passing_DVD_Player (October 2010).
2. blogs.barrons.com/techtraderdaily/2010/11/03/microsoft-boosts-forecast-on-dec-qtr-kinect-sales-to-5m-units/
3. www.eetimes.com/electronics-news/4210466/IC-Insights-disagrees-with-SIA-forecast-semiconductor
4. M. Grueber and T. Studt, "2010 Global R&D Funding Forecast," R&D Magazine, 1-36 (December 2009).
5. www2.cnrs.fr/en/1125.htm
6. www.whitehouse.gov/sites/default/files/omb/budget/fy2011/assets/hist04z1.xls
7. B. Blanchard and C. Buckley, "China says defense spending rise slows to 7.5 percent," Reuters online, www.reuters.com/article/idUSTRE6230A720100304 (Mar. 4, 2010).
8. www.lightcounting.com/news/092910.pdf
---
Jobless recovery?
As of October 2010, the 9.6% U.S. unemployment rate was a welcome change from its 10.2% high during the recession; however, Euro-area unemployment (16 countries) increased to 10.1% for September 2010 after holding at 10.0% for the six months prior. Unfortunately, our prediction last year that "it could be three years before jobs return and sales improve to pre-2008 levels" may prove accurate. "We are talking about people with very particular, advanced skills out there who are at this point just not needed anymore," said Bart van Ark, chief economist at The Conference Board (New York, NY), a business and economic research organization, in a September New York Times article (see www.nytimes.com/2010/09/07/business/economy/07jobs.html). "Even in this [technology] sector, there is tremendous insecurity." The article went on to say that the chief hurdle to technology hiring appears to be increasing automation and the addition of highly skilled labor overseas.
Job seekers in the photonics industry should be encouraged, however, by recent statistics from both The Optical Society's (OSA; Washington, DC) online jobs website WORKinOPTICS.com, which had 112 job postings from August through October 2010 compared to just 41 for the same period last year, and SPIE's (Bellingham, WA) SpieWorks.com, which has rebounded over the past several months with job-posting levels back to near-record highs. Both SPIE and OSA say listings are predominantly engineering positions, and SPIE expects to see at least 60 jobs open for interviews at Photonics West 2011.
The picture is slightly different on the less-academic recruitment side. "We are roughly split 50/50 between engineering and sales & marketing positions," said Rick Corey, president of photonics recruitment firm OpticsProfessionals, LLC (Penfield, NY). "And although international and domestic photonics job openings are definitely on the rise thanks to healthy sales for most of our clients, companies are still slow to hire. The process is taking longer because hiring managers are traveling more and their schedules are tighter," he adds. "Companies have this impression that there are lots of candidates out there; unfortunately, the candidate pool has shrunk significantly, especially considering that people are less willing to relocate as the housing crunch has left them upside-down in many cases. Hiring managers are also pickier than they used to be," says Corey. "A candidate with seven out of ten desired skills who would have been hired before the recession now needs to have eleven out of ten."
---
A new dawn for materials science
Last year we talked a lot about "green" photonics and green lasers. This year, we have seen green photonics expand the role of lasers as tools that aid the fabrication of photovoltaic (PV) cells and modules and energy-saving high-brightness LEDs used for general lighting, and we've also seen the commercialization of several picoprojection technologies that incorporate green lasers. "To some extent, the recession was good for the PV industry," said Steve Eglash, executive director of the Energy and Environment Affiliates Program at Stanford University (Stanford, CA). "The excess module supply brought about lower prices and spurred installations. Pressure to increase efficiency and reduce costs has led to increased use of lasers in PV-related materials processing." But these new PV and consumer electronics markets, says Eglash, would not be possible except for the tremendous strides made in materials science and chemical engineering in recent decades. He argues that advances in gallium nitride and improvements in silicon materials engineering are made possible by an actual understanding of how these materials behave on the nanoscale—at the atomic and sub-atomic level; much in thanks to emerging developments in ultrafast science and nanotechnology facilitated partly by advances in laser technology.
Eglash predicts that advances in materials science and chemical engineering will usher in a new era of progress in fields like energy conversion, catalysis, and environmental stewardship in 2010-2020 much as the 1970s and 1980s were the decades for important advances in microelectronics. Even the U.S. Public Broadcasting Service (PBS) agrees, with popular television science program NOVA beginning a new four-hour series called "Making Stuff: Stronger, Smaller, Smarter, Cleaner." Produced in cooperation with the Materials Research Society (MRS; www.mrs.org), the series premieres on January 19, 2011, when New York Times technology reporter David Pogue "takes viewers on a thrilling tour of the material world we live in, and the one that may lie ahead--offering viewers a behind-the-scenes look at scientific innovations that are ushering in a new generation of materials that are stronger, smaller, smarter, and cleaner than anything we've ever seen."
---
Tell us what you think about this article. Send an e-mail to [email protected]
More Laser Focus World Current Issue Articles
More Laser Focus World Archives Issue Articles