Surface-enhanced Raman spectroscopy using fat-coated silver nanoparticles reveals Alzheimer's details
Amyloid beta molecules are observed attacking the fat coating, which mimics a cell membrane.
Aug 26th, 2015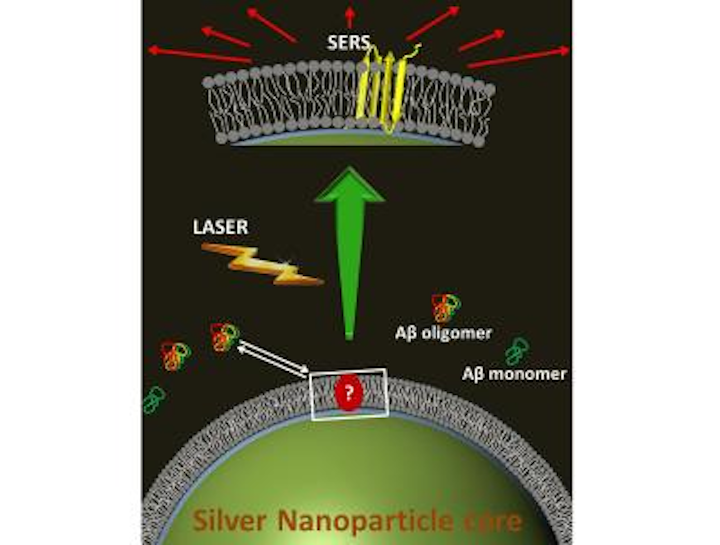 In this artist's depiction, toxic Alzheimer's amyloid beta molecules land on a fake cell membrane wrapped around a silver nanoparticle. Laser-based surface-enhanced Raman spectroscopy then reveals its structure. (Image: Debanjan Bhowmik, TIFR, Mumbai)
Scientists from the Tata Institute of Fundamental Research (Mumbai, India), the TIFR Centre for Interdisciplinary Sciences (Hyderabad, India), the University of Toronto (Toronto, ON, Canada), and the Indian Institute of Science (Bengaluru, India) have used surface-enhanced Raman spectroscopy (SERS) to catch a glimpse of the elusive toxic form of the Alzheimer's molecule, during its attempt to bore into the outer covering of a cell decoy.1 The technique is based on the use of fat-coated silver nanoparticles and the surface-enhancement agent.
The fat membrane coating mimics the outer membranes of living cells, when amyloid beta oligomers tried to attack the "cell membrane," the attack was detected spectroscopically.
The amyloid beta molecules have the shape of a hairpin, but with a twist. Debanjan Bhowmik, the lead contributor of the study, says, "This has been suspected earlier, but what we found was an unexpected twist in the structure, now becoming a beta-hairpin -- very different from the typical hairpin structure people imagined. This may allow these bunch of amyloid beta molecules to form toxic pores in the cell membranes."
"While the amyloid beta got fooled by [the fat layer] and stuck to the membrane, the silver inside enhanced the signal to a measurable level and acted as a light beacon to reveal the peptide signature," says Gilber Walker, one of the researchers.
Source: http://www.eurekalert.org/pub_releases/2015-08/tiof-gfs082515.php
REFERENCE:
1. Debanjan Bhowmik et al., ACS Nano (2015); doi: 10.1021/acsnano.5b03175