Photon-triplet researcher wins Quantel-OSA Bright Ideas Competition
Quantel and the OSA Foundation announced the winner of the inaugural Bright Ideas Competition.
Jun 22nd, 2017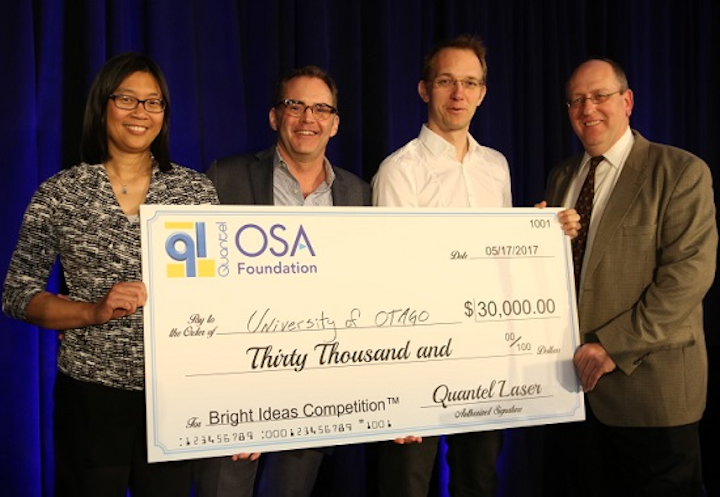 IMAGE: Quantel Laser and the OSA Foundation awarded a check to Harald Schwefel of the University of Otago in New Zealand as the winner of the Bright Ideas Competition for his work in photon-triplet generation for quantum optics and secure communication. (Image credit: Quantel Laser)
High-power solid-state laser manufacturer Quantel Laser (Les Ulis, France) and the OSA Foundation (Washington, DC) announced Harald Schwefel of the University of Otago (Dunedin, New Zealand) among four finalists as the winner of the inaugural Bright Ideas Competition. As the winner, Schwefel received a $30,000 grant toward the laser proposed in his application as well as a suitable Gentec EO energy meter to ensure accuracy in measurement and logging of his results.
RELATED ARTICLE: SNSPD-based system to enable free-space mid-IR secure communications
In his winning presentation, Schwefel proposed the use of Quantel's high-power, single-frequency Eylsa fiber laser to generate photon triplets for quantum optics and secure communications.
The Bright Ideas Competition, sponsored by Quantel, provided students, scientists, engineers and entrepreneurs with an opportunity to win up to $30,000 in Quantel laser equipment for the most innovative, original and feasible use of a Quantel laser. Entries were received from 23 different countries in a wide variety of applications including Quantum Optics, Photo Acoustic Imaging, Particle Image Velocimetry (PIV), Laser Induced Breakdown Spectroscopy (LIBS), Atom Cooling, Ablation, Biotech and general research. Applicants went through three separate rounds of peer judging administered by the OSA Foundation before four finalists were selected for live presentation at the Conference on Lasers and Electro-Optics (CLEO) in San Jose, CA.
Schwefel, along with fellow finalists, Junjie Yao (Duke University), Mohammadreza Nasiriavanaki (Wayne State University), and Doug Graham (California Polytechnic University), presented their proposals at a special session during OSA's CLEO conference in San Jose, CA on May 17, 2017. The presentations, moderated by Yoshitomo Okawachi (Columbia University), were judged in real-time by a distinguished panel organized by the OSA Foundation. Immediately following the presentations, the winner was announced, and the $30,000 prize awarded, at a reception honoring all of the applicants.
"We were blown away by the quality and ingenuity of all of the applicants in this competition," said Greg Smolka, VP sales and marketing, Quantel Laser. "The presentations were top quality and the live judging really added excitement to the event."
After receiving his large $30,000 check, Schwefel commented, "It is an honor for myself and my students from Dodd-Walls Centre for Photonic and Quantum Technologies to win this award, given the great competition. I am looking forward to getting my hands on the Quantel laser for exciting experiments in quantum optics."
During the awards ceremony, Smolka announced that, due to the overwhelming response and the great collaboration with the OSA Foundation, Quantel and the OSA Foundation would be repeating the program in 2018.
SOURCE: Quantel Laser; http://www.quantel-laser.com/en/news-article/items/quantel-and-osa-foundation-name-bright-ideas-competition-winner.html