Comment: Laser-based youth program teaches "attitude is altitude"
I often use the slogan "attitude is altitude" when describing my own climb through segregated educational and employment systems to a successful and rewarding career in the laser industry that began in 1964 at KORAD Laser Systems, a division of Union Carbide (Danbury, CT).
Jan 1st, 2000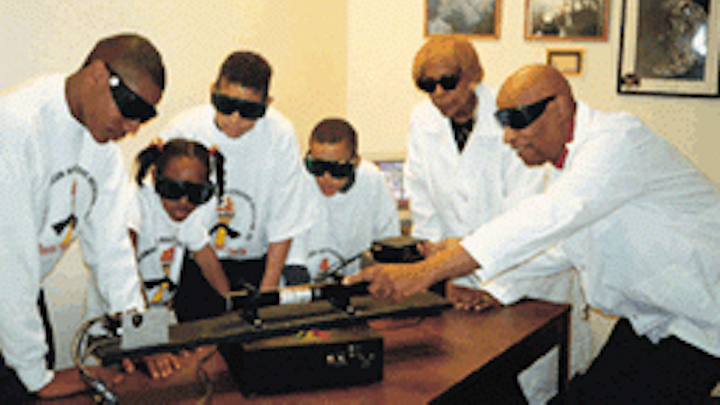 Hal Walker Jr.
I often use the slogan "attitude is altitude" when describing my own climb through segregated educational and employment systems to a successful and rewarding career in the laser industry that began in 1964 at KORAD Laser Systems, a division of Union Carbide (Danbury, CT). And in many ways, my main claim to fame from that career—a permanent exhibit at the Smithsonian Institution commemorating the Apollo 11 laser measurement of the Earth-moon distance—poses an apt metaphor for the successes of my generation of African Americans and for the future of our children.
To reach these children, my wife Bettye (a retired school principal who holds a Ph.D. in education) and I established a Science Discovery and Learning Center in 1994, where, currently, about 400 youngsters ages 5 to 17 are enrolled, and about 800 more participate annually on a walk-in basis, in scientific and cultural enrichment programs that are provided free of charge. The center also serves as the headquarters of the non-profit African-American Male Achievers Network Inc. (A-MAN) that Bettye and I established in 1991 as an outgrowth of a pilot research project directed by Bettye and funded by UCLA in 1986.
Click here to enlarge image
RIGHT. At the Science, Discovery, and Learning Center in Los Angeles, CA, students Rahim Miller, Chantel Jackson, Walter Wiggins, and Cameron Badie observe the operation of a laser and scanner system along with program founders Bettye and Hal Walker.

Educational exhibits and projects at the center include basic principles of laser theory and operation learned through hands-on activities such as integrating, aligning, and operating our HeNe laser (632 nm, <0.95 mW, class II) and microprocessor-controlled x-y scanning mirror system (see photo). By using the HeNe laser beam and optical grating in conjunction with the scanner, students learn about the diverse patterns, images, and art creations that can be developed with a beam of light through varying and adjusting of the scan parameters. We find that including artistic projects along with the scientific ones helps to kindle and maintain student interest.
Our equipment has come largely from generous donations by my colleagues in the laser and other high-tech industries. We have electronic testing equipment, oscilloscopes, and optical components from FloRod Corp. (Gardena , CA.), HeNe laser systems and optical components from Melles Griot (Carlsbad, CA), laser safety eyeware and safety signs from Laser-R Shield (Albuquerque, NM), and a HeNe laser system from Hughes Aircraft Co. (Carlsbad, CA). We also have technology education software and applications software for information management from Microsoft (Redmond, WA), video tapes of space missions and space technology from JPL (Pasadena, CA) and Lockheed Martin Missile & Space Systems (Sunnyvale, CA), and educational instructional materials received through the NASA Langley Research Center, NASA CONNECT Internet series (Hampton, VA).
The A-MAN program—which has grown to include females and children from other races—was originally conceived as a direct response to the flood of negative self-imagery that often inundates African-American males from a very early age. In terms of my Apollo 11 metaphor, these negative images might be described as inaccurate rangefinders. They provide misleading data to these youngsters about their own capabilities, about reasonable expectations for achievement in society, and, consequently, about how to set their attitudes to match expectations with capabilities.
Social science on the other hand, such as the UCLA study that led to the founding of A-MAN, demonstrates clearly that all youngsters can achieve if they are given an even chance to compete and allowed to harbor and express the reasonable expectation that they can and will do well. The young men and women in A-MAN have demonstrated this in both word and deed by winning awards in regional and national science and technology competitions. The students also benefit by applying that same winning attitude to all areas of their lives.
A-MAN is currently in the process of replicating the Science, Discovery, and Learning (SD&L) concept nationwide using virtual-reality technology based on a commitment in 1997 at the President's Summit on America's Future to establish 200 virtual-reality sites by 2005. Three (3) sites are now under development. And in December 1998, A-MAN inaugurated its first international SD&L center with the formalization of a pilot project in Mamelodi, South Africa. With the personal encouragement of President Nelson Mandela, the South African Youth Stars (SAYS) aims to help South African youth level their playing field after suffering through decades of apartheid.
In describing the program, I often tell people that our purpose is not to make 1000 scientists but instead to grow a common interest in science and technology that will enable young people to be better citizens and to build healthier communities. These kids—all of them, no matter what color they are—are our future. They are all little Apollo astronauts. All we have to do is help them get a few of the initial measurements right. Then they can go out on their own and take the small steps that will add up to great achievements in the 21st century and beyond.
HILDRETH "HAL" WALKER JR., president of Tech Plus, an international laser consulting firm, is chairman of the African-American Male Achievers Network (A-MAN) and cofounder of the International Science, Discovery, and Learning Centers, 6709 La Tijera Blvd., Ste. 261, Los Angeles, CA 90045; tel.: (310) 412-2680; e-mail: hwalkerjr@aol.com