New Femtosecond Amplifier Provides Unmatched Performance and Versatility
Until now, ultrafast amplifier users had to choose between high pulse energy at low rep rates, or high rep rates but lower pulse energy. The all-new Monaco HE delivers both.
Jul 30th, 2019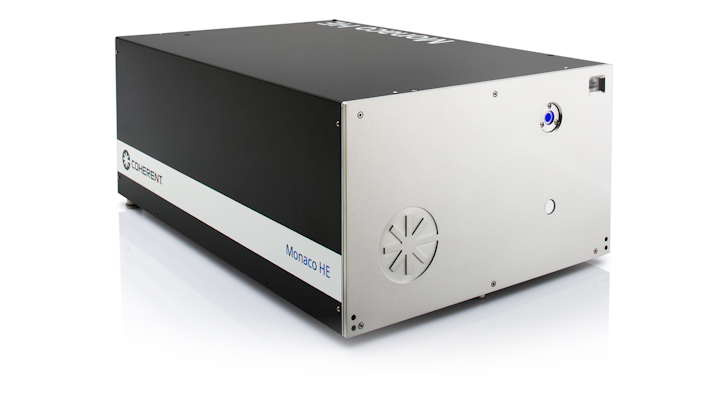 Monaco HE
High-energy, versatile ultrafast ytterbium amplifier suitable for time-resolved spectroscopy and material processing applications.
Introduced at Laser World of Photonics 2019 in Munich, the newest member of the Monaco family, the Monaco HE, is a High-energy, versatile, ultrafast ytterbium amplifier that enables multiple types of research in a single, hands-free platform. Delivering high pulse energy or high average power at <350 fs pulse widths, combined with industrial HALT/HASS testing, Monaco HE is at home in both lab and production environments.
Monaco HE provides up to 2 mJ pulse energy (1-10 kHz) and 25 W of average power (up to 250 kHz). Delivering a <350 fs pulse width (adjustable up to >10 ps) and user-controlled selection of repetition rate and energy combinations. The laser head is housed in a single box that integrates all optical and electrical control components and the system includes a chiller, 48V power supply, and controller.
Flexible, user adjustable energy, rep rate, pulse width
>2 mJ at 10 kHz
>25 W at rep rates up to 250 kHz
<350 fs pulse width
Variable pulse width up to >10 ps
HALT-designed and HASS-verified to ensure quality and reliability
Monaco HE. Better Ultrafast, Any Speed.
> Watch the video to learn more.
Want more information? Visit the Monaco HE product page or download the datasheet.