BioPhotonic Solutions wins 2012 CLEO/Laser Focus World Innovation Award
Washington, DC--BioPhotonic Solutions is the winner of this year's CLEO/Laser Focus World Innovation Award.
Apr 2nd, 2012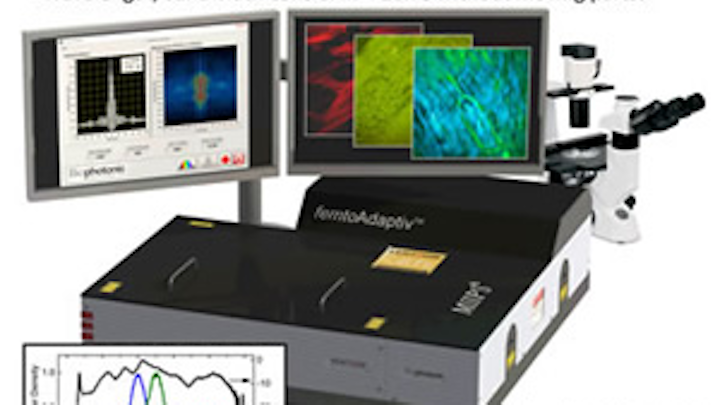 Washington, DC--The CLEO:2012 (www.cleoconference.org) co-sponsors (APS, IEEE Photonics Society, OSA) and Laser Focus World (www.laserfocusworld.com) announced that BioPhotonic Solutions is the winner of this year's CLEO/Laser Focus World Innovation Award. The award recognizes the company "for the development of femtoAdaptiv[trade mark] the first ultrafast laser capable of adaptive pulse self-compression that delivers ultrashort (sub-10 fs) pulses at the focal plane of a microscope objective." BioPhotonic Solutions will formally accept the award at the CLEO Plenary Session on Tuesday morning, May 8 at the San Jose Civic Auditorium.
Since multiphoton microscopy was first demonstrated in 1990, it has been known that lasers with shorter pulses yield brighter images and cause less thermal damage; however, laser companies are yet to produce a source capable of delivering ultrashort (sub-10 fs) transform-limited laser pulses at the focal plane of a microscope objective. Ideally, a stable broadband laser source would need to be seamlessly coupled to a computer controller that automatically measures and pre-chirps the output to deliver transform-limited pulses at the microscope imaging plane. To address this, BioPhotonic Solutions, in close partnership with VENTEON Laser Technologies GmbH, developed femtoAdaptiv, the first ultrafast laser capable of adaptive pulse self-compression.
The femtoAdaptiv can control the output center wavelength (from 650 to 1050 nm) and pulse duration (from 5 to 500 fs) in a few milliseconds without moving parts. It delivers order-of-magnitude shorter laser pulses, and therefore brighter images, when the system is used for multiphoton imaging modalities. Furthermore, the built-in pulse shaping capabilities will allow the implementation of additional imaging techniques, such as single-beam CARS or SRS micro-spectroscopy, without requiring an additional laser.
Possible applications of the femtoAdaptiv include biomedical imaging, optical coherence tomography and metrology in academic research and development laboratories. The laser can be used as a seed laser and integrated with an amplifier to generate intense sub-10fs pulses to broaden its applications to areas such as ultra-broad-bandwidth terahertz spectroscopy, sensing of chemical and biological warfare agents or explosives, and attosecond science.
"We are very pleased the femtoAdaptiv has been acknowledged in the industry as a breakthrough innovation," said Marcos Dantus, president and CEO of BioPhotonic Solutions. "This integrated system was designed to provide maximum versatility and performance while eliminating mechanical adjustments. We are pleased to offer this new adaptive technology to our customers. Thank you to CLEO and Laser Focus World for recognizing us with this honor."
In addition to BioPhotonic Solutions' winning entry, two other products will be recognized during the CLEO Plenary Session with honorable mentions:
--Attocube Systems AG for the development of a "Novel Fiber-Based Interferometric Displacement Sensor System" capable of detecting spatial position change of a device in translational motion with high precision
--Nufern for the development of "Holmium Doped Active Optical Fibers Enabling High Power 2.1 μm Fiber Lasers"that can operate with more than 60% efficiency.
"The CLEO/Laser Focus World Innovation Awards are a great way to see the latest up-and-coming products in the laser and electro-optics industry," said Conard Holton, editor-in-chief, Laser Focus World. "Each year, the winners and honorable mentions showcase what is possible in today's market, often providing a look into what the future of the field holds. We were very impressed with all of this year's submissions and congratulate BioPhotonic Solutions on their award-winning laser system."
The annual CLEO/Laser Focus World Innovation Awards Program honors the most timely, ground-breaking products in the field of laser science. Designed to showcase some of the most significant new products in the field, Innovation Award entries are evaluated on criteria critical to product success: impact, functionality, life expectancy, effect on the optics industry, innovation, and patents or trademarks. Go to www.cleoconference.org/Home/Exhibit-Displays-and-Activities/CLEO-Laser-Focus-World-Innovation-Awards.aspx for more information on the awards.
Published since 1965, Laser Focus World is a global media franchise for engineers, researchers, scientists, and technical professionals that provides comprehensive global coverage of optoelectronic and photonic technologies, applications, and markets. The magazine and its related web site (www.laserfocusworld.com) reports on and analyzes the latest developments and trends in technology and business in the worldwide optoelectronic and photonics industry.
SOURCE: OSA; www.osa.org/About_Osa/Newsroom/News_Releases/Releases/03.2012/BioPhotonic-Solutions-Receives-CLEO-Innovation-Award.aspx
IMAGE: BioPhotonic Solutions won the 2012 CLEO/Laser Focus World Innovation Award for the development of femtoAdaptiv[trade mark], the first ultrafast laser capable of adaptive pulse self-compression that delivers ultrashort (sub-10 fs) pulses at the focal plane of a microscope objective. (Courtesy OSA)