Computers and Software
The introduction this past summer of the Apple Power Macintosh 9500 with peripheral-component-interconnect (PCI) expansion slots has been quickly followed by hardware and software designed to take advantage of the high-speed processing of the machine`s 32-bit bus and 604 chip that operates at either 120 or 132 MHz. National Instruments (Austin, TX) has produced a trio of data-acquisition (DAQ) buses and a general-purpose-interface bus (GPIB) to access the PCI bus and the reduced-instruction-set-
Nov 1st, 1995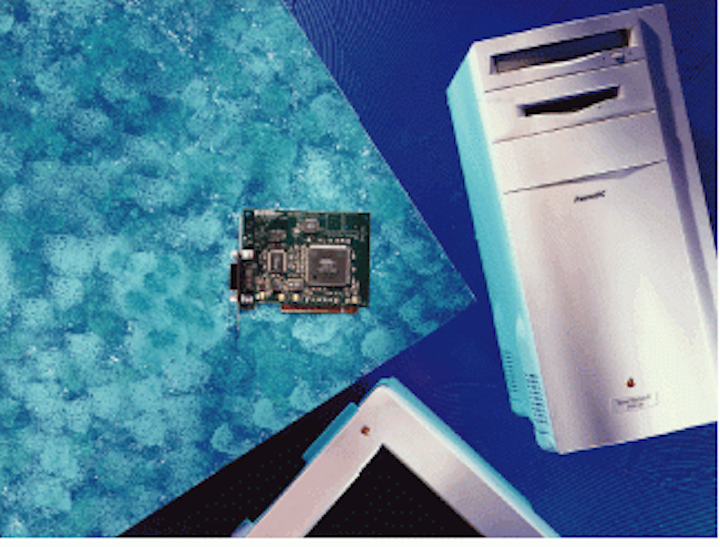 Computers and Software
MAC PCI boards speed data acquisition and display
Rick DeMeis, Associate Editor, Technology
The introduction this past summer of the Apple Power Macintosh 9500 with peripheral-component-interconnect (PCI) expansion slots has been quickly followed by hardware and software designed to take advantage of the high-speed processing of the machine`s 32-bit bus and 604 chip that operates at either 120 or 132 MHz. National Instruments (Austin, TX) has produced a trio of data-acquisition (DAQ) buses and a general-purpose-interface bus (GPIB) to access the PCI bus and the reduced-instruction-set-computer (RISC) processor of the Power Mac.
National Instruments has been aboard Mac platforms since 1986 with its LabVIEW graphical-instrumentation-programming software package. The software is now in widespread use, particularly in research laboratories. The LabVIEW software programs, known as virtual instruments, consist of a graphical front panel user interface and a block-diagram program.
An instrumentation-setup block diagram is created by connecting icons for executable blocks with the "wires" that pass data between the blocks rather than writing lines of programming code. Libraries are available with ready-to-use routines such as data acquisition or numerical analysis. National Instruments sees the PCI as a significant advance in the usefulness of the LabVIEW package by breaking the traditional bus-bandwidth bottleneck to permit a high-speed path for moving data between peripherals and system memory.
The PCI is the first high-speed bus to gain industry-wide acceptance. This welcome was facilitated by chip giant Intel Corp., which proposed, when it was developing the bus, that it be an open industry standard. In addition to bandwidth, the technical features available with the PCI, such as plug-and-play flexibility and chip-level standardization, made it enticing to peripheral and computer makers. However, the Power Mac is the first computer from a major manufacturer to feature only PCI expansion slots. Apple took this route to eliminate any compromise of high PCI throughput that might arise from a mix of PCI and conventional NuBus slots.
Board design
The Power Mac boards from National Instruments have a shielded latching metal 58-pin connector for robust peripheral connections. The two top-end data boards have a new counter timer that can continue running while it is being queried.
The analog/digital and timing I/O DAQ board, the PCI-MIO-16XE-50, feature 16-bit resolution with 16 single-ended or eight differential channels. Once plugged in, the board and its data-acquisition configuration are configured solely through software without setting switches or connecting jumper cables. The board also uses a real-time system-integration (RTSI) bus that allows multiple boards to be organized as one, according to National Instruments` marketing manager Ed McConnell. He says, "Two 16-channel boards can work as a single 32-channel one or one board can serve for data input and the other for output."
The high-speed board PCI architecture facilitates running instrumentation amplifiers without any settling time, notes McConnell. The 16XE-50 is well suited to high-accuracy applications, such as working a data stream from thermocouples or strain gauges. These data can also be ported to AT-bus PC platforms.
A major immediate impact of the PCI bus can be seen in the quality of graphical presentations. With more information being processed more rapidly, higher video update rates result in "intensive graphics with lots of data on the screen," says Tamara Pringle, LabVIEW marketing manager.
However, the full effect of PCI capability on calculations will not be felt until next year because the Power Mac compiler is not yet fully optimized. The availability of Apple`s Memory Manager for the Power Mac, being developed in conjunction with its next major computer, Copeland, should alleviate this limitation. n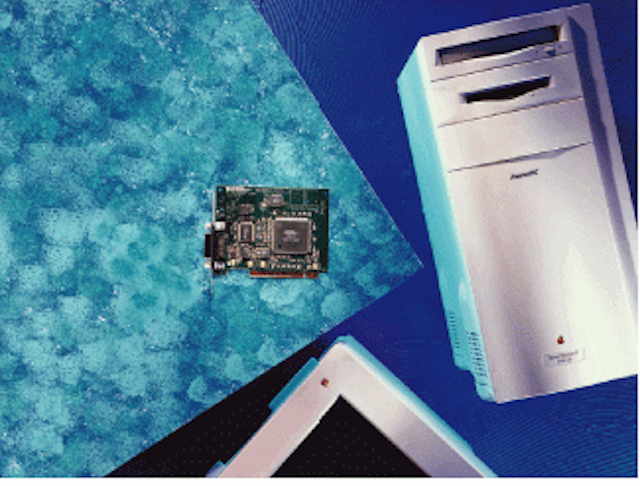 Click here to enlarge image
PCI-bus-based products for the Power Macintosh include a GPIB controller board from National Instruments that provides the computer`s IEEE 488.2 Talker/Listener/Controller and PCI-bus interfaces.