3D-SHOT performs optogenetic brain stimulation with single-neuron resolution
A new multiphoton excitation technique allows on-demand optogenetic photostimulation of custom neuron ensembles.
Dec 1st, 2017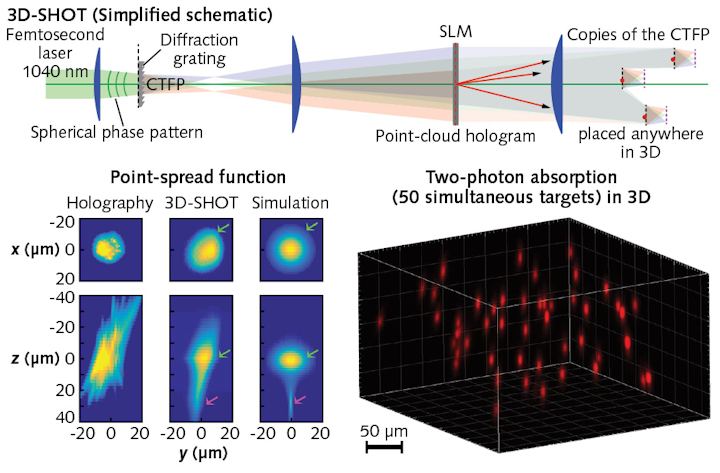 A new multiphoton excitation technique developed by researchers at the University of California, Berkeley, called three-dimensional scanless holographic optogenetics with temporal focusing (3D-SHOT), allows on-demand optogenetic photostimulation of custom neuron ensembles. Among existing two-photon photostimulation techniques, raster scanning lacks the necessary temporal precision to activate large sets of neurons simultaneously, and computer-generated holographic (CGH) illumination requires high-numerical-aperture optics that restrict targeting to small 3D volumes. 3D-SHOT addresses all these issues by combining CGH and temporal focusing.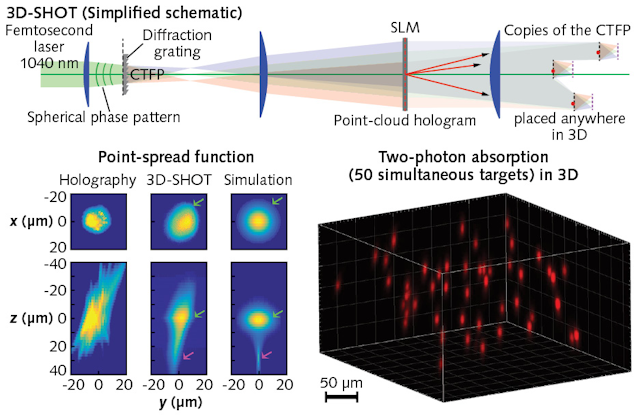 By placing the spatial light modulator (SLM) after a diffraction grating, this new technique first creates a custom temporally focused illumination pattern (CTFP) matched to the characteristic dimensions of a neuron. Then, all-optical convolution with a 3D point cloud hologram places identical copies of the CTFP precisely in space and time on all targeted neurons. The point-spread function measures two-photon absorption in 3D near a single target, showing that 3D-SHOT better concentrates photoexcitation within the addressable volume compared to conventional two-photon holography. The resulting technology can simultaneously activate custom neuron ensembles located anywhere in 3D within the accessible volume of the microscope, and with single-neuron spatial resolution at speeds only limited by the frame rate of the SLM. Reference: N. C. Pégard et al., Nat. Commun. online (Oct. 31, 2017); https://www.nature.com/articles/s41467-017-01031-3.