Diode-laser market takes a breather
The Laser Focus World 2007 Annual Review and Forecast of the Laser Markets is conducted in conjunction with Strategies Unlimited (Mountain View, CA).
Feb 1st, 2007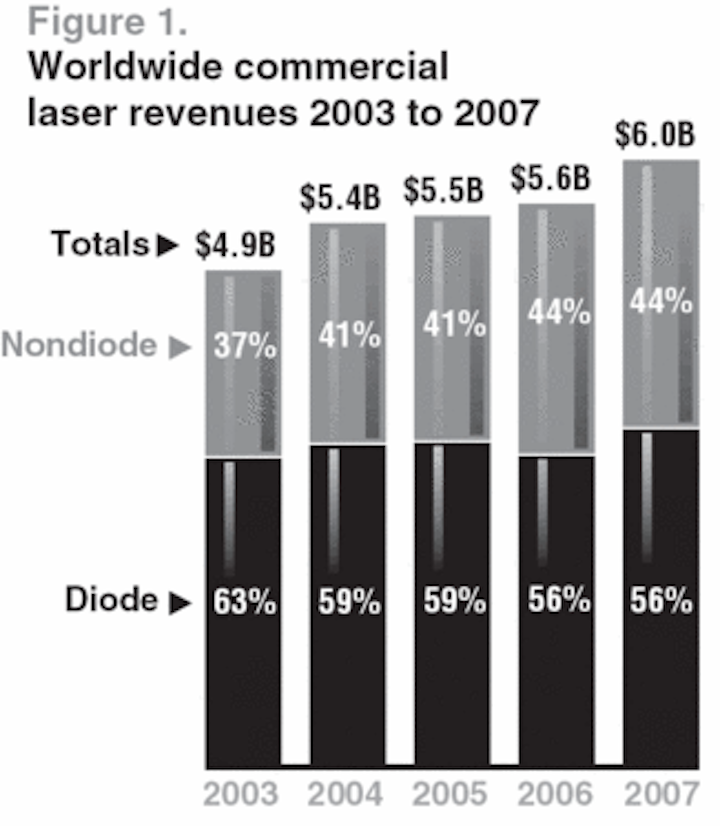 Robert V. Steele
The Laser Focus World 2007 Annual Review and Forecast of the Laser Markets is conducted in conjunction with Strategies Unlimited (Mountain View, CA). Part I, which reported on the nondiode-laser market, appeared last month (see Optoelectronics Report, January 1, 2007).
The diode-laser market was mixed in 2006, with revenues in some categories increasing significantly, and those in other categories showing substantial declines. In particular, the revenue picture for diode lasers used in optical-storage applications exhibited a sharp downturn, mainly due to a maturing of the market and declining prices. Conversely, most other applications showed moderate growth, including telecom and high-power-diode applications. Overall, the diode-laser market declined slightly from $3.23 billion in 2005 to $3.10 billion in 2006, down 4%, accounting for 56% of worldwide laser revenues (see Fig. 1). This decline occurred after three years of steady growth following the bottoming out of the telecom market in 2002.
In contrast to the revenue situation, unit growth continued positive, with 815 million diode lasers shipped in 2006 compared to 778 million in 2005 (up 5%), indicating that market demand, especially in the high-volume consumer optical-storage applications, continued to grow, even though at a modest rate. The steady diode-laser market growth from 2002 through 2005, driven in large part by recovery in the telecom market, is clearly seen in the market's 10-year history (see Fig. 2). The impact of the revenue downturn of optical storage in 2006 is also obvious. There is optimism for recovery in 2007, with 8.4% growth predicted. For the optical-storage component of the market, growth will be driven by the increased adoption of next-generation optical-disc drives.
Click here to enlarge image
As in past years, the yen-dollar exchange rate had an impact on the average selling prices (ASPs) for high-volume optical-storage lasers, which constituted 48% of total revenues. The value of the yen against the dollar decreased by 5% in 2006, thus lowering the dollar ASPs for optical-storage lasers and several other categories (desktop printing, barcode scanning) by the same amount (see Fig. 3). In addition, however, the yen-denominated ASP for these lasers dropped as well.
Optical storage
The major news for 2006 was the long-delayed introduction of the next generation of high-capacity optical-storage technology, which involves two competing formats-HDDVD and Blu-ray Disc. A number of major consumer electronics companies-Toshiba, Matsushita (Panasonic), Sony, Samsung, Pioneer-introduced HD-DVD and Blu-ray Disc players to the market during the year. However, sales of these players were relatively low because it was only in the latter part of the year that movie titles became available in these formats. As discussed last year, all attempts at reconciling the format differences between HD-DVD technology (promoted by Toshiba) and Blu-ray Disc technology (promoted by Sony) have failed. Thus, for the foreseeable future two formats will exist in the market.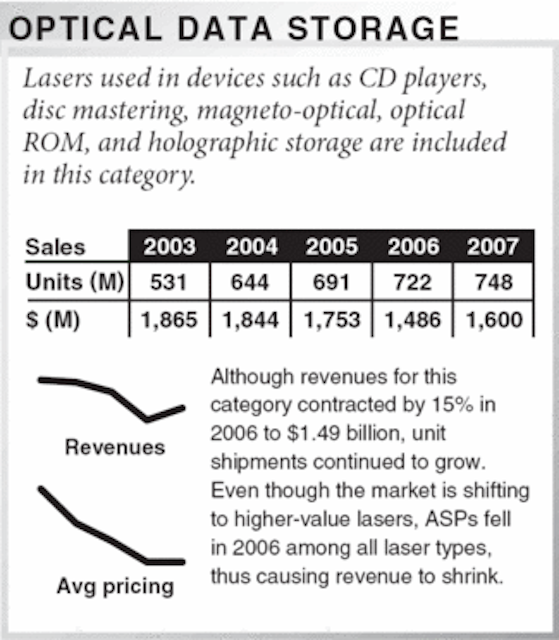 Click here to enlarge image
In terms of diode-laser sales, the main impact in 2006 was not video players but the next generation of video game -players introduced by Sony-the PlayStation 3. This game player incorporates state-of-the-art microprocessor and graphics-rendering technology, as well as a Blu-ray Disc optical drive. Sony Consumer Electronics is counting on the PlayStation 3 to be a major revenue generator for the company in 2007 and beyond.
Sony intended to introduce the PlayStation 3 in the spring of 2006. However, after many technical and production difficulties, it did not become available in stores until November, with the first release in Japan, followed by the United States. It will not be available in Europe until late this year. One of the main production issues was availability of the 405 nm gallium nitride-based diode lasers required for the Blu-ray Disc optical drive. Following an earlier technology sharing agreement with Nichia (the original inventor of 405 nm laser technology), Sony decided to produce all lasers for its Blu-ray Disc player and PlayStation 3 internally at its Sony Shiroishi Semiconductor operation, which also produces 780 and 650 nm lasers for CD- and DVD-based drives. Because of the extreme difficulty of scaling up production to millions of units, 405 nm laser diodes were not available to meet Sony's initial ambitious plans, but by November enough lasers were being produced to launch the PlayStation 3. Sony originally announced plans to ship 3 million units by the end of 2006, but that was later scaled back to 2 million.
Click here to enlarge image
For 2006, the vast majority of 405 nm diode lasers shipped was for the PlayStation 3. Revenues from these shipments augmented the revenues from the 780 and 650 nm lasers for the older generation of CD and DVD drives. For these lasers, unit shipments continue to increase during 2006-from 691 million to 720 million-but continuing erosion of ASPs resulted in revenues falling by 21% to $1.46 billion. Revenues from the sale of 405 nm lasers were just $26 million, not enough to offset the revenue decline for 780 and 650 nm lasers.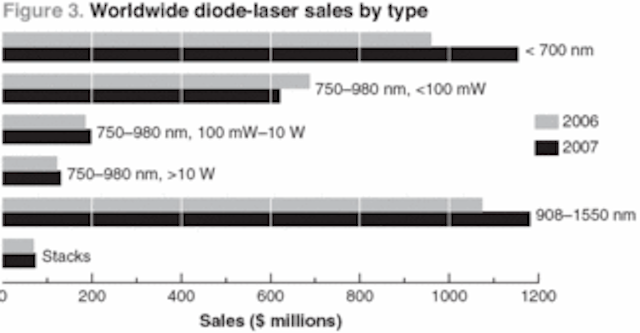 Click here to enlarge image
Clearly, the market for CD- and DVD-based optical-storage products is mature, and future unit growth rates for lasers will be low, accompanied by flat to falling revenues depending on whether ASPs stabilize or keep going down. HD-DVD and Blu-ray Disc represent the future of the optical storage market, and consumer-electronics companies such as Sony and Toshiba are investing heavily on the future growth of these new technologies. For 2007, revenues of $155 million are forecast for 405 nm lasers, and this will constitute the sole source of growth for the optical-storage laser market, which is forecast at $1.60 billion.
Telecommunications
The telecom industry continues to grow steadily, with about 8% to 12% revenue growth in the optical-components sector. The growth is occurring in every segment: long-haul, metro, and access. Dense-WDM system growth has been especially strong after several years of underutilization of the installed systems. Growth in metro networks is particularly interesting with regard to reconfigurable networks. Carriers are finally looking to these new systems to make their networks more flexible. And, fiber-to-the-home (FTTH) systems are being installed at a rapid pace, although the number of homes actually connected remains relatively small in the U.S.
What this means for lasers is steady growth in unit sales-from 4.385 million in 2005 to 4.81 million in 2006 (up 10%)-as well as revenues, with unit growth outpacing ASP declines. While unit growth remains strong, prices for individual product types continue to fall up to about 10% per year, although the mix changes, slowing the decline in average price for the whole group by 5% or less. Tunable lasers are finally seeing rapid growth, to save on the number of wavelengths that must be kept in inventory to support DWDM systems. Leaders are JDS Uniphase's Agility operation, Intel, and Santur.
Even with all of this unit growth, and even decent revenue growth, several large component suppliers were still losing money in 2006. In fact, nearly every diode-laser supplier with its own chip fabrication facilities was either losing money, or finally showing a modest profit after several years of losses. Two examples are Avanex and Bookham. There are some exceptions, particularly among smaller manufacturers, but, more important, the companies that did not have fabs seem to find it far easier to make a profit.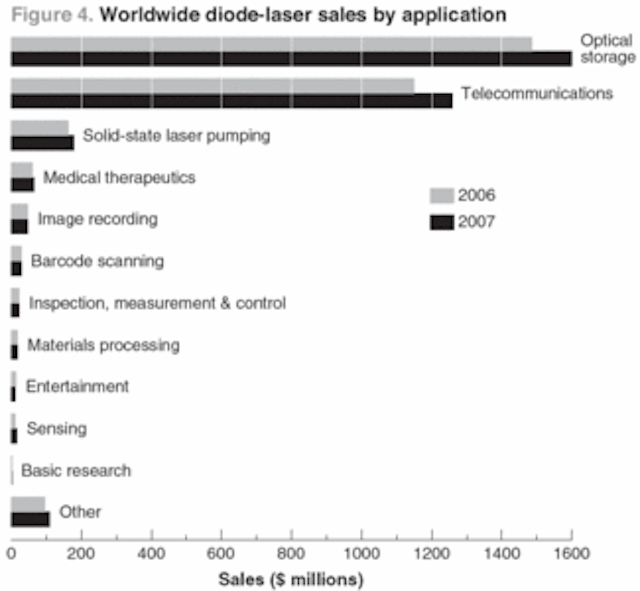 Click here to enlarge image
For several years the industry has been anticipating consolidation of larger players to eliminate some of the excess manufacturing capacity and thereby increase the utilization of capacity. Toward the end of 2006, rumors began circulating about the possible merger of Avanex and Bookham in such a scenario. If this proceeds as envisioned, it could improve profitability of the sector. But it is never easy, however it is done.
Click here to enlarge image
All of this is only relevant to transmission lasers. For fiber-amplifier pump lasers, the industry has already settled on just a few key suppliers: Bookham and JDS Uniphase in 980 nm pumps, and Furukawa Electric in 1480 nm and 14xx nm pumps. The average output power for pumps continues to climb. With steady or slightly declining unit prices, the price per watt therefore continues to decline. 2006 was another great year for optical amplifiers and the pumps that go into them. Unit sales and revenues were at record levels for recent years.
Click here to enlarge image
It is difficult to see what 2007 will bring for pump lasers, however. Visibility is notoriously short in this part of the business. The normal cycle would be for another year or two of strong sales, followed perhaps by some softening before another cycle. The surprisingly strong sales in 2005 and 2006, however, may mean that the industry is already at a peak. Or alternatively, strong growth in traffic has finally forced the telecom carriers to install more infrastructure-a development that may continue for several years. The forecast is that 2007 will be like 2006, but it will be important to watch the purchasing patterns of the carriers carefully as the year proceeds.
High-power diode lasers
The market for high-power diode lasers exhibited unit and revenue growth during 2006, continuing a trend that has been ongoing for several years. The term "high-power" encompasses three laser types: single emitters (>100 mW), bars (>10 W) and stacks, all in the 750-980 nm wavelength range (but excluding 980 nm pump lasers for fiber amplifiers). Revenue grew by 15% to $286 million in 2006, and units grew by 52% to 951,500. The major growth story in high-power lasers was pumps for fiber lasers. These typically are higher power (5-10 W) single emitters, operating at 965 nm, used to energize the Yb-doped fiber gain medium of fiber lasers. The growth in these devices has followed the success of the fiber laser, as noted in Part I of this article last month.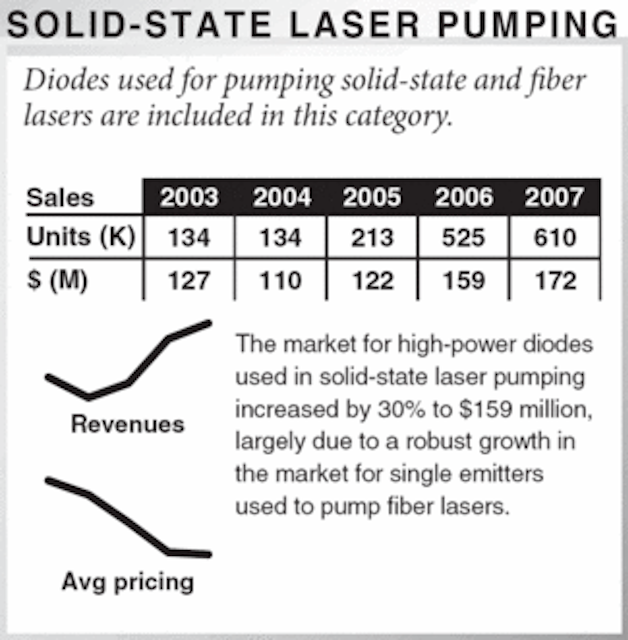 Click here to enlarge image
The leading manufacturer of fiber lasers (more than 90% market share) is IPG Photonics. The company has a captive facility to produce 965 nm single-emitter pump lasers, and production has scaled to match its spectacular market growth. This captive production was the main contributor to the market growth of single-emitter, high-power diodes in 2006, for which the total market was 490,000 units and $71.3 million representing growth of 172% and 97.5%, respectively (although it is likely that fiber-laser pumps were undercounted in 2005). Single emitters were also the largest element in the solid-state laser pumping application, accounting for 45% of the market.
Growth for the other high-power diode categories and applications continued at a generally steady, though modest, pace. The market for diode-laser bars grew by 3% to $121.7 million, while the market for stacks grew by 6% to $69.2 million. Within individual applications, materials processing grew by 20% to $17.1 million, largely due to grow in the "other" materials processing segment (that is, not metals, microelectronics, or marking), including applications such as plastics joining and epoxy curing. Commercial printing (computer to plate), also showed a modest uptick of 7.5% to $27.4 million, largely due to the increased use of bars and individually addressed bars (IABs) at press manufacturers such as Agfa, CREO, Dai Nippon Screen, Heidelberg, and Presstek. The market for single emitters in this application was relatively flat.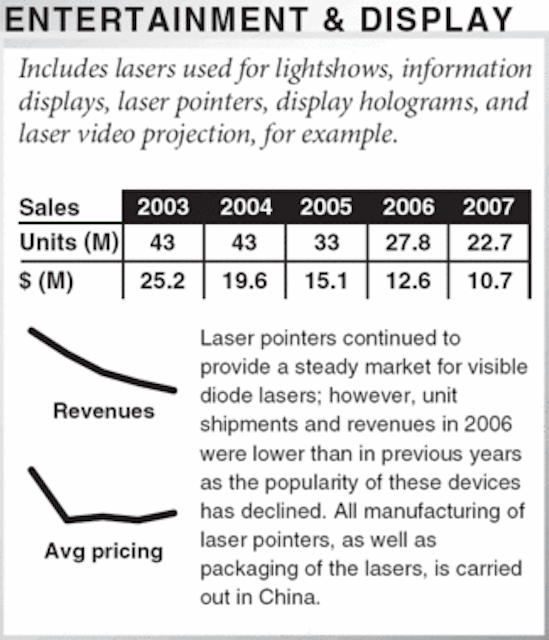 Click here to enlarge image
In contrast to the applications discussed above, the medical therapeutic market actually declined by about 11% to $60.4 million. The largest part of this market-handheld hair removal-was flat while stacks for stationary hair-removal equipment declined slightly due to a modest decline in units and ASP. The main contributor to the overall 11% drop in the market was diode bars used in surgical applications. The trend in this application has been somewhat erratic from year to year, so it is not clear whether the 2006 result represents a clear direction or just an anomaly.
Other applications
A variety of applications other than those discussed above-including local-area networks, or LANs (includes storage-area networks, or SANs); sensing; entertainment; barcode scanning; and inspection, measurement, and control-and excluding all high-power diode-laser applications, accounted for $209 million in 2006, or 7% of the diode-laser market. The largest of these applications was LANs, which use transceivers incorporating 850 nm VCSELs and 1300 nm edge-emitting lasers. This market grew by 9% in 2006, reflecting the continuing growth in the corporate IT market, of which local-area networks and storage-area networks are an integral part. This market had a dramatic decline during the high-tech market collapse of 2001-2002, and it has been gradually recovering ever since.
Click here to enlarge image
Most other applications showed steady but moderate growth, following long-term trends. The exception was "entertainment"-mainly laser pointers-which has been a declining market in recent years. One of the more interesting growth areas is the use of VCSELs in the computer optical-mouse application where they are gradually taking over from red LEDs, using technology developed by Agilent Technologies. Included in the "sensing" applications category, the optical-mouse market grew by 41% in revenue in 2006, to $9.9 million, even though the VCSEL ASPs decreased by a factor of two.
---
Correction
In the January Market Review and Forecast, Part I, the unit and sales revenue numbers published in Table 1 and Table 2 for solid-state lamp-pumped lasers were incorrect. The correct numbers can be seen online at www.laserfocusworld. com/articles/282527.