Laser industry enters period of high anxiety
When Yahoo!, Sony, and Merck have substantial layoffs, you know the worldwide economy is in trouble.
Jan 1st, 2009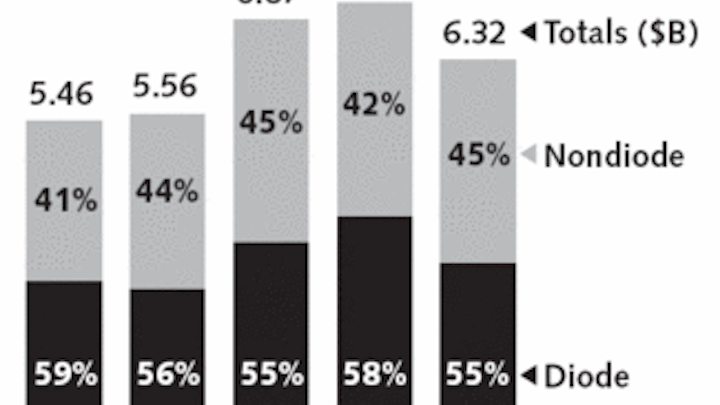 Gail Overton,
Stephen G. Anderson,
Tom Hausken,
and David A. Belforte
The macro-economic picture
When Yahoo!, Sony, and Merck have substantial layoffs, you know the worldwide economy is in trouble. And while the Yahoo! and Sony job cuts are understandable due to reduced consumer spending, the Merck layoffs are curious--especially considering that many in the laser industry have always viewed the medical community as immune from an overall consumer-spending slowdown. Closer to home, high-power diode laser manufacturer QPC Lasers (Sylmar, CA) closed its doors in mid October 2008 (see www.laserfocusworld.com/articles/342872) and will file for bankruptcy protection, citing inability to raise funds necessary to continue operations.
Last year's 2008 laser market review and forecast (see www.laserfocusworld.com/articles/316321)--which revealed a pleasing 9% revenue growth for all lasers from 2006 to 2007 and predicted 7% growth from 2007 to 2008 for a forecasted 2008 total laser market of $7.40 billion--warned of vulnerability in the increasingly consumer-driven laser industry and saw softening in the latter part of 2007 as a result of the subprime lending fallout in U.S. housing and rising worldwide fuel and commodities prices. Few could have predicted that one year later, worldwide stock markets would tumble an average of 30%.1
Revenues were down 11% for laser manufacturer Coherent (Santa Clara, CA) for the quarter ended September 27, 2008 compared to the same quarter last year--a "canary in the coal mine" indicator of the possible economic impact on the laser market, considering that Coherent serves a broad sector of industries including R&D, microelectronics, materials processing, and OEM components and instrumentation. Coherent is reducing its global workforce by 5.5% due to the macroeconomic situation, which, in the words of Coherent president and CEO John Ambroseo, "Creates churn in the marketplace." Despite 25% and 10% growth for lasers in medical and bioinstrumentation applications and nearly doubled business in solar-cell processing within the microelectronics sector, Ambroseo said, "An unprecedented set of macroeconomic events led to a disappointing fourth quarter. This is a global effect and not a regional effect [and] there will be ample debate over the timing of a market recovery."
In the current economic environment, photonics industry veteran and Incubic (Menlo Park, CA) managing director Milton Chang offered the laser and photonics industry a bit of sound advice in his Plenary presentation at the 2008 International Congress on Applications of Lasers & Electro-Optics (ICALEO) in late October: He sees a three-year turnaround but expects the industry to emerge stronger. "In this economy, venture-capital funding is likely to dry up," said Chang. "Close your pending financing round at any valuation--half a loaf of bread is better than none." He suggests that laser companies streamline operations, mind the cash, and stay liquid--cash is king. "Cut excess staff, postpone making non-urgent capital investments, and keep an eye on receivables," Chang said, and noted investors would be looking for solid earnings as the valuation of laser companies is no longer determined by glamour, but is based on earning power.
History repeats itself
Defined as three consecutive quarters of negative Gross Domestic Product (GDP) growth, recessions documented in the U.S. include the great depression of the 1930s, an oil-crisis-fueled recession in the early 1970s, a severe recession from 1981–1982 caused by contractionary monetary policies of the Federal Reserve in the wake of high unemployment, the 1979 energy crisis, and attempts to control high inflation, and a significant worldwide recession from 1990–1992.2 Regarding the recession in the early 1990s, Industrial Laser Solutions chief editor and publisher David Belforte, who has been tracking the worldwide industrial laser market since 1970, said that sales increased every year except for 1991 (a 5% decrease over 1990) and 1992 (a 17% decrease over 1991). "1992 was the depth of a very severe recession in the U.S. economy," said Belforte. "I consider 1991 as a no-growth year because my numbers then were +/- 5%. So I usually say that industrial lasers experienced only one negative growth year [1992] since 1970."
Click here to enlarge image
It is important to note that the early 1990s recession had many of the same attributes seen in the current 2008 economic climate: it was a worldwide recession that followed the 1987 Black Monday U.S. stock-market collapse and subsequent savings and loan collapse and was fueled by a 1990 spike in oil prices in the wake of the first Gulf War. A profile on the history of laser manufacturer Rofin-Sinar Technologies (Plymouth, MI and Hamburg, Germany) at Answers.com explains, "The global recession of the early 1990s hit machine tool manufacturers, Rofin's main customers, hard. By 1992, competition for remaining business was so fierce that laser manufacturers were cutting prices, noted a company financial report. Layoffs and other cost-cutting measures followed, including outsourcing, leasing excess office space, and closing a site in San Jose, California. Rofin-Sinar posted a $20 million net loss on revenues of $60 million in 1993 but was in the black again within a couple of years."
Click here to enlarge image
Similarly, a New York Times article warns that with consumers cutting back on discretionary spending, the number of laser-correction surgeries is dropping as in the last recession.3 "We're forecasting a 17% drop for 2008," said David Harmon, president of Market Scope (St. Louis, MO), an eye surgery market research company. Harmon said he expects an even sharper decline in laser-assisted in-situ keratomileusis (LASIK) surgeries than in 2001, when the sour economy led to a three-year slump in laser procedures. For Q3 2008, Advanced Medical Optics (AMO; Santa Ana, CA) also reported that "Refractive sales declined 14.4% to $96.0 million" and "System sales declined 31.2% to $18.8 million, reflecting a sharp pullback in new equipment purchases by LASIK providers on a global basis." Despite stronger sales in Asia, the domestic sales picture was grim, with U.S. excimer and femtosecond procedure volumes down 35% and 12% in the third quarter, respectively, compared to the same period last year.
Even before the economy started to affect industrial and medical laser sales, the semiconductor industry and laser sales into supporting microelectronics processing, wafer inspection equipment, and lithography sectors were already in the midst of a slump; in fact, SEMI (San Jose, CA) and Gartner Dataquest (Stamford, CT) both independently forecasted an approximate 20% decline in the semiconductor capital equipment market for 2008 (see www.laserfocusworld.com/articles/337115). "The semiconductor industry is noted for being cyclical: though semiconductor device sales and unit shipments will have increased for seven consecutive years from 2002–2008, industry spending on equipment grew year-over-year four times and contracted three times during this period, including the estimated 20% to 25% contraction in spending estimated for 2008," said Dan Tracy, senior director of industry research and statistics at SEMI. "Given the current turmoil and uncertainty in the broader global economy, 2009 looks to be a low- or no-growth year for semiconductor sales worldwide. Device makers are pushing out, delaying, or cancelling new fab projects, so at present it looks as if spending on semiconductor equipment could decline by 10% or more in 2009, pushing spending down to its lowest levels since 2003."
Click here to enlarge image
null
Laser forecasts: a best and worst case
While history certainly provides insight as to how laser companies in industrial, medical, and semiconductor markets may fare in a recession similar to that observed in the early 1990s, no one can predict the length or severity of an economic downturn. Worldwide laser revenues (including both diode and non-diode lasers) were forecasted at $7.40 billion for 2008 and reported at $6.89 billion in 2007 in last year's laser market review and forecast. Actual revenues for 2008 were adjusted down slightly to $7.12 billion in keeping with our vision of a "softened" economy going into 2008.
With all that we've seen in recent months, however, softening is yielding to a downright free fall. Official GDP figures from the U.S. Bureau of Economic Analysis (BEA) confirmed a negative 0.3% growth rate for Q3 ended September 30, 2008. And Euro area GDP for the 15 major European Union (EU) countries for Q2 was negative 0.2% according to Eurostat, the Statistical Office of the European Economies. Consumer spending and GDP impact to the laser industry is easily illustrated by the iPod. Laser manufacturers note that there is a direct correlation between iPod sales and lasers--in fact, if you took an iPod apart, you would be hard-pressed to find any part of the device not touched by a laser: most of the circuit boards (chips) are defined by laser lithography; chip packages are marked using lasers; plastic and metallic components are cut and machined by lasers; and of course, the display itself uses a number of laser processing steps.
Factoring in these consumer dependencies and historical recession trends, a worst-case scenario for 2009 could see industrial, medical, and semiconductor laser markets falling as much as 20% or more. But many in the industry do anticipate that laser sales into defense and security applications will continue their meteoric rise and may contribute to upside in this gloomy forecast scenario. However, the intention of newly elected U.S. president Barack Obama and the democratic Congress is to end the war in Iraq , which many believe, would correspondingly signal an end to lucrative defense contracts. "We're all reading the tea leaves to some degree, but the new U.S. president is much more sensitive to commercial technology applications than was the former administration," said Michael Lebby, president and CEO of the Optoelectronics Industry Development Association (OIDA; Washington, D.C.), a not-for-profit association aimed at growing the optoelectronics industry. "I'm not entirely optimistic, but am encouraged that the non-diode laser market for solar and biomedical applications will do well in areas such as materials processing, medical, and instrumentation; unfortunately, with the $4 trillion dollar credit squeeze, the new administration will have their hands tied even in the face of a long wish list."
Third-quarter 2008 financials from major laser manufacturers can help paint a picture of what our industry can expect for 2009 and beyond. Already impacted in previous quarters by slowing in the semiconductor space, Newport Spectra-Physics (Irvine, CA) reported $337.9 million in sales for the first nine months of 2008, an increase of 3.3% from the $327.2 million for the same period in 2007. However, sales for its Q3 2008 (ended September 27) were $105.0 million, a decrease of 3.6% compared to the $109.0 million for Q3 2007. "While we have seen weakness in the semiconductor market, diode laser sales for flat-panel display related applications have increased," said Merrill Apter, Newport Spectra-Physics' senior director of diode laser sales and business development. Indeed, display market research firm DisplaySearch (Austin, TX) reported in its Q3 2008 Quarterly TFT LCD Supply/Demand and Capital Spending Report that 2008 spending on thin-film transistor (TFT) liquid-crystal display (LCD) manufacturing equipment is expected to reach historic highs; unfortunately, rapidly dropping panel prices, low fab utilization, and concerns about the worldwide economy will cause fab expansion delays, pushing down forecast 2009 spending by 21% to $10.6 billion.
For its Q4 and fiscal year ended September 27, 2008, Coherent saw net sales of $142.0 million, down 11% from net sales of $158.9 million for Q4 2007. The quarterly result brought total fiscal year net sales to $599.3 million compared to $601.2 million last year, prompting the 5.5% headcount reduction cited previously.
Rofin-Sinar Technologies' financials in Q3 2008 were similar to those reported by industrial-laser manufacturer Trumpf (Ditzingen, Germany). Rofin-Sinar saw record net sales for its Q3 ended September 30, 2008 of $154.3 million dollars, up 18% from the same quarter last year and up 20% overall for the full-year period through its Q3. "As expected, fourth quarter sales were impacted by slower business in the machine tool and semiconductor markets, which was offset by solid business in the electronics and solar-cell industries," said Rofin-Sinar president and CEO Günther Braun. "Our success in this challenging macroeconomic environment will depend on our ability to further diversity our markets, enhance our global presence and serve a broader customer base."
For its fiscal 2007/2008, Trumpf--with 64% of its products based on laser technologies--achieved an 11% sales increase to record sales of $2.7 billion dollars. For its fiscal 2008/2009, however, Trumpf's group president Nicola Leibinger-Kammüller "anticipates a restrained course" and hopes sales will remain flat.
Competing in the same space with its primary fiber-laser offering, IPG Photonics (Oxford, MA) saw phenomenal growth in 2007, with full-year revenues increasing 32% to $188.7 million from $143.2 million in 2006. By Q3 2008, however, even with record Q3 revenues increasing by 29% to $62.0 million, IPG was cautious: "As we enter what promises to be one of the most challenging economic times in recent memory, we believe that IPG and its products are well positioned," said Valentin Gapontsev, IPG Photonics' CEO. "We expect high-power laser sales to remain strong in the fourth quarter. However, we expect that this strength will be offset by lower sales of our pulsed laser products in certain Asian markets. Also, the effect of a weakening Euro has lowered our estimates by approximately $3.0 million."
With all of that said, a best-case picture for the 2009 laser industry would show zero growth and remain at $7.12 billion for 2009. Between the worst-case scenario of a 20% drop, and a best-case scenario of flat sales for 2009, Laser Focus World is taking the middle road with an official 2009 forecast of $6.32 billion for laser industry sales, an anticipated 11.3% drop from the 2008 $7.12 billion actuals.
Laser review and forecast by application sector:
Materials processing
For many industrial laser and system suppliers, strong calendar Q3 sales driven by successes at major trade shows produced results that ensured a positive revenue picture for 2008. In the words of one senior company executive, perhaps presaging those of his peers at the 2008 EuroBlech trade show in Germany, success at this show enabled his company to meet its annual plan. It seemed that the laser industry was running counter to other sectors. But as the tsunami of bank failures, record stock market declines, and a global credit crunch hit, quarterly and final reports of public companies made it abundantly clear that 2008 would be a squeaker and that 2009 would see a best-case (sales flat) or worst case (single-digit negative growth) scenario.
Putting the 2008 numbers into context, laser units shipped will show a token 2% increase, affected primarily by slowing of low-power CO2 and lamp-pumped and diode-pumped solid-state (DPSS) laser sales. The culprits: softness in the semiconductor industry and continuing market erosion from fiber lasers. High-power CO2 laser shipments experienced a modest 5% growth led by cutting system sales in Eastern Europe and China. High-power fiber lasers--up 9%--found expanded markets, for example, in the auto industry. Sales of direct diodes were strong as markets began to respond to their capabilities. Excimer laser sales were soft due to the semiconductor sector problems.
Click here to enlarge image
Laser revenues were up by 6% in 2008 as the sales of higher-power CO2 (6–7 kW) and fiber lasers (6–10 kW) offset competition-driven declining prices for low-power CO2 and fiber lasers. Increased sales of direct diode lasers for welding and brazing applications boosted revenues in the "other" category, somewhat meliorating the softening of excimer laser sales.
Laser systems sales for 2008 mirrored laser sales with growth capped at $6.3 billion--a 4% increase over a strong 2007 sales year; pricing pressures faced by the laser suppliers have not yet influenced the selling prices of systems. Lower-than-anticipated sales revenue numbers are due in most part to the lethargy in the semiconductor markets and slower growth in the low-power CO2 market.
Setting aside high-power laser selling prices, market suppliers have generally reacted to increased competition by lowering unit selling prices, especially in volume discount sales. This has been a factor for the past two years in the low-power CO2 sector and is becoming more apparent as suppliers of DPSS lasers face increasing penetration into their markets from fiber lasers. With an increasing number of fiber and disk lasers finding their way into the high-power processing markets for cutting and welding, pricing pressures on high-power CO2 lasers are real.
On balance the 2008 market came close to meeting the projection made by Industrial Laser Solutions (ILS) in January 2008 (see www.industrial-lasers.com/articles/316170) where it was cautioned that low-single-digit growth was possible "barring any unforeseen economic reversals." But the picture for 2009 is extremely complicated. For the first time in many years, industry responses to requests for projections for business prospects were, for the most part, negative. One key indicator, domestic sales projections for laser sheet metal cutters, produced a range from 10% growth to 25% decrease--with the average being a 6% decrease. The message: even the systems suppliers are uncertain about the impact of what is now being termed by Manufacturers Alliance/MAPI (Arlington, VA) as a severe recession.
With mostly negative forecasts emanating from all sectors, the 2009 ILS projection shows a 4% decrease in units shipped, a 4% decrease in laser revenues, and a 6% decrease in system revenues. If this projection holds, it will be the second time in the 39-year history of industrial lasers that the market has turned negative, the first being in 1992.
Medical therapy and diagnostics
"Although bio weathers the storm better than some other sectors," said Phil Crowley, president of MarketTech (Scotts Valley, CA), a laser distribution, sales, and service company that offers products from primarily European laser manufacturers, "We are also encouraged that higher power levels, broader wavelength range offerings, smaller packages, and price reductions can result in further penetration of lasers into many biomedical instruments for DNA sequencing and disease analysis, flow cytometry, and microscopy. Lasers that sold for $5000 to $8000 just a few years ago are now priced at $3000," added Crowley. "However, price drops must continue if these instruments are to penetrate huge third-world-country markets."
Click here to enlarge image
Crowley has reason to be optimistic regarding the role of lasers in the biomedical field. Despite anticipated revenue decreases in 2009 for excimer- and femtosecond-laser-based ophthalmic procedures and for consumer-driven erbium-laser-based skin rejuvenation and hair-removal procedures, sales of lasers are expected to remain healthy for laser-induced fluorescence spectroscopy and other laser-based spectroscopy and imaging techniques for disease diagnosis, and for optical coherence tomography (OCT)--a market expected to top $800 million by 2012.4 Carl Zeiss Meditec (Jena, Germany) just released its second-generation OCT system, the Cirrus HD-OCT high-definition spectral-domain OCT system. While the system is anticipated to be even more successful than its predecessor, the Stratus OCT Fourier-domain system, Carl Zeiss Meditec was already seeing weakness in its diagnostic and ophthalmic surgical systems in the summer of 2008, noting that revenues for the Americas--specifically the U.S.--had fallen by about 30%.
Overall, sales of both diode and non-diode lasers for biomedical applications including ophthalmic diagnosis and surgery, therapeutic and imaging applications, and aesthetic skin-related procedures, decreased slightly in 2008, and are forecasted--due to reduced consumer spending--to fall 10% in 2009 to $477 million. This forecasted 2009 decrease is heavily attributed to poor revenues from aesthetic laser sales. Calendar Q3 revenues for aesthetic laser companies Palomar Medical (Burlington, MA), Cynosure (Westford, MA), Cutera (Brisbane, CA), and Candela (Wayland, MA) were all down anywhere from 21% (Cynosure) to 32% (Cutera) on quarterly revenues ranging from $19 to $38 million dollars per company.5
Basic research
According to reports in R&D (Rockaway, NJ) and IEEE Spectrum (New York, NY) magazines, global research & development (R&D) spending was estimated to grow 7.6% in 2008, with 24% growth in China far surpassing the 3.7% growth estimated for the U.S. After the U.S. and Europe, China is ranked third in the overall monies spent on R&D.
Previous LFW laser market data shows that revenues from lasers purchased for R&D applications have risen steadily from about $100–$180 million between 1994 and 2007, with a significant drop from $140 million back to nearly $100 million observed between 1996 and 2000, most probably due to the telecommunications bubble. Because laser R&D revenues grow mostly in accordance with funding from such government sources as the National Science Foundation (NSF) and the National Institutes of Health (NIH) in the U.S., and the German Research Foundation (DFG) and the Engineering and Physical Sciences Research Council (EPSRC) in Europe, for example, laser R&D revenues grew approximately 3–4% in 2008, but will flatten out in 2009 to a forecasted $180.6 million dollars due to larger economic issues.
Click here to enlarge image
Laser R&D revenues in 2008 were tied closely to anything energy, medical, and homeland-security related: solar photovoltaics; energy fusion and fission reactors; new microscopy and spectroscopy methods; photoluminescence of exotic materials; terahertz sources and detectors; and infrared/thermal vision and surveillance systems. But in 2008 and 2009, economic reality dictates that spending for military R&D applications may shrink worldwide, while energy and medical spending is expected to remain flat. Reductions in military spending (and corresponding reductions in military R&D revenues for lasers) will hit the U.S. harder than other countries: the U.S. accounts for 45% of worldwide military spending.
Separate articles in Physics Today (Melville, NY) point to disturbing news concerning general government R&D funding in the U.S. While not laser-based, the ITER fusion project and the International Linear Collider (ILC) did not receive the $150 million and $60 million contributions, respectively, that were targeted by the U.S. towards these projects, and International Space Station (ISS) contributions are also at risk.6 And figures from the NSF said Federal funding in 2007 (totaling $30.4 billion dollars) for university research failed to keep pace with inflation for an unprecedented two-years running, despite the 2006 American Competitiveness Initiative that pledged to double Federal spending for physical sciences R&D over a ten-year period.7 The good news is that 2007 non-Federal funding for academic research rose nearly 8% (5% after inflation), university-based funding climbed 6.6%, state and local funding was up 6.1%, and industry support increased 11.2%.
Instrumentation
With the majority of instrumentation laser sales targeted at the life sciences, most companies in the laser industry did not expect to see an impact in the instrumentation sector due to perceived immunity of the biooptics markets to an economic downturn--especially considering that funding for medical instrumentation comes primarily from profitable pharmaceutical companies and relatively consistent government funding sources. Unfortunately, even instrumentation sales may be at risk in this economy. "In October 2008, GlaxoSmithKline announced a reduction of about 1200 jobs in research positions," said Michael Tice, VP, consulting services at Strategic Directions International (SDi; Los Angeles, CA), a strategic consulting and market analysis firm for the analytical and life science instruments industry and publisher of the twice-monthly Instrument Business Outlook newsletter. "In the same month, Merck announced plans to close its Rosetta research facility in Seattle by the end of 2009, eliminating 240 jobs," added Tice. "In addition, Merck has plans to reduce its global workforce by more than seven thousand employees by the end of 2011, though this would affect all areas of operations, not just research. Although some of these displaced researchers may find positions with other pharmaceutical firms, the overall effect is going to be a reduction in operating laboratories, and a concomitant reduction in demand for new and replacement instrumentation."
Tice says that whether or not Wall Street is up or down, people still require food, medical care, and pharmaceuticals; however, problems in the housing and lending markets have begun to propagate even into these areas of life science production and research. He is even concerned that the crisis will propagate further and affect those who supply diagnostic and research instruments to the medical, pharmaceutical, and food industries. For 2008, instrumentation laser sales reached $94 million. The 2009 forecast, taking the economy into account, predicts instrumentation laser sales remaining flat at $94 million.
Click here to enlarge image
But the scenario is not entirely one of "doom and gloom." "On the positive side, public funding for life science research remains solid for the time being," said Tice. "Originally, the financial year 2009 appropriation for the National Institutes of Health was set to be the same as the 2008 appropriation of $29.5 billion. However, action in the Congress has increased the NIH appropriation for next year by about 3%."
Tice adds that another source of growth in life science spending is in food safety. "Scandals regarding the adulteration of food products with melamine have increased interest in this area, particularly in China, which has been the source of some tainted products [see www.laserfocusworld.com/articles/345509]. Efforts to protect the safety of the food supply should lead to increased activity in the U.S. and other industrialized nations as well. Currently, detection of melamine is carried out with chromatography and chromatography-mass spectrometry--techniques that do not significantly rely on lasers. Nonetheless, if other areas of food safety also gain added resources, this could be an important source of growth in demand," added Tice.
This enthusiasm, however, should be tempered by concerns regarding the ability of the U.S. Food and Drug Administration and other worldwide organizations to keep pace with food-safety research (see www.bioopticsworld.com/articles/334511). "The Obama Administration is expected to lean more heavily on industry in the form of increased user fees for product safety testing," said Susan Reiss, consultant and Washington, D.C. editor for BioOptics World (Nashua, NH). "However, this action could actually benefit industry by enabling the agency to hire more staff. More reviewers mean fewer delays in moving new device and drug applications through the system." Reiss added, "The good news about the FDA in 2009 will be expanded monitoring operations in China and other key locations, providing new opportunities for portable devices capable of real-time monitoring and feedback."
Communications and optical storage
While OIDA's Michael Lebby may be encouraged about the prospects for non-diode lasers in biomedical and solar going into 2009, "The diode laser side is a tough road to hoe," he said. Based on his more than 20 years of experience in the optoelectronics industry, Lebby explains: "Telecom average-selling-price (ASP) margins will plummet for diode laser components. Excluding Blu-ray optical disks for read-only applications, optical storage and telecom diode revenues will be hit hard by major competition from flash memory in cameras and laptops and increasing use of low-cost Fabry-Perot and distributed feedback (DFB) telecom lasers in new consumer interconnect products such as active optical cables (AOCs)--electrical cables with embedded optics," said Lebby. "The advent of dynamic networking has generated excitement with tunable lasers, functionally more capable, but with much lower volumes compared to their replacement grid lasers. In optical storage, as flash products march towards 64 Gbytes, the question being asked is not how, but when will this maturing optical storage market decline?"
Lebby sees 2012 as the crossover date when non-diode laser revenues exceed diode laser revenues for the first time. "While non-diode laser revenues maintain, diode laser revenues will be subject to margin squeeze of its two main market segments: optical storage and telecom. In fact, in late 2008, we are seeing a significant reduction in capital spending for telecom and datacom," says Lebby. "Given that demand for bandwidth is accelerating, one could predict that within a few years, this may lead to network traffic jams and reduced quality of service--a pretty tough time all around."
Click here to enlarge image
Regarding optical storage, 405 nm blue laser diode growth continues--first with the late 2006 introduction of Sony's PlayStation 3, and now with the emergence of Blu-ray disc video players--while dual-wavelength 650/780 nm lasers are reducing demand for pure 780 nm lasers in DVD applications. For 2009, we anticipate that the overall optical storage laser market will decline 28% to $1.3 billion, based on the convergence of 20% ASP declines for all lasers, a 20% and 10% unit decrease in 780 nm and 650 nm diodes, respectively, and despite the 25% unit increase in 405 nm devices.
On the telecom and datacom side, financials for communications components manufacturer JDSU (Milpitas, CA) reflected the economic picture and were generally improved for calendar Q3 compared to the same quarter last year, but were down from the previous quarter--signaling that telecom is feeling the effects of recession. For its calendar Q3 2008 (fiscal Q1 2009 ended September 27, 2008), JDSU's Commercial Lasers business was up 7.5% from the same quarter in 2007 to $21.4 million, but down 3.2% from the previous quarter. Its Optical Communications revenue--which represents 37% of its total revenue--was $140.6 million, up 21.2% from the same quarter last year, but down 3.1% compared with the previous quarter. And while Bookham (San Jose, CA) hasn't seen a loss yet, its calendar Q3 revenues are slowing also. For its fiscal Q1 ended September 27, 2008, Bookham saw revenues of $66.5 million, a 23% increase compared to the same quarter last year, but only a 6% increase compared to the previous quarter.
Now seven years post-bubble, the telecommunications industry and sales of laser diodes for transceivers, amplifiers, and fiber-laser pumps have seen steady growth over the past six years. In his 2002 review and forecast of the diode laser markets (see www.laserfocusworld.com/articles/136283), Robert V. Steele, director of optoelectronics at Strategies Unlimited (Mountain View, CA), reminded readers that the 36% market drop in 2002 was an anomaly, and that for diode lasers, "The trend line for the period from 1996 to 2002 corresponds to an average annual growth rate of 16.9%." An analysis of quarterly revenues from major public optical communications companies including Avanex, Bookham, Finisar, JDSU, Opnext, and Optium shows that while growth was relatively slow between 2006 and 2007, 2008 grew significantly even if Q4 2008 is anticipated to drop. According to Strategies Unlimited, revenues for communications giant Cisco Systems (San Jose, CA) are a good indication of the health of both datacom and telecom markets; unfortunately, while Cisco's revenues grew about 6% in 2008, they are entering a period of decline. So although fiber-to-the-home (FTTH) continues what many say is a recession-proof rollout, 40 Gbyte sales are expanding, and talk of 100 Gbyte systems is already far advanced (see www.laserfocusworld.com/articles/323294), LFW anticipates a 5% drop in communications laser revenues in 2009 to $1.81 billion dollars.
But now for the emotional upside: In his November editorial in Lightwave magazine (Nashua, NH), chief editor Stephen Hardy explains "Why this downturn is different" (see lw.pennnet.com/articles/344993). "Climb off that ledge...breathe into this paper bag, and calm down. You somehow managed to survive the Optical Ice Age. And then this…this…recession happened," said Hardy. While he conjectures that many companies are thinking that they cannot survive another downturn, Hardy says, "First and foremost, this one isn't your fault. This time it is unlikely that you owe your employment to over-exuberant investors. Instead, analysts continue to insist that the bandwidth fundamentals that provide the foundation for the optical communications industry remain sound. The amount of capacity currently available is more closely aligned to actual bandwidth demand than in 2001 or 2002." While the recession will impact the bottom line and Hardy sees a new round of consolidations taking place, "The current downturn isn't at all like the last one, and will likely result in a healthier industry," he concludes. "All you have to do is wait for the recession to recede."
Image recording
Sales of lasers for desktop printers and fax machines, as well as for computer-to-plate graphic arts printing applications, were originally forecast to grow slightly in 2008. But actual numbers show a 10% decline over 2007 to $59 million, with a forecasted decline of nearly 5% in 2009 to overall revenues of $56 million, blamed on a shrinking global economy and reduced capital-equipment demand.
Click here to enlarge image
Major suppliers of lasers for plate engraving in digital printing applications include Coherent, with its family of Compass 315 nm and 415 nm DPSS lasers, and Intense (Glasgow, Scotland), with its INSlam quantum-well intermixed family of 650 nm or 780 nm laser arrays consisting of hundreds of single-mode emitters on a monolithic chip. As companies like Kodak (Rochester, NY) continue to embrace digital printing using 830 nm thermal laser heads and other diode lasers that offer photographic quality in offset printing applications, sales of nondiode lasers into the image recording market continue to drop. Fortunately, new applications for lasers are emerging in the graphic arts space: Heidelberger Druckmaschinen (Heidelberg, Germany) is exploring the use of 808 nm and 980 nm high-power line-emitting diode lasers for efficient drying in sheet-fed offset printing processes. Drying time is a significant bottleneck due to inefficient air-dried processes. The laser evaporates some of the oil within the printed ink (without heating the paper) and can reduce a 30-minute drying process to 6 minutes.
Entertainment and display
Still a relatively small market with 2008 revenues of $17 million and forecasted to remain flat for 2009, the laser-based entertainment and display industry for such products as light shows, planetariums, simulators, advertising displays, laser pointers, and laser video projectors may see a Renaissance in 2009 with the late 2008 introduction of the first laser television: the 65 inch LaserVue model L65-A90 from Mitsubishi. Even at $7000, "The laser TV is a phenomenal success. You'll never see one in the store because they sell out as soon as they are manufactured," said Greg Niven, VP of marketing at Arasor. People who have purchased the laser TV agree that its superior color gamut and clarity are worth the price; however, paying around $2000 for a 65-inch DLP TV or $3500 for a comparably sized LCD-based TV may be a more responsible option for the economically challenged.
Click here to enlarge image
"While the success of laser TV remains to be seen, what's exciting for me is laser-based RGB projectors for large venues, including the key segment of digital cinema," says Niven. "Because the RGB projection market is just starting to grow and we don't anticipate it to take off until 2010, the current economic situation is not a major factor--sales in 2009 will still be dramatically better simply because they were relatively small in 2008." Niven points out that the potential for laser-based projection for large venues is significant, anticipating that current lamp-based digital projectors will eventually sport a higher-efficiency, improved-color-gamut, higher-brightness, longer-life, laser-based engine that is cheaper to maintain by thousands of dollars per year, per projector. In late 2008, entertainment joint-venture Digital Cinema Implementation Partners (DCIP; Upper Saddle River, NJ), announced that it was partnering with five major movie studios to deploy digital projection systems to nearly 20,000 movie-theatre screens across the U.S. and Canada. And much has already been written about the use of RGB lasers for cell-phone projection displays (see www.laserfocusworld.com/articles/341582)--an emerging entertainment and display application promising even larger RGB laser unit sales.
REFERENCES
Paul Krugman, "Contagion, revisited," http://www.princeton.edu/~pkrugman/contagion.pdf (October 6, 2008).
Web references--http://recessionhistory.info, http://en.wikipedia.org/wiki/Early_1980s_recession, and http://en.wikipedia.org/wiki/Late_1980s_recession.
Barnaby J. Feder, New York Times, Business News section (April 24, 2008).
G. Smolka, Optical Coherence Tomography: Technology, Markets, and Applications 2008–2012, PennWell Corp., www.BioOpticsWorld.com/resourcecenter/OCTreport.html.
Douglas Cress, "What's Next for the Battered Aesthetics Laser Industry," Med Tech Sentinel blog, http://www.onemedplace.com/blog/archives/1002 (November 4, 2008).
David Kramer, Physics Today 61, 10, 26–28 (October 2008).
David Kramer, Physics Today 61, 10, 33 (October 2008).